How do you promote a new project in the finance space, an industry with so much competition?
That's the question Reddit user Optimus Chime had to answer when looking to pre-launch a bill-splitting iPhone app he had developed.
His answer came in the form of a fun side project. Fun, at least, for those who found his website before their friends.
The idea behind his minisite was to let people tell their friends that, simply, they've been a bit of a cheapskate lately.
Anonymously, of course.
Even though I knew the site was created purely for marketing purposes, I couldn't help but fire off some emails to a few friends – even if they aren't tight with their money – just for laughs.
If you are unfortunate enough to receive an email from the site, here's what it looks like.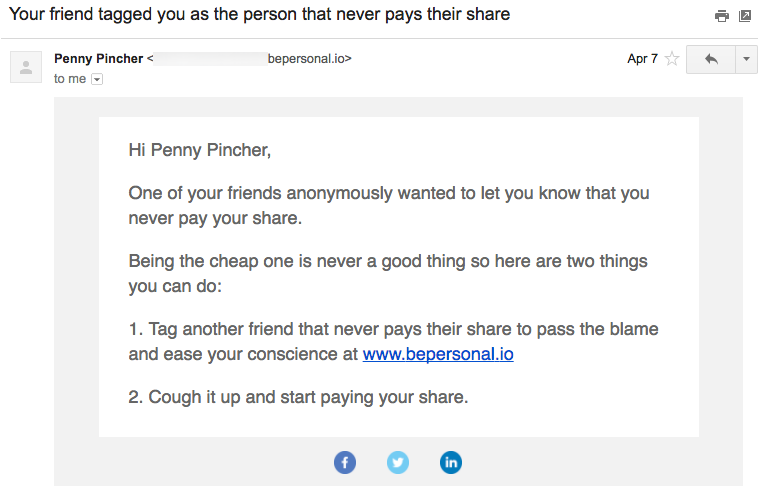 I put my email address in myself, I swear. 😉
As I write this, the share counter on the website is approaching the 500,000 mark. That's the number of recipients starting to worry they're not paying their fair share.
When announcing the project on a (surprisingly unpopular) Reddit post, Optimus Chime claimed the project had already helped to gather more than 10,000 pre-launch sign-ups for their application, from around 40,000 recipients.
Now that the number of shares is ten times higher, we can estimate pre-launched sign-ups have grown to anywhere from 50,000 to 100,000 users.
View Case Study
Detailed Pro
gives you the traffic and link opportunities you need to grow your search and referral traffic.
Our full-time marketers manually pick the best marketing opportunities for your website, so you can focus on what's important to you.