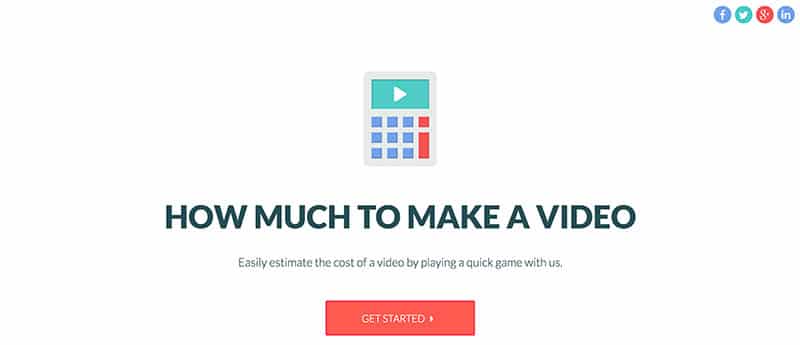 If this isn't your first visit to Detailed, you'll know I absolutely love side projects.
These are basically separate sites you create that have a cool angle that attracts traffic and links, that you then later 'funnel' back to your main website. Or what we call, your money site.
Normally I wouldn't share great ideas on a Friday as less people are reading this site closer to the weekend, but I'll be honest: I absolutely love this idea.
The concept is simple: You create some kind of calculator or slideshow which lets people know how much they can expect to pay for something relevant to your niche.
The best way to describe the concept is to show an example, so let's start with that.
Veed.me offer a marketplace which allows you to find people to create your next animated video to showcase your business offering.
A few years ago they launched a website on the descriptive domain, Howmuchtomakeavideo.com.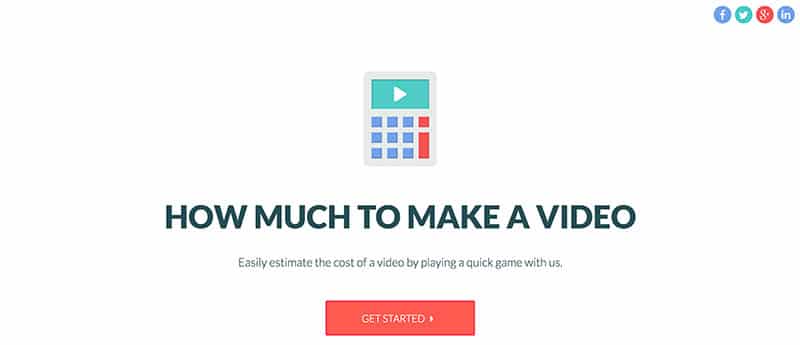 The site reached 60,000 unique visitors in its first month of launch and also sent 20,000 of those people back to their main site where they offer paid services.
As their 'money site' was only reaching 10,000 people per month at the time, this side project doubled their traffic.
The mini-site also picked up over 700 links from 56 different websites, making the footer link back to Veed.me much more valuable in terms of search engine rankings.
This next example I have for you was actually found today, by complete accident.
I was looking for the URL for Howmuchtomakeavideo.com in Google and accidentally searched for 'How much to make a video game'.
I then came across YourGameIdeaIsTooBig.com in the search results.
This time the webmaster allows you to simply check off different boxes and the estimated price of your desired video game drastically rises.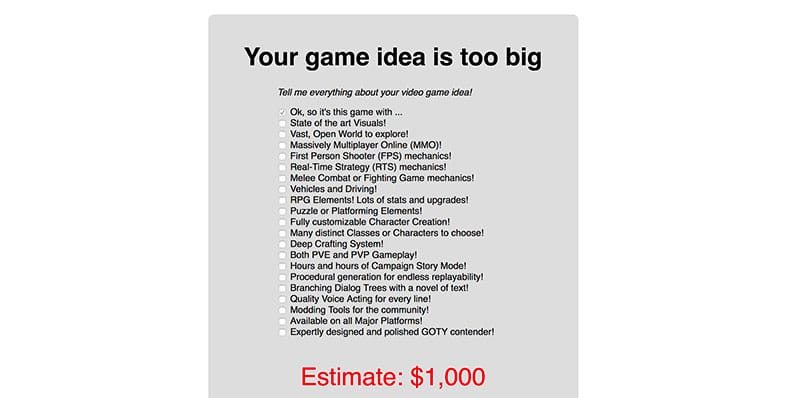 I ticked every option because I'm weird like that, and the final price came out to over 458 billion dollars.
This example has picked up links from 84 websites in the gaming niche and been shared on Facebook more than 2,800 times.
The reason I really like this content marketing angle is because it can easily be applied to so many niches.
In the SEO world you could create a minisite estimating how much people should expect to pay for a link building campaign.
A copywriter looking for more attention could create a version showing how much they should expect to pay for a really great, in-depth piece of writing.
Even a pool installation company could create a fun version (with some ridiculous options to help it get shared?) to let you know how much you can expect to pay.
A travel company could put together a version to help you figure out how much you would likely spend each month if you moved to X city.
I highlighted that last example as I think it's pretty smart and I couldn't find anything like it on Google.
There are expense estimations for cities, but none that allow you to 'checklist' your needs and adjust the estimated costs accordingly.
To help get people talking about your own version, I would definitely put it on a separate website so it doesn't just look like an attempted marketing campaign.
If you don't have the skills to put something like this together yourself, as I said in my article on building a calculator for your niche, you could head over to Upwork and hire someone to do it for you.
I can't imagine it would cost more than a few hundred bucks (if that) to put together. Especially if you're going to follow the a similar format to Your Game Idea is Too Big.
If you liked this idea, please click the heart button below so I know what type of ideas to share in the future.
129
Welcome to Detailed
We share content marketing case studies you can actually use, seven days per week.
We'd love for you to join us through one of the channels below…

Listen to our daily podcast

Follow us on Twitter (daily) or Facebook (weekly)

Subscribe for email updates (max once per week)

Watch our detailed site reports on Youtube