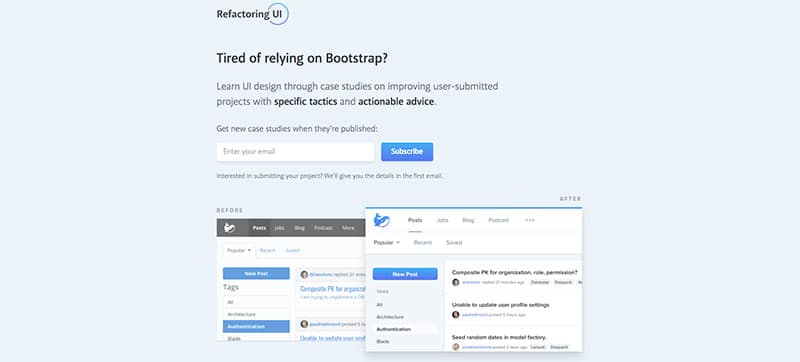 Today my friend Jesse shared on Twitter one of the best newsletters I've seen in a really long-time. The site barely has 30 words on it yet I signed-up instantly.
While his recommendation no doubt holds a lot of weight to me, I honestly believe I would have signed up just as fast without it.
The site is barely 100 words but their focus is clear: They'll show you before and after case studies of how some of the world's biggest websites could look with just a few simple UI changes.
The graphic on the homepage (shown above) really sold me on the concept.
What's really smart is that their newsletter updates send you straight to Medium, which tends to boost post which pick up external traffic, helping the Refactoring UI developers reach more of the tens of millions of people who find themselves on Medium each month.
Here's the first article they'll send you after joining which went viral on Medium.
Not long ago I shared one the best articles I've read in a whole – primarily because it broke down concepts in a really smart way – and this almost seems to be the newsletter equivalent of that.
I already know how powerful offering reviews and feedback are (I've raised over $2,500 for charity with mine) but I never thought of turning those reviews into documented guides that anyone can follow and learn from.
I didn't sign-up to the newsletter to become some kind of design god that can charge clients thousands of dollars (I would hate to offer web design as a service) but instead to pick up simple tips to improve my own website.

Is there some angle in here that you could use to offer your own readers?
If you have a running blog, could you analyse people's running styles on video and recommend changes?
If you're a top photographer, could you offer critiques of how people could have framed or composed their shots better?
If you're a great copywriter, could you break down some of the best articles in any niche and show how they could have been 'tidied up'?
The most popular posts on Detailed tend to be the ones that make me the most excited to replicate them for my own projects, so I hope you have a few sparks firing in your brain over the weekend, because I know I'm going to be taking action with this one.
P.S. We've just had our plugin approved by WordPress (after two disapprovals) so I'm happy to say that Gaps will be coming back really soon. Thank you for your patience!
View Case Study
Detailed Pro
gives you the traffic and link opportunities you need to grow your search and referral traffic.
Our full-time marketers manually pick the best marketing opportunities for your website, so you can focus on what's important to you.