Today it was revealed that infant formula brand, Bobbie, has raised $70M in a Series C round to acquire another infant formula brand, Natures One.
The move will triple Bobbie's manufacturing capabilities, adding to their insanely fast-growth where they've already fed over 300,000 babies since launching just two years ago.
It's an interesting story for anyone in the eCommerce world, but that's not why I'm writing about them: Instead I want to bring your attention to their 'secret' SEO play on the back of a fast-growing media brand.
Not only do Bobbie have a beautiful eCommerce store to promote their formula, but they've also built up an equally aesthetic media company that has attained great rankings relevant to their business.
Introducing, Milk Drunk.

Of course, I wouldn't be sharing Milk Drunk if it was truly a secret as that goes against our morals here. Bobbie clearly put their name behind the site in the logo — it's just not something many people know they run.
Recent headlines on the site include articles like:
8 Best Baby Bottle Sterilizers
15 Best Gifts for Working Mums
12 of the Best Baby Diapers of 2023
20+ Best Amazon Prime Day Baby Deals
It's the kind of content that probably isn't the best fit for their main site, but absolutely makes sense to cover on a parent-focused media brand.
I'm a little obsessed with the model of using a media brand to promote other revenue channels, rather than just relying on ad or affiliate revenue (which, I should add, can be significant on their own).
On the Milk Drunk about page the team behind Bobbie say they created the site to "give a judgement-free digital destination where parents can find the answers to all things feeding a baby without having to scour the internet and piece together expert research".
It's a nice mission, but there was no doubt an additional goal to rank for relevant keywords in their industry that could then drive people to Bobbie's own products.
As an example, their blog post on the 'Best Baby Bottle Sterilizers' links back to the main Bobbie site pretty early in the article:

Then when it comes to articles on baby formula – which they have quite a few – it should be no surprise that they're recommending their own products with clear call to actions.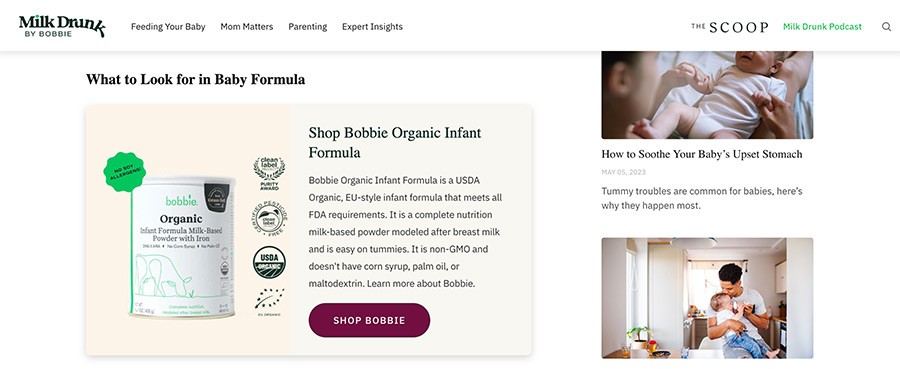 I see nothing wrong with this of course, and in fact think it's a great strategy.
It's no different to what hundreds (thousands?) of SaaS companies do when they write articles on the 'best [software category] tool' and put themselves in the top spot.
While third-party estimates aren't perfect and Ahrefs have made changes to their keyword database recently, it looks like the site is growing nicely from a search traffic perspective.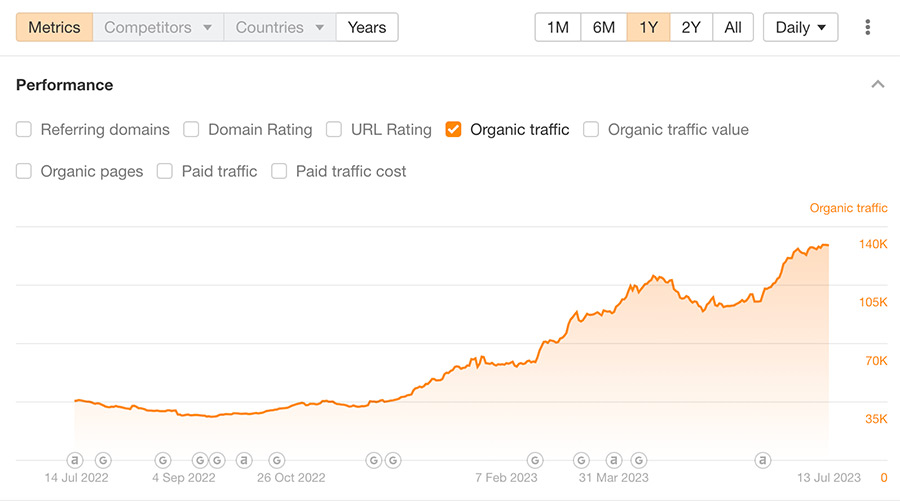 Perhaps even more impressive is that according to Ahrefs numbers, they're able to attract over 100,000 visitors from Google each month with just ~340 indexable pages.
To be respectful, I'm not going to dive into their approach to link building, the top keywords they're ranking for and anything more specific than this. It's not needed to make my point.
According to Similarweb data, search traffic is the number one source of visitors to the site, but direct traffic is up there, accounting for around 28% of monthly visitors.
I love that with Milk Drunk they haven't just thrown together a random site and hoped they would rank for some terms that can get them sales.
The sites design is beautiful, with true experts fact-checking their posts.
They have an active podcast answering baby questions and giving advice to new parents.
And they funnel people back to the Bobbie brand in an effective manner, but aren't in your face and obnoxious about it.
It's one of my favourite examples of how you can build a media brand to help grow another business, which is something I plan to get a lot more in-depth on going forward.
There are just so many benefits to this approach, like how they can build great relationships with related companies by featuring them in their 'best' articles, or grow Bobbie's social media presence through relevant footer and article links on the site.
Watch this space.
Written by
Glen Allsopp
, the founder of Detailed. You may know me as 'ViperChill' if you've been in internet marketing for a while. Detailed is a small bootstrapped team behind the Detailed SEO Extension for Chrome & Firefox (170,000 weekly users), trying to share some of the best SEO insights on the internet. Clicking the heart tells us what you enjoy reading. Social sharing is appreciated (and always noticed). You can also follow me on
Twitter
and
LinkedIn
.