Publicly listed "Uber for pet care", Wag!, today confirmed the launch of their new cat food review site, Cat Food Advisor.
In January of 2023 Wag! finalised the acquisition of dog food review site, Dog Food Advisor, in a $9M deal. It's one of my favourite success stories as the sites founder essentially spent years building out a niche site on a topic he was passionate about and saw a huge pay day at the end.
Why the site started is not the most positive of updates to share with you, but it looks like the owner helped a lot of animals in the 15 years he was running the site.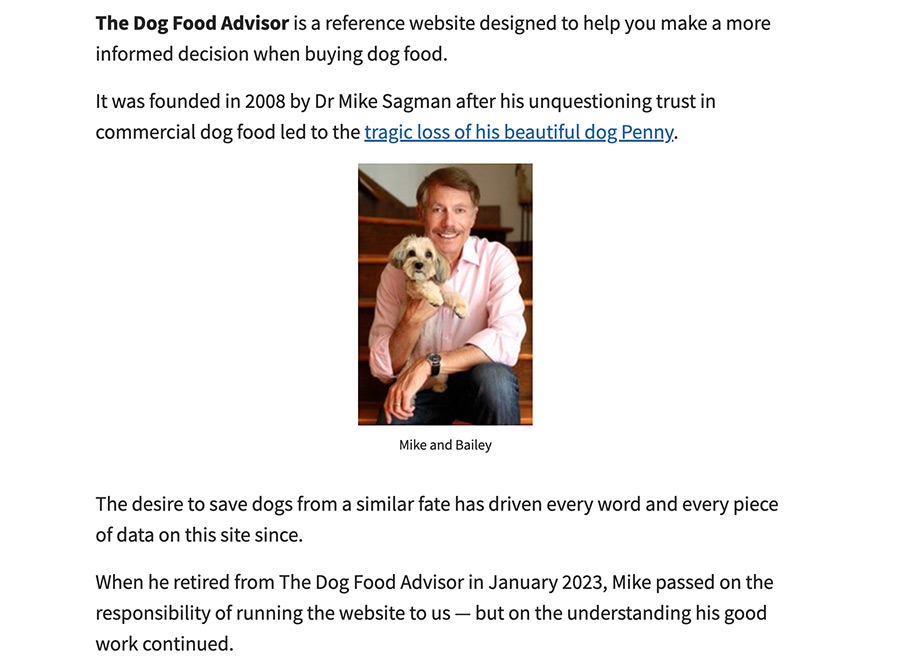 After such a big acquisition it makes sense that Wag! would then go and create a sister site for the brand.
The design of Cat Food Advisor is a bit more modern than its dog-focused counterpart, so they haven't just copied the same template which would have been easier.
While site: searches in Google aren't a perfect indicator of how many indexable pages are on a site, if we meet in the middle with Ahrefs data, they've gone live with around 50 pages of content.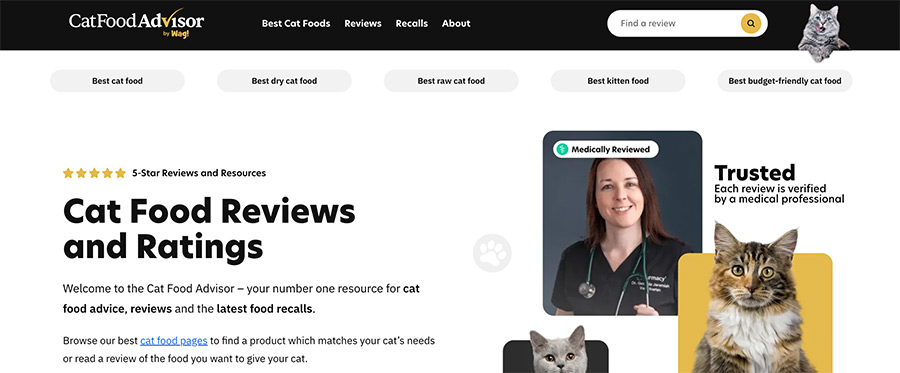 I won't get into details of all the keywords they're targeting to be respectful, but it won't be a surprise to anyone to see they're trying to rank for different variations of "best cat food" such as "best dry cat food".
The design of individual posts are really clean and simple and they've gone with the typical right sidebar on their posts, rather than the left sidebar you see on Dog Food Advisor.
It's interesting that who has reviewed the post gets much more prominence than who wrote it: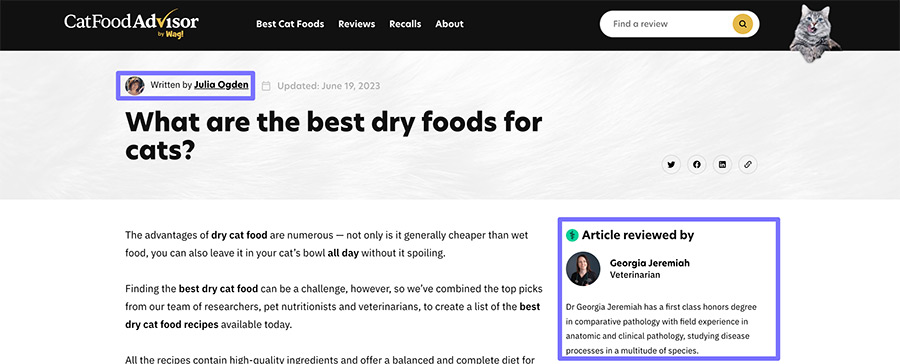 Here's where the story takes a slight twist.
Wag!'s press release announcing the site does not mention any kind of acquisition and simply states the the site launched on July 6th, 2023.
Yet if you head to the footer of the Cat Food Advisor, you can see their footer copyright states, "Copyright © 2013 – 2023 Cat Food Advisor. All Rights Reserved."
It's strange to have a ten-year copyright window for a site that just launched.
If we go back to how the site looked a few years ago via the Wayback Machine, we can see that Cat Food Advisor was starting to be built, but never launched.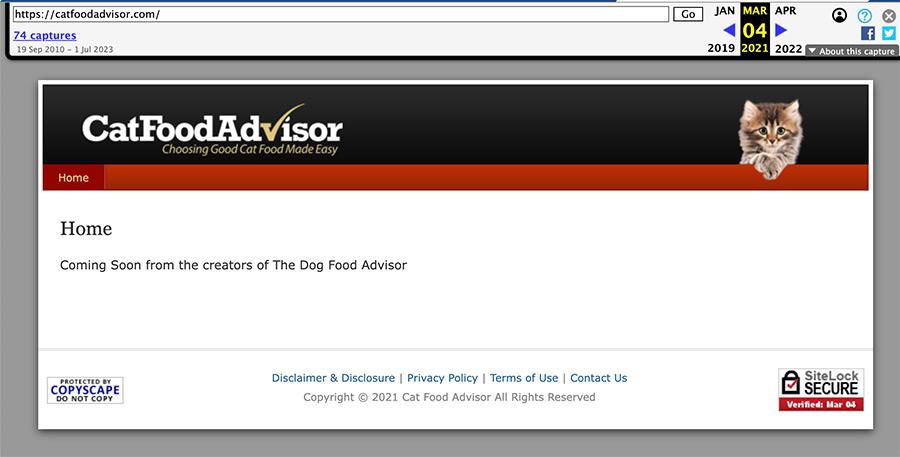 Due to the logo being the same style as their dog-focused sister site, the obvious conclusion you can come to is that the CatFoodAdvisor.com domain came bundled with the Dog Food Advisor purchase.
Now, six months down the road, they've decided to give the site the launch it (seemingly) never had.
The thing I'm always curious about when a big brand launches a new site is how quickly – if at all – it's going to start picking up some incredible rankings.
I have no doubt that other sites in the Wag! network are going to start linking here, and the press release today will help as well, so I'll check in before the end of the year and let you know how things are going.
Written by
Glen Allsopp
, the founder of Detailed. You may know me as 'ViperChill' if you've been in internet marketing for a while. Detailed is a small bootstrapped team behind the Detailed SEO Extension for Chrome & Firefox (170,000 weekly users), trying to share some of the best SEO insights on the internet. Clicking the heart tells us what you enjoy reading. Social sharing is appreciated (and always noticed). You can also follow me on
Twitter
and
LinkedIn
.