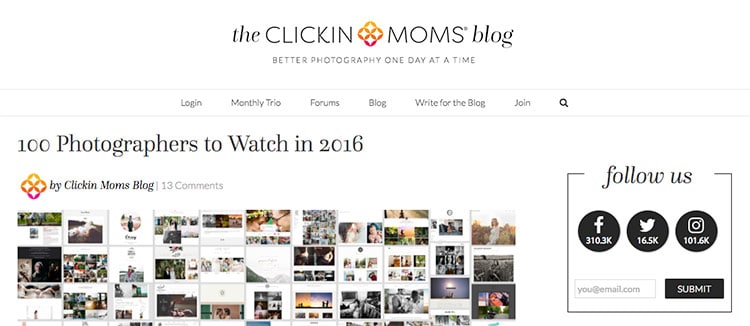 If you're unfamiliar with the 'twist post', it's simply this: You take an angle people love (list posts) and you make it really meaty by writing a huge, in-depth version of a list post.
You can read more about the angle here.
Clickinmom created a list of 100 photographers to watch in 2016.
It was shared on Facebook over 8,000 times, but I don't think they were surprised.
They created the same piece of content in 2014 and 2015, and it has always proven to be popular.
Not only did including so many photographers help to make the most more substantial and interesting, it was smart because there are more people on the list who could share the fact that they were featured.
View Case Study
Detailed Pro
gives you the traffic and link opportunities you need to grow your search and referral traffic.
Our full-time marketers manually pick the best marketing opportunities for your website, so you can focus on what's important to you.