Although I'm in the middle of a launch at the moment, yesterday I spent over an hour helping strangers with their websites for free.
These weren't potential customers that I was helping. In fact, they had no idea I have anything to sell.
Yesterday afternoon I opened up r/Entrepreneur on Reddit as I sometimes do when I'm procrastinating and saw that someone had started the following thread.

As you can see, there are far more comments than upvotes.
Why?
The Original Poster (OP) started the thread and then just seemingly disappeared.
When I found it 12 hours later, lots of people were looking for reviews, but not a single person had received a reply.
For whatever reason, I decided to start giving people feedback.
I was pleasantly surprised to see it got a great response.

And yes, I upvoted my own comment. Guilty.
That first video received over 80 views, which is pretty impressive as the thread was far from being the top story on the sub-Reddit.
Funnily, all of my posts were downvoted when the OP eventually came back which I don't think was a coincidence.

They also just wanted to critique the people I had already helped which was odd.
Weirdness aside, I created five critiques which received over 200 views on Youtube.
I didn't do this to get views (and made no pitches or mention of myself in any video), but rather just to help people.
If you're ever wondering how you can get hundreds of people to your new website. See if you can help hundreds of people first.
The whole thing took only about 30 minutes of my time as I've been making a lot of videos lately and already had my microphone set-up.
That and the critiques I gave were only 2-3 minutes long, so it wasn't a ton of work.
Most interesting to me was just how many people replied looking for feedback. 108 comments is pretty impressive for a Reddit thread without many upvotes.
I never planned on writing about this today, but when I went over my list of case studies to write about for Detailed (which is 200+ items at the moment), a great content marketing idea from Photo.net stood out to me.
As it was on the same topic of giving feedback, it seemed fitting to talk about it today.
Photo.net created a great page on their website which allows you to get feedback on photos you've taken, as long as you give feedback to other people.
Here's what that page looks like.


If you think it's just a simple idea, wait until you read the numbers.
This page has been linked to 51,000 times from over 350 different websites.
And what I especially love about this concept is that it's all about giving value before receiving something in return. You give value to your own audience by critiquing their work, and get people coming back to your site in return (or being indebted for your help).
That's pretty much how content marketing should work.
The other reason I love this is because it can be used in so many niches.
Critique book covers and get yours critiqued in return
Critique logo designs and gets you critiqued in return
Critique on-site SEO and get yours critiqued in return
Critiquing diet plans and get yours critiqued in return
While I would normally recommend to build something like this on another website, it doesn't seem to have hurt Photo.net by putting their page in a /critique/ sub-folder.
Of course, you could also just offer to critique something relevant to your niche without needing the community to get involved as well.
It would be much easier if you personally just start by offering feedback rather than waiting for other visitors to potentially help out as well.
If your own critiques become popular then I would open them so the rest of your audience can get involved.
Photography blog Fstoppers, who I mentioned in a recent update, have created videos around the same angle which have proven to be popular.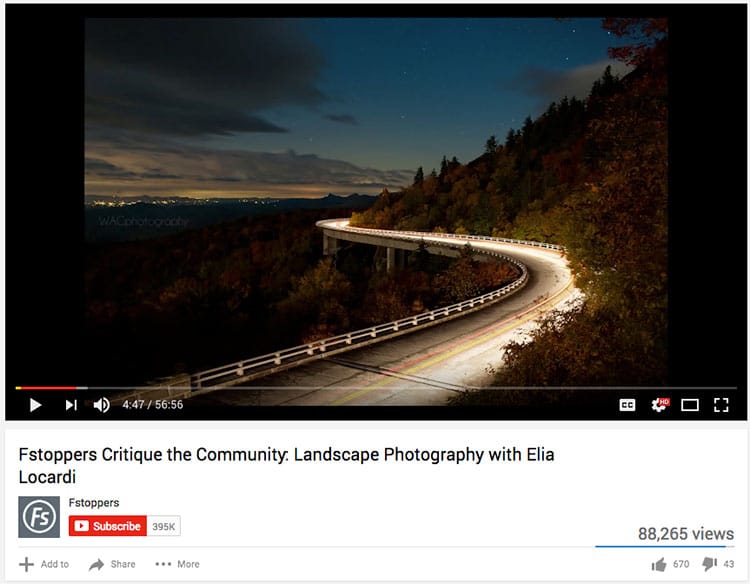 In fact, you can head to Youtube and search for 'critique [anything]' and probably find some relevant videos with a ton of views.
If you want to help your audience by putting something like this together, you could start by…
Emailing your audience, asking who would like a public critique
Writing a blog post offering critiques and then answering them in the comments
Creating a thread on a relevant sub-Reddit and offering help
Or of course you could just start critiquing relevant content on a podcast / video / blog post.
The key being that you should offer constructive criticism rather than bashing people for something you don't like.
For reference, here's the first video I shared in that Reddit thread. There's nothing really special about it, but it's useful.
Is there something you can give feedback on for people in your niche?
If it takes off, it might just make sense to make a home where people can give feedback and get it in return.
97
Welcome to Detailed
We share content marketing case studies you can actually use, seven days per week.
We'd love for you to join us through one of the channels below…

Listen to our daily podcast on iTunes or Stitcher

Follow us on Twitter (daily) or Facebook (weekly)

Subscribe for email updates (max once per week)

Watch our detailed site reports on Youtube
View Case Study