If you're going to start a serious online business, it's usually advised to pick up a .com domain or something country specific, like .co.uk for the UK.
While there was a time many popular sites were hosted on Blogspot or WordPress – using [name].blogspot.com or [name].wordpress.com – the trend died out many years ago.
That's why I was pleasantly surprised to see a .blogspot website which is still thriving eight years later, reaching more than 20,000 visitors per day.
If you're looking to start a side project to help drive traffic to your main site, this could be the idea you've been waiting for.
If there's one thing people love to do before buying anything online is to look for deals on that item.
Discounts, promo codes, bundle packs, or even just a cheaper price by shopping elsewhere.
Nouveau Cheap is a daily blog, hosted on blogspot, which shares the latest deals on all things makeup. It has been growing strong for eight years and has a very loyal readership.

Sadly, the author has had a month off from posting as their mother is in hospital. This has led to a fairly significant drop in traffic, which I would expect to return when writing begins again.
According to SimilarWeb, 65% of visitors find the site directly, with 25% coming from search engines.

That direct traffic percentage is very high, meaning that the reason the author posts every day is because people come back every day looking for new deals.
You don't have to start a blog to build an audience around your deals.
Scott's Cheap Flights now generates more than $320,000 per month with their newsletter which sends the best flight deals to free (and premium) subscribers.

It shouldn't be a surprise to you that deals websites can get a lot of traffic, but I really like the angle of honing in on a specific niche.
Another example of a site offering targeted deals is Mommy's Freebies, which reaches more than 700,000 visitors per month.
As you can probably guess from the name of the site, they share deals on anything relevant to parents of babies and toddlers.
No offense to them, but it's really not the best looking, showing that the content you have to offer is far more important than your design skills.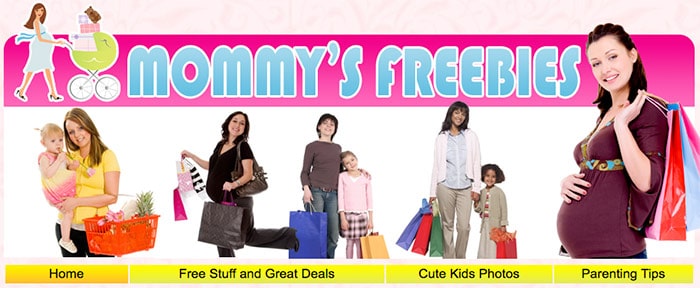 If you're in a niche where people would look for deals on items, you might want to consider having your own niche-specific site in this space.
I really wouldn't expect setting up either a blog or newsletter to take much time. The challenging part of course is going to be finding the deals.
I can't really give step by step advice for that as it would depend on the niche you're aimed at, but as you don't really have to write much about the deal, it could be possible to outsource the whole process to someone else.
Again, each niche will have some different way of finding the best deals. Scotts Cheap Flights is said to be a manual and laborious process, constantly checking different airlines to see what prices they offer.
I'm sure they aren't too stressed out when they're pulling in millions of dollars per year.
My strategy if I was just starting out would be to have a huge list of generic deals websites I check each day, and then reshare those that are relevant to my niche.
Keep in mind that the long-term aim here is to build something that helps you reach a lot of people in your specific industry, where you could 'funnel' some of them back to your main projects.
For instance, the guys behind the stock photo site Unsplash managed to save their company by funneling enough users to their freelancer finding website, Crew.
Without the viral sensation that was Unsplash, Crew would no longer exist.
If you liked this article, please click on the heart button below so we know what you would like to see more of.
131
Welcome to Detailed
We share content marketing case studies you can actually use, seven days per week.
We'd love for you to join us through one of the channels below…

Listen to our daily podcast

Follow us on Twitter (daily) or Facebook (weekly)

Subscribe for email updates (max once per week)

Watch our detailed site reports on Youtube