Thank you for joining me this Saturday on the first day of July. It's scary how fast half the year has gone.
If you're new to Detailed, I 'slow things down' over the weekend with what could be considered lesser ideas than what I share on week days.
I don't necessarily think they aren't as valuable, but they are so simple that they might not be as interesting as other case studies that I share.
The simple idea I want to share with you today is based around the concept of debunking popular myths in your niche.
The article that first inspired me to look into this angle comes from Lean Gains. A site by a fitness fanatic named Martin Berkhan who helped popularise the idea of Intermittent Fasting.
As Martin is an expert on the topic, he decided to debunk the most popular myths that he hears.
While Martin certainly isn't unknown, it's rare for his articles to get a lot of attention on social media. This one picked up almost 10,000 likes on Facebook.
There really isn't too much to say about this angle other than if it's executed properly, it works.
All you have to do is take common misconceptions about something in your niche and show why they're just that…misconceptions.
Amazon-owned Business Insider wrote about 101 science myths that have been debunked and received over 5 million views on their article.


Another example comes from Cancer Research UK, who debunked myths around the topic of sun safety.
This article picked up 32 comments which might not sound like a lot, but when you consider that their last 10 articles received only a single comment, it puts things into perspective.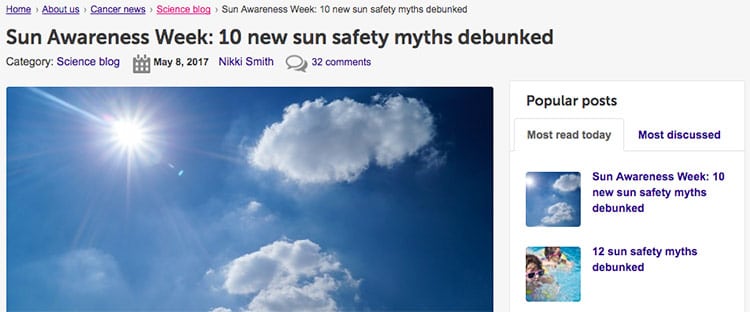 If you look on the right side of that picture, you can see that over a month after being written, it's still the most visited article on their website.
With the recent US Presidential Election, politics has been a hot topic around the web, even on non-political blogs.
Website Scary Mommy used this to their advantage when they wrote about the top 10 myths surrounding Hillary Clinton.
Their piece was shared on Facebook more than 330,000 times, no doubt bringing in millions of visitors to the site.

I like how they encouraged even more Facebook shares after it started going viral by putting a huge 'Share This Story' button at the top of the article.
I really could go on and on with examples, but if you head to Google and search "myths debunked" you'll find thousands more which have been very popular for their creators.
If you're looking for your next piece to go viral, you may want to consider letting the world know why others in your niche might just be saying things which simply isn't true.
Just make sure you are accurately debunking myths, or your efforts could backfire.
Clicking the heart button below let's me know what kind of case studies you enjoy and would like to see more of.
Thank you so much for reading!
90
Welcome to Detailed
We share content marketing case studies you can actually use, seven days per week.
We'd love for you to join us through one of the channels below…

Listen to our daily podcast on iTunes or Stitcher

Follow us on Twitter (daily) or Facebook (weekly)

Subscribe for email updates (max once per week)

Watch our detailed site reports on Youtube
View Case Study