This month it was announced that Australian food and lifestyle brand Delicious. (the period is part of their name) hit record traffic numbers, reaching 1.696 million visitors for May of 2023.
This was a 34.3% month over month growth, with those visitors driving 17 million pageviews on the site.
The Delicious. website is clean and easy to read, and they clearly highlight the expertise of their writers who are restaurant owners, cookbook authors and in some cases, "TV chefs".

How they drove those numbers and who is behind the site is where things get even more interesting.
Delicious. (having a period as part of their name feels really weird to type) partnered with American Express to run a series called 'Month Out'.
The campaign featured exclusive offers and events for diners in Sydney, Brisbane, Adelaide and Melbourne. This campaign doubled the monthly traffic to that section of their website year on year and exceeded "all of our metrics".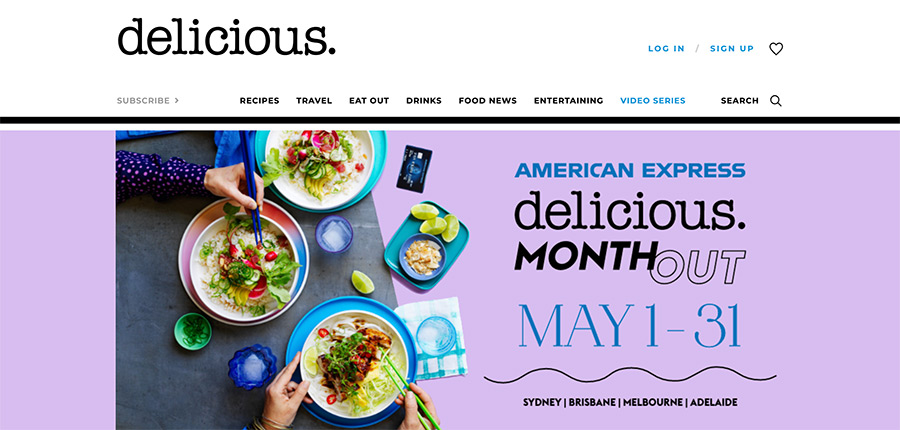 Looking at Sydney alone I can see 188 offers for deals at coffee shops, restaurants and bars. While I accept this isn't that kind of campaign that anyone could easily replicate, it does show the potential of doing some kind of special deals offer in your space.
There's no reason a blog focused on a specific area couldn't focus on a smaller number of local businesses to pull something like this off.
You'll Recognise Some of The Other Sites In Their Network
Delicious. is actually part of News Corp Australia, who have a few interesting brands under their wing.
They're also behind GQ Australia, Vogue Australia, Taste.com.au and News.com.au, among many others.

GQ and Vogue in the US and UK are owned by digital goliath Condé Nast, yet it looks like News Corp – under a company called News Life Media – completely own the brands in the Australian market.
On the Australian version of these two brand websites, there's no mention of Condé Nast at all. It's possible I'm missing some kind of licensing deal that has been discussed online, but after reading a few Wikipedia pages and lots of mentions of how the business is going, I'm no closer to a final answer.
I know we can look at the traffic of websites in third-party tools like Ahrefs (search traffic) and Similarweb (all traffic sources) but it's nice to get data directly from the source.
It's a little bit odd to me that News Corp Australia are using a third-party company to monitor their metrics (Ipsos Iris, in this case) but I presume that's also because they're able to get audience demographics like the age group of visitors.
I would be really interested to know the official numbers of how a site like GQ Australia stacks up against the likes of the Japanese, Italian and French versions, so if they ever share some direct numbers I'll be sure to report on them.
Written by
Glen Allsopp
, the founder of Detailed. You may know me as 'ViperChill' if you've been in internet marketing for a while. Detailed is a small bootstrapped team behind the Detailed SEO Extension for Chrome & Firefox (170,000 weekly users), trying to share some of the best SEO insights on the internet. Clicking the heart tells us what you enjoy reading. Social sharing is appreciated (and always noticed). You can also follow me on
Twitter
and
LinkedIn
.