You're probably sick of me talking about how many content marketing success stories I have sitting in a spreadsheet, waiting for me to cover them here at Detailed.
What I haven't talked about is how much research goes into finding these success stories, and what I unintentionally find in the process.
You may have heard me say that researching content ideas for Detailed was actually great for Gaps.
Some of the online businesses I found in the process led to me writing two articles for the site
But that's not all.
I've found an incredible number of websites that are dominating Google, seemingly out of nowhere, which are changing my entire outlook on SEO.
Look at that organic traffic. And the site is a month old 😂 #notminejustdoingresearch pic.twitter.com/Veu2RIa1UC

— Glen Allsopp (@ViperChill) October 23, 2017
As of writing this, I've found ~75 different examples of sites which are less than two years old yet dominating Google in some form.
By that I mean they're either getting a ton of traffic from search very quickly, or ranking for highly profitable terms very quickly, and often with relatively few backlinks.
As you likely know, competition in the SEO world is fierce, so if I were to share these case studies out in the open (even though I'm protecting their URL's to be fair to the owners), it would make them slightly less valuable.
As of today, I'm going to be adding these case studies to Detailed Pro.
Dissecting sites and their link and traffic sources is what allowed us to build Detailed Pro in the first place, so building on from that with detailed case studies seems to be the perfect fit.
Today I'm going to share one of those case studies in this post, so if you don't have the budget to join us you can still get excited about what opportunities are available when it comes to ranking new(ish) websites, and learn from the tactics they employ.
Before I do that, I just want to make a quick comment about our new Detailed Pro pricing model.
I know our Pro offering came 'out of the blue', but it was conceptualised well before I bought the Detailed.com domain name.
For most of 2017 our team found and documented more than 3,000 link opportunities, and built a custom system to assign those opportunities to webmasters looking to increase their website traffic.
I spent a lot of money building the platform without knowing whether people would be interested in accessing it, which isn't one of my smarter moves.
I justified "just building it and seeing what happens" by knowing that I'll use these opportunities myself, even if nobody else wants them.
As such, we've had a large learning curve to figure out whether the traffic and link sources we share are useful and insightful for others, and how people wish to receive them.
Fortunately, the adoption to Detailed Pro has been incredible.
We've had over 75 paying customers join us (and that's without sending out any direct emails, and before running any Facebook ads or sending any tweets about the service).
In other words, a lot of people signed up with next to no marketing effort on our part.
That said, I'm going to be completely honest with you: We have a low double-digit churn rate, when we would ideally be aiming for 5-7%.
While we never expected to get our 'angle' right from the start, what we didn't anticipate was that the people cancel their subscription would all say a variation of same thing.
"I don't have time to implement the recommendations you're sending me."
Though I'm ecstatic people are joining and enjoying the service (thank you!), that doesn't mean much if people aren't actually taking action and benefiting from what we share.
After a lot of deliberating, we've decided to scrap our monthly personalised recommendations, and instead completely open-up each niches' opportunities to a limited number of people.
This means you no longer have a growing to-do-list each month that you aren't taking action with, and instead get access to a much broader range of opportunities at once which you can prioritise based on how long they'll take to implement.
If you operate in the finance niche for example, you now get instant access to 434 opportunities for the price of just 50 opportunities with our previous plan.
(Side note: If you are or have been a customer of Detailed Pro with our monthly plan, you should have received an email offering you access to any category in the new model for a 50% discount. If you missed it, please email support@detailed.com and we'll take care of that for you).
While this means we'll make 5X less revenue per customer, we'll hopefully help far more people take action on the opportunities most relevant to them.
It also means we have more free time to continue to grow the database as we won't be finding super-specific opportunities for each customer.
Not only do we want to grow the database, we think including real-world SEO case studies for inspiration and insights makes perfect sense.
As a thank you for being a loyal reader of Detailed, I decided to share the first one here.
Ranking for $496,000 Worth of Monthly Traffic in Just Over Two Years
Note: This is just a sample of what you'll find in Detailed Pro, but I hope you'll still get some valuable insights from it.
If you missed it in that mass of writing above, I've found a number of impressive case studies over the past year which I plan to track going forward, and hope inspire you with your own marketing efforts.
This first example can be best described as an Amazon affiliate site.
Meaning while the site has valuable content on offer, its primary aim is to send you to Amazon to purchase products that would earn them an affiliate commission.
Here are their stats thanks to Ahrefs.
Note that I removed the Ahrefs rank from the picture above as – though it changes daily – nobody should be able to figure out the exact website I'm discussing.
The monthly value comes from an estimation of how much you would likely pay if you were buying the traffic from Google Adwords.
I don't want to reveal too much as that wouldn't be fair to their owners, but I will say their site reviews and recommends household furniture available on Amazon.
Their domain was registered right at the end of 2014, but their site wasn't set-up until May of 2015.
What's interesting is that the site really hasn't transformed much in terms of appearance in the past two years, despite a huge increase in visitors.
They still advertise that each blog post gets no comments.
The copyright notice in their footer still says 2016.
Their logo is blurry even on a non-Retina screen, and they still prominently link out to their Google+ profile which gets zero interaction.
What has certainly changed however is the amount of content on their site.
Right now they have over 500 reviews on every type of product you can think of in the furniture space.
They're also adding one to two pieces of content to the site every single day.
The posts aren't particularly long, often less than 500 words, but contain images and 'call out boxes' which help make it more presentable and useful.
They have three thousand followers on Twitter and Facebook combined, which is what you would expect from an Amazon-review site, so no criticisms from me there.
Their footer focuses on a statement which lets people know the site is an Amazon affiliate but not a partner of the company which is typical of sites created to benefit from affiliate commissions.
In other words, they're not really hiding that this is a Made for Amazon website.
If I were to take them on a client, the first thing I would have pointed out is that their title tags seem over-optimised. By this I mean their page title tag is literally something like 'Ikea Sommerhoff Cabinet Review' with no extra characters or even the name of their site.
It certainly doesn't seem to have hurt them though.
Finally, I do have to say that their overall design is pretty ugly. Some product pictures are presented with a clean white background, while others look like they were cropped from another picture on Google Images.
This is front and center on their homepage as well.
While I can see the site has undergone a number of design changes thanks to Archive.org, I'm surprised they didn't really try to create a professional 'brand' from all of this traffic they're getting.
With their site structure mostly covered, let's look at the links that are helping them bring in hundreds of thousands of visitors each month from Google.
In the order I discovered them…
Link Source #1: Scholarship Links
As much as I hate people building scholarship links, it would be wrong of me to state that they simply don't work.
This affiliate site has links from dozens of .edu domains.
I considered sharing them here but with their privacy in mind, decided against it. I've already written about scholarship link building and they aren't doing anything different to the norm.
Quite simply, they offer scholarship funding to their audience, and most likely reached out to university sites which feature such programs.
Link Source #2: Seemingly Paid Links That Have Been 'Cleaned Up'
Someone recently asked me on live chat if I still buy links for websites.
The answer was "Yes, I do."
Buying links is not illegal, and while potentially risky, I don't believe Google are that likely to take action against a site unless they a) receive a lot of manual reports about it or b) someone 'outs' the link scheme of a site that is pretty public about it, ala RapGenius.
If buying links was so obviously going to get a site penalised I could go and buy them for a competitors website and then report them. Google knows there are shady characters out there, so it isn't (or shouldn't be) that easy to negatively-impact your competition.
So when I mention paid links, please don't think I'm saying anything bad.
Again, I buy them myself.
The reason I believe this site paid for links is because they had links on homepages of established websites, which now no longer exist, that wouldn't have made any sense for the established website to have in place for any other reason.
I ruled out the links being part of some owned network, but admit it's still a slight possibility.
A lot of these links have slowly disappeared, leading me to think they were purchased to help the site rank, and then either their 'contract' ended, or they were removed in the aim of legitimacy.
Link Source #3: Legitimate Links from Direct Competitors
This one actually really surprised me.
The site has a lot of legitimately earned links (as far as I can tell) from sites that are trying to rank for the same keywords as they are.
I'm surprised as the links come from sites that are sharing Amazon affiliate links to the same products.
For example, they have links from NYTimes-owned Wirecutter, which itself relies almost entirely on affiliate income.
I believe the majority of the natural links they are picking up is for the simple reason that the writers for those sites research a topic, find them ranking at the top, and then link to them as a source.
In other words, the sites who rank number one for something typically pick up natural links because they're reaching the most people, and that helps to reinforce their rankings.
We need a phrase for this kind of thing if someone hasn't coined it already.
Feel free to suggest one via live chat (purple circle bottom right).
Link Source #4: Image Credit Links
As with sites ranking high in Google and picking up a lot of links 'naturally', this site is benefiting from their images appearing highly in Google Images for relevant terms they're writing about.
When other sites cover a related-topic and include an image in their post, they're linking back to this site with 'image source' or 'image credit' links.
Some of these links are again from their direct competition, which is somewhat surprising, but is also likely because the person writing the article is just focused on the content they write, rather than SEO, so are giving proper credit where it's due.
I would be very surprised if this example site is sourcing their own images and not purchasing them or getting them from a free stock photo site, but they're picking up links regardless.
There's a lot of traffic to be gained from ranking well in Google Images, and a lot of links as well.
While this shouldn't be too surprising, it hopefully gives you a bit of motivation to make sure your site has some of the best graphics in the space, and that they're optimised for search engines.
Link Source #5: Guest Post Links
While I've added this item at the bottom of the list – I just wrote about them in the order of discovery – they appear to have more guest post links than any other type of backlink.
What's weird is that the posts aren't marked as guest posts, which makes me think an outside service was used to build them.
Additionally, many of the sites these guest posts are hosted offer no inkling that they accept guest posts, which likely means some manual outreach was involved.
The links they pick up naturally are sporadic, and they don't appear to be still focused on picking up scholarship links. With guest posting however, they're still picking up a few links per month, so it's clearly their main link building focus.
I have a few more points to make on the site, which I'll talk about when explaining why I'm going to be doing more of this style of analysis.
It's All In the Numbers
Of course, those links wouldn't have much value if they hadn't been smart about the choice of keywords the site is targeting.
They primarily rank for 'best' and 'review' keyphrases which is ideal for an Amazon-review site.
For instance, they rank for terms like "best bedroom cabinets".
This isn't the actual term I found them ranking for, but accurately depicts the type of searcher they're trying to reach.
While many of their rankings hold the number one position in Google with featured snippets to go with it, they hover around the 4-10 spots for the terms estimated to be sending them the most traffic.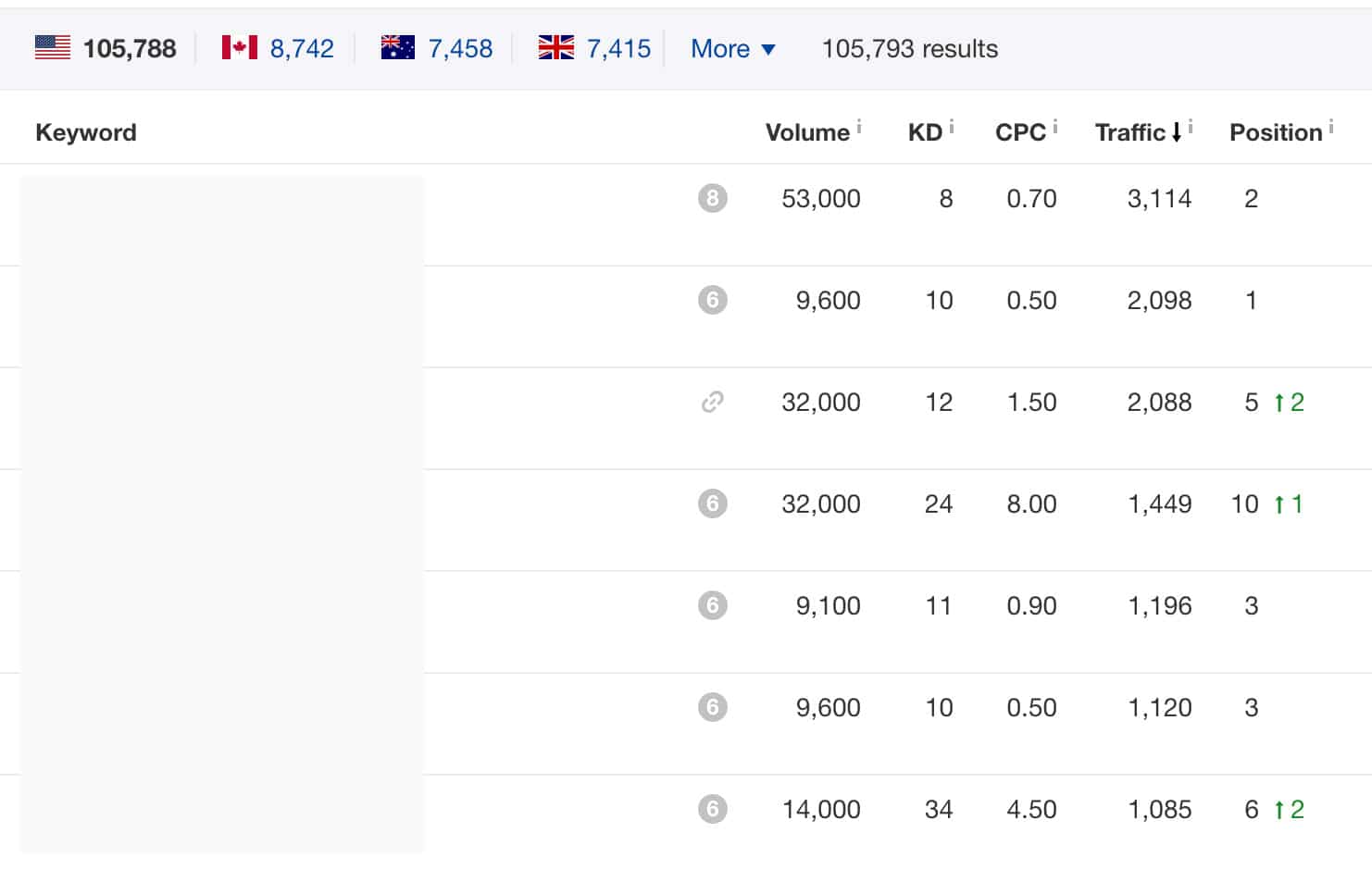 Ahrefs predicts that many of the terms they rank for have a low keyword difficulty, but I wouldn't want to be their competition now so don't agree with those numbers.
Their URL's are simple and optimised, so their page on best bedroom cabinets could be found at domain.com/best-bedroom-cabinets.
Two Important Reasons I'm Putting These Case Studies Together
And none of them have to do with 'outing' sites.
As I mentioned earlier, even inside Detailed Pro I won't mention the URL's of the sites, nor will I reveal the keywords that they're ranking for.
That isn't fair to the owners, and I'm not writing about them so you or I can build their future competition.
The first reason I'll be covering these success stories in detail – even if I don't reveal the sites – is because I want to see what I can learn from each example that I can apply to work I do with my clients, or on my own websites — and hope that you can too.
For example, just from this one case study I was surprised by:
Completely over-optimised title tags with zero branding in them
What appear to be paid links that have now been 'cleaned up'
A huge ramp-up in content production to one or two new articles per day
Powerful links by the way of image credits
A neglected design without neglecting guest post link building
And remember, the site is just over two years old.
I think having a huge library of 'tactics' that can be associated to different niches will be pretty awesome as it grows, especially as I'll only be focusing on new websites suddenly ranking well, and not established ones.
The second reason I want to cover these case studies is to have a private database of sites to watch when big Google updates occur.
Sure, you can look at your own sites or client sites or SERP 'weather reports' from the likes of Moz, but if you know that X site in X niche was doing X tactic and they still rank (or rankings suddenly tanked), we have a better idea of what a particular Google update focused on.
I love the idea of checking the sites I analyse every few months and seeing how they're doing in order to better predict algorithm changes.
Want More Case Studies? You'll Find Them Inside Detailed Pro
I've already written another case study, and its format was quite different. As such, I can confidently say the structure of these updates will never be the same.
For instance, the big takeaway from this case study is how focused they are on publishing new content. Over 500 articles is not typical for an Amazon-review site.
Their on-site SEO is also totally 'over-optimised' in my view, but that doesn't seem to be hurting them.
Some case studies I'll share don't receive an enviable amount of traffic from search, but they are ranking for enviable (and profitable) keywords.
I already know there are different insights to gleam from them, so the focus of each update will be different.
If you enjoyed these insights, let me know, and I'll share them sporadically on this blog. I'll be adding some to Marketing Inc as well (currently closed) for our members there.
That said, if you're interested in every case study I share – and getting access to literally hundreds of link and traffic opportunities in your particular niche – Detailed Pro is where you'll find them.
Thank you, as always, for reading.
View Case Study
Detailed Pro
gives you the traffic and link opportunities you need to grow your search and referral traffic.
Our full-time marketers manually pick the best marketing opportunities for your website, so you can focus on what's important to you.