Though I'm not really a user of hashtags, it's hard to imagine social media updates without them.
Facebook, Instagram and other platforms followed Twitter's lead in allowing you to 'hashtag' topics in order to help curate similar statuses.
What if you could turn a hashtag into a movement, build awareness for a great cause and pick up links to help your search engine rankings.
That's exactly what Reedsy did recently when they built a side-project around the hashtag #IWriteBecause.
Reedy is a platform which helps you to find an editor for your next book, so having people share their story on why they write aligns perfectly with their business goals.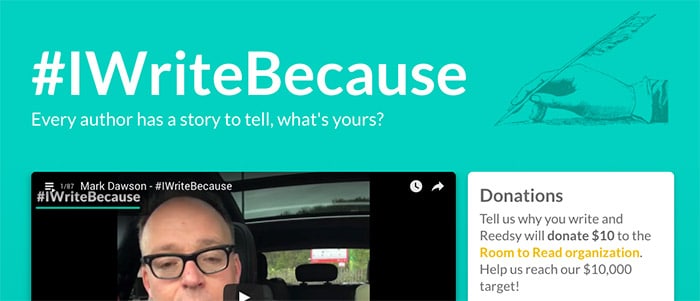 The page on their site features videos of people talking about their motivations for writing.
While the concept is simple, it's clear this wasn't just some rushed-together project.
Tweets are free, but if you also create a 30-second video for their website, they'll donate $10 to an organization called Room to Read.
They're aiming to raise $10,000 in total.
On their blog post announcing the project, they state,
We wanted to create a social media campaign that would bring writers together to celebrate both our diversity and the common passion we all share. We've aided over 2,000 authors in bringing their books to life — and we're aiming to inspire more people, no matter where they live or what their background is, to do the same.
The first sign that they were on to something others would support was when the project became one of the top stories on ProductHunt.
Since then the story has continued to pick up steam with 30 different websites now talking about (and linking to) the idea.

It isn't the mammoth link building success that some of our other featured stories have enjoyed, but for a simple project idea, I don't think anyone on the Reedsy marketing team will be complaining.
While the donations certainly add an expense to the project, I do have a feeling that people would have 'played along' with the movement without any charitable incentives.
After all, people use hashtags all day long without expecting anything in return, and the idea alone is enough to get writers to tweet.
That said, as Reedsy managed to get some fairly big names on board, like David HH of 37 Signals, the giving angle could help you reach people would you never expect to mention your website in any way before.
If you're going to try and implement this in your own marketing ventures, it's fairly easy to see what other angles you could come up with.
Depending on your niche you could create a 'concept' around:
#IWorkoutBecause
#IKnitBecause
#IRunBecause
#IBlogBecause
#ICrossFitBecause
#ImVeganBecause
I imagine that last one could get a few people talking. Vegan's tend to be very passionate about their stance on animal cruelty.
If you build anything with this angle then, as always, I would love to hear about it.
87
Welcome to Detailed
We share content marketing case studies you can actually use, seven days per week.
We'd love for you to join us through one of the channels below…

Listen to our daily podcast

Follow us on Twitter (daily) or Facebook (weekly)

Subscribe for email updates (max once per week)

Watch our detailed site reports on Youtube