It's been a funny 48 hours since writing about MoneyUnder30 being acquired for $675,000.
I was actually a bit late to the news as it happened earlier this month, but I didn't see any media or SEO sites talking about the acquisition so thought it was worth sharing. (And I was definitely the only person weird enough to notice the new owners quickly changed their homepage title tag).
I tweeted about the acquisition — not expecting much response since acquiring a site for $7M then selling it for $675,000 isn't the most positive story in the world of internet marketing.
I have a decent following on Twitter, but getting so many likes and RT's doesn't happen that often so the reaction it picked up was surprising.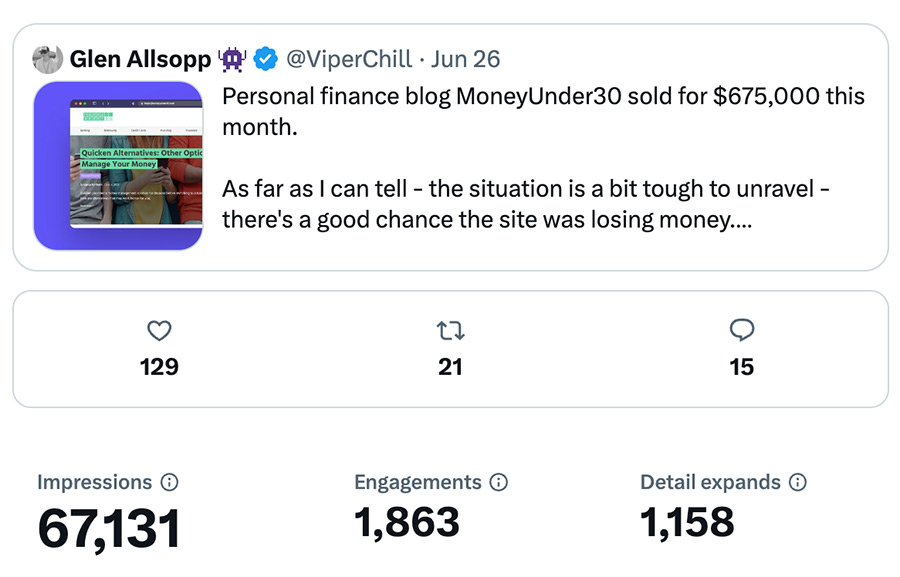 Larry Ludwig, who sold InvestorJunkie to XLMedia for $5.8M, revealed in the replies he made an offer to buy the site back from them. InvestorJunkie was however sold to MPD Media along with Greedyrates and Young & Thrifty for $1.3M at the end of May, 2023.
If you read the original post then you might have seen me comment on Doughroller, as I wasn't quite sure what had happened to the site.
Doughroller was another finance blog that XL Media acquired (then known as Webpals Group) for an estimated 7-figure sum.
I say estimated as at the time they didn't give specifics on every single brand, besides that they had spent $27.2M on finance site acquisitions.
We know InvestorJunkie sold for $5.8M, MoneyUnder30 for $7M and Greedyrates for "over $9M". That leaves ~$5.4M left for Doughroller and, if I understand correctly, finance sites Five Cent Nickel and Consumerism Commentary.
There may be other sites that were acquired and not mentioned, but DoughRoller specifically received a shoutout in their acquisition press release back in the day which suggests it was probably the most expensive.
DoughRoller Founder Rob Berger Now Owns the Site Again (It's Nice to Be Sharing Some Positive News)
One of the people who followed me after my tweet above was Rob Berger. It was a name I recognised from the DoughRoller about page as being the founder of the site.
I asked Rob if he was the new owner of the site and he confirmed that he was, adding that he also acquired Consumerism Commentary and Five Cent Nickel from XLMedia.
Rob said he was fine with me covering the story here – I wouldn't have written this otherwise – but (understandably) didn't want to get into acquisition fees, so I'll be respectful and not speculate on them here.
The primary reason I'm sharing this update is because I had promised to look into it. On the original post I said,
I need to go back through the ownership story of Dough Roller because I can't find any kind of sale announcement.
I know it's not the most important story in the world, but I also love the fact that Rob is back in control of the finance site he started 16 years ago.
I won't claim to know Rob or his mindset, but I imagine it feels pretty good to once again have admin logins to a site you spent so many years working on.
As I wrote here and on Twitter, I much prefer sharing positive stories. I don't love that XLMedia sold sites for a lot less than they bought them for. I'm personally bullish on digital publishing so sharing success stories is definitely what I hope to do more of going forward.
Before I sign off, I just want to make a quick comment about the word 'Exclusive' in the headline here. As should be very evident, I'm not a reporter.
I've been writing online for over 15 years and only in the last month did I start consistently writing news-related updates on the world of SEO and digital publishing.
To be totally honest, I'm just having fun with this and seeing where it goes. XL Media are a public company ($XLM) that people have invested a lot of money into, so I think it has some newsworthy relevance as to what happened to the sites they sold.
As far as I know I'm the only person on the internet who has followed up on that. There's a good chance that's because it's not interesting to many people.
I also wrote Exclusive in another headline recently, where Buzzfeed redirected one of their popular websites to another popular website.
Once again, Buzzfeed are a public company so I thought this had some newsworthy element to it. There's the added bonus that it's another redirect case study for SEOs to keep in their back pocket to monitor.
While I believe these are exclusives, please don't take my headlines too seriously. I don't consider myself much of a reporter, and one month from now I might never be writing updates like this again.
It's just nice to get some clarification on what happened to the sites, and I sincerely wish Rob the best of luck going forward.
Written by
Glen Allsopp
, the founder of Detailed. You may know me as 'ViperChill' if you've been in internet marketing for a while. Detailed is a small bootstrapped team behind the Detailed SEO Extension for Chrome & Firefox (170,000 weekly users), trying to share some of the best SEO insights on the internet. Clicking the heart tells us what you enjoy reading. Social sharing is appreciated (and always noticed). You can also follow me on
Twitter
and
LinkedIn
.