A few weeks ago I launched two free Twitter tools to (mostly) coincide with the launch of Detailed.
The feedback was really positive, but my business partner Dirk let me know I probably should have explained what they do a little better.
He sent me a message essentially saying,
Hey man, the tools look awesome, but don't you think you should create a video to explain how they work?
I assumed most people would just 'get' the idea behind them, but he was right. I needed a tutorial.
Today I'm going to reveal practical examples of how I use the first free tool I released, which helps you find the 'top' people sharing anything on Twitter.
Here's the link: Search and Extract Twitter Users.

I was inspired to create a tutorial for this tool today after seeing a tweet from my friend Tim Soulo.
Tim shared a screenshot from Ahrefs (where he works) which showed that a recent BuzzSumo article on the best headlines to use when sharing content was already ranking in Google for some impressive keywords.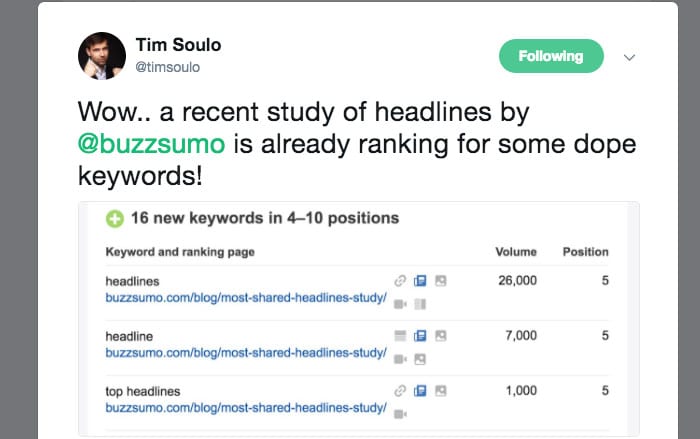 I wouldn't expect the rankings to last – they're not being propped up by links (yet) and new content generally tends to rank well in Google for a short while – but the article Tim highlighted was all over my Twitter stream.
When I see a piece of content in the marketing space doing really well, I'm always curious about who is sharing it.
With the free tool I released I can learn the people who shared any marketing-related content that either a) don't follow me and don't know about me or b) I don't follow and don't know about them.
In other words, I can easily find users on Twitter with a large following of marketers who I haven't yet connected with.
And it's just not in the marketing world where I find the tool useful.
To start with, I simply put the URL of the BuzzSumo article into the search box, like so.

When I hit search, it will find up to 100 tweets from people who have shared the a link to this article on Twitter.
You can search for more tweets, but I always look at just 100 mentions first as there may not be more than 100 tweets and searching for more takes a lot more time.
Keep in mind that the Twitter API only allows you to search Tweets made in the last seven days, so it's better to look for who Tweeted a big article around 48 hours after it goes live.
There are many other use cases for the tool which I'll get to soon but for now, here's a sample of the people who shared the article.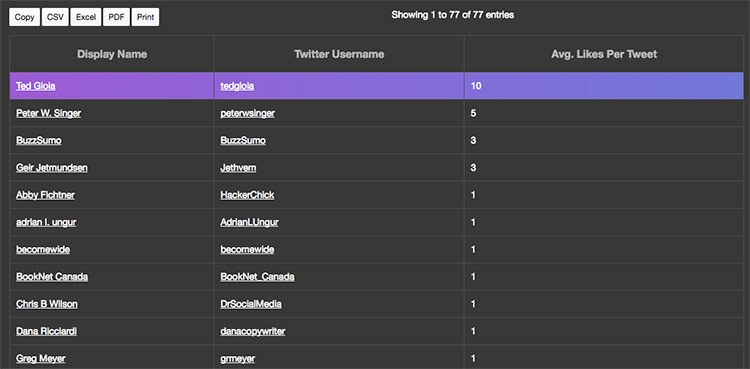 From just one Buzz Sumo article URL I now have the Twitter profiles of 77 people who care about marketing-related content.
What's more, the results are sorted by the average likes a Twitter user gets on their updates, meaning you can find influencers much easier.
Side note: Typically the higher number of average likes someone gets the greater their reach, but watch out for anyone who may be getting a lot of likes from bots.
From the results page you then simply go through the profiles and see if there's anyone relevant to you and your audience you might want to connect with.
The first relevant person I came across goes by the name of HackerChick.

She (Abby) has over 11,000 Twitter followers and regularly shares marketing articles, but I've never heard of her before (and she's probably never heard of me).
In other words, in 20 seconds of using this tool I've found a genuine Twitter user who's interested in marketing and has a substantial following.
Another person who shared the Buzz Sumo article was Greg Meyer.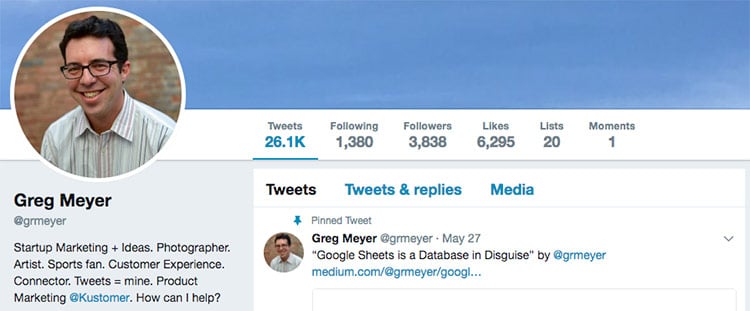 While not as 'popular' as Abby (Hacker Chick), Greg still has an impressive following of a few thousand people and is clearly interested in anything to do with marketing based on his Twitter bio.
For a third example, I found that Chris Wilson also shared the article. Chris works for a huge inbound marketing platform named Hubspot so it makes sense he would be interested in the topic.
Chris's following is lower still, but when he tweeted about the Buzz Sumo article, the original author retweeted it, helping me find another active marketer I can connect with.
Keep in mind that just because someone doesn't have thousands of followers, it doesn't mean they don't have fans who do.
I'm not going to share the details of all 77 people the tool found, but at least a dozen of them are people I should probably get to know more.
Not bad for a free tool, a single URL and 30 seconds work.
Other Great Use Cases
This tool doesn't just work on a URL-level. You can literally search Twitter for anything and have the top users displayed for you.
Search for an entire domain
Try searching for the domain name of any popular website in your space. It doesn't just have to be a specific URL on their site, but you can literally just write 'BuzzSumo.com'.
The tool will bring back people sharing any article of theirs — people who may be interested in your own content.
Keep in mind that again, the tool only brings back data for the last seven days, so you can keep coming back to get a fresh list of potential connections.
Search for a Twitter user
Is there someone talking to or about a 'competitor' of yours that has a big following?
Put in the username of any Twitter user (including the '@' sign) and see who are the most popular people that are talking to them in the past week.
Again, you may find some big names in your niche you didn't previously know about.
Here are some of the top people who have tweeted to or about me (@viperchill) in the last seven days.
Even if you're just looking for other relevant people in your niche to follow, this query can help with that.
Search for any terms related to your industry (in quotes)
If you're in a fairly obscure niche, you may not have any popular Twitter users sharing the content of your competitors.
Don't fear, you can still find anyone talking about anything with this tool.
If you sell chocolate online for example, you can try terms like:
"I love chocolate"
"Where to find chocolate"
"chocolate recommendations"
And anything else relevant to your industry.
To save time, I recommend doing these searches on Twitter first. Make sure your searches actually bring back a number of tweets and from real people (i.e. not bots).
Only then would I use the tool to help me 'extract' users who are then sorted by popularity.
Here's the link again if you missed it.
What to Do When You Find Relevant Influencers
If you've already used the tool and want to know what to do when you find someone relevant to your niche, I have a few suggestions.
Option #1: Follow them & send a tweet
It seems simple enough, but you don't have to rush into creating any kind of 'relationship'. If they really are relevant to what your online projects are about, you'll probably enjoy what they have to say.
The most powerful online relationships are those that are built over time.
Option #2: Send out a "Hello" email (no pitch).
The reason the tool only brings back people with a link on their profile by default is that it's typically the only way to find someone's email address.

If someone doesn't have a personal site or even a link to the company they work for it's going to be a real pain to find a non-Twitter way to get in touch with them.
Once you've found a public email or contact form, let them know that you found them tweeting about 'X' topic.
Do not pitch something in your first email. Just see it as a way to strike up a conversation.
Option #3: Add them to a list
A few months ago I created a list on Twitter called 'Peoplewhohateme' to see if people really do read their list notifications.
80% of the people I added to it sent me a tweet saying "WTF".

I don't recommend you do the same, but it does show that people notice when they're put on a list.
It's also just a good way to keep in touch with people relevant to your niche that you might not want to follow in your main feed.
There are so many potential uses of the tool that I haven't covered here, so I hope you have fun with it.
P.S. I'm on live chat for the next 7 days (yellow icon bottom right) if you want to chat with me about anything marketing related.
91
Welcome to Detailed
We share content marketing case studies you can actually use, seven days per week.
We'd love for you to join us through one of the channels below…

Listen to our daily podcast on iTunes or Stitcher

Follow us on Twitter (daily) or Facebook (weekly)

Subscribe for email updates (max once per week)

Watch our detailed site reports on Youtube
View Case Study