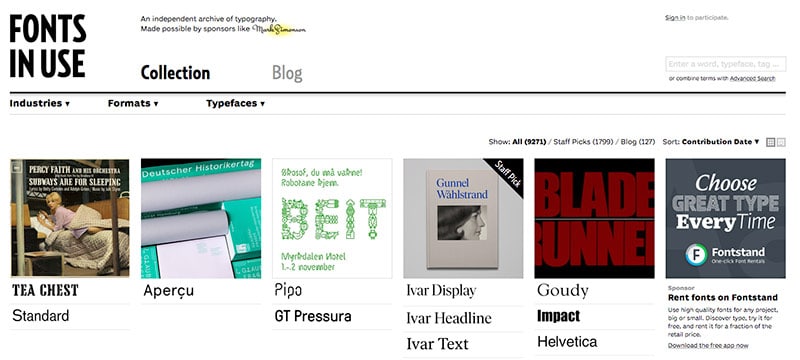 There are a few things that surprise me about today's case study.
The first is that the site receives a lot of traffic for having links from a (relatively) small number of sites, and the second is that 67% of their traffic comes from search, when I thought direct would be the dominant source of visitors.
FontsinUse.com is the descriptive domain for a daily gallery of fonts being used in the real world.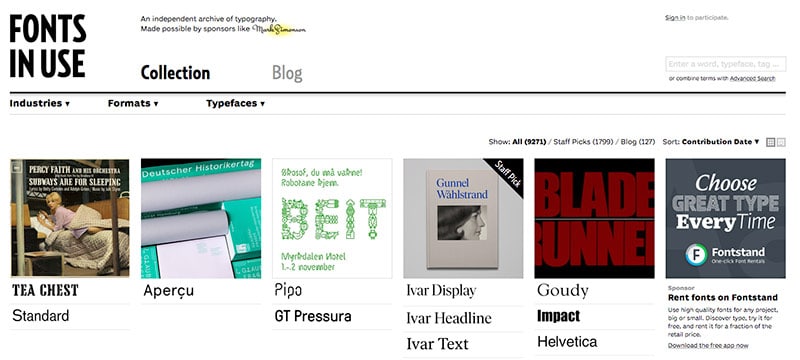 I can see that designers and creative types would find it inspiring, which is why I expected to see a higher traffic percentage from returning visitors.
When I looked into the terms that they're ranking for however, I started to understood why.
The site brings in over one hundred thousand visitors per month by ranking for terms like:
Stranger Things font
Twin Peaks font
Jeopardy font
Kendrick Lamar Damn font
Taylor Swift Reputation font
People search for the font of something from the real world, and that's exactly what they cover in their gallery. Super smart.
When I first came across the site I thought the findings were random – I have no idea what any of the books or magazines on the homepage right now are – but they are clearly targeting popular shows, movies and books as well.
So how can you take this idea and replicate their success with a different angle?
There are some Reddit sub-Reddit's that would make for a great source of inspiration for a site like this.
Accidental Wes Anderson (118,000 subscribers) is one.
Accidental Renaissance (317,000 subscribers) is another.
A photographer or interior designer could find ways to benefit from the first example. A webmaster in the history niche with the second.
I know that brilliant advertising around the world can go incredibly viral on Twitter, so I could see a gallery of the best billboards, bus advertising and other real-world 'banners' taking off as well.
The thing I like about this concept is that – given you get proper permissions for photos or give the proper credit – there's little to no work involved in keeping the site updated.
The hardest part would be getting your theme in place, and then the daily updates really are what makes the site.
I'm sure you can come up with some far better ideas than me, so I hope you're inspired by this one.
View Case Study