Latest News
Ported this page over to our new 'Digital Goliath' structure September, 2023
Revenue
Gfinity trade on the London Stock Exchange as $GFIN
Gfinity share their revenue numbers every six months, with the most recent accounts released in May of 2023.
For the second half of 2022 they generated £4.1M (around $5.2M), a 25.9% increase compared to the second half of 2021.
Investments in the development of esports platform Athlos – which they've now divested 72.5% of – were significant, growing to £2.7M compared to £2.4M the year prior.
I'm really interested to see how their streamlined focus and new websites impact things so if there are any updates, you know we'll be the first to report them.
Gfinity Traffic & SEO
Using first and third-party data in our research
I couldn't see the word 'SEO' mentioned in an investor update and not mention it here.
This insight is a little older now since I was not covering news then, but Gfinity made some interesting comments in their June 2023 investor update.
Specifically, they said,
After a large dip in users in 2022 due to some adverse market impacts including changes in the Google Search Engine, the Company has performed a round of cost cuts and improvements in it content as it streamlines the Editorial team and makes strategic hires in SEO and tech, to increase user numbers. Part of this plan includes the deployment of AI automation tools to reduce the cost of specific items of content creation.
If a company themselves is talking about their struggles in search then there's no reason not to believe them.
It could be a single site significantly dropping which has hurt them or dips in their network overall. I did look into one site, RealSport101, which covers the genre of sports gaming, and both Ahrefs and Semrush show a pretty significant decline in traffic: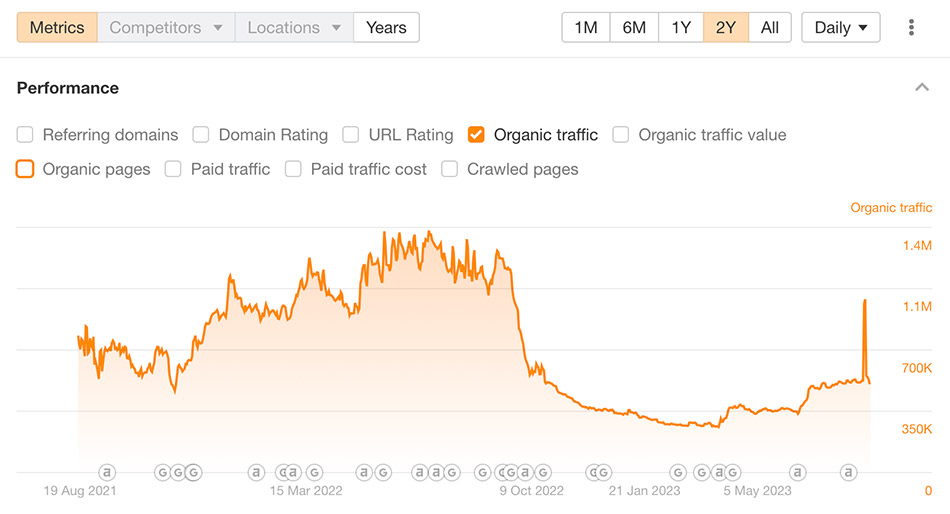 It will be interesting to see if their new SEO hires can turn things around and whether they make new comments on their results going forward.
Gfinity Network
Changes are made here every month
We currently track 10 sites for Gfinity:
Stock Informer is the "odd one out" in that list, but not because it covers the stock market. Instead, it's a site dedicated to helping you know when products are back in stock. It's likely a pretty smart affiliate play for them.
Gfinity today announced the launch of Starfield Portal, a new site dedicated to news, updates and walkthroughs for the upcoming game from Bethesda, Starfield.
As you've probably guessed I have more than just a website launch to share, but this announcement brought back some nice memories for me.
When I first started building websites as a teenager, before Twitter was a thing and WordPress was barely on anyone's radar, online forums were all the rage.
While most people were content to be forum members, a group of us were constantly on the lookout for what was coming next (new cars, games consoles, sports) that we could build the first community around.
It's nice to see VerticalScope adopted that model and scaled it way further than I imagined anyone ever would.
Building out a website in anticipation of a category taking off is pretty damn exciting, and the Gfinity team are prepared in style with an attractive new website: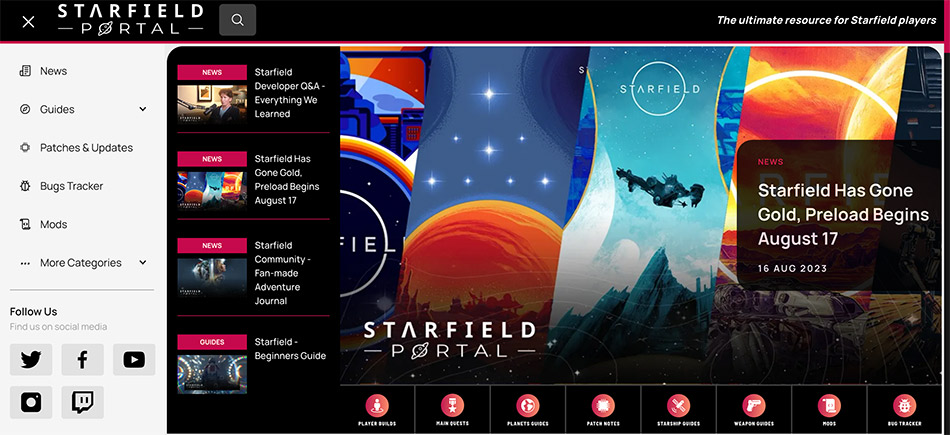 I haven't played video games for years so this is not my space anymore, but I presume Gfinity expect this will be a title that people are interested in for years to come. Having 198,000 followers on their Reddit subreddit is a very good sign.
There's a lot to look forward to for them here.
Will the game be popular years down the road, so the investment was worth it? (Time is also an investment)
Could they do insane numbers in the first few weeks, reaching millions?
Will niche-focused sites like theirs outrank "general" sites like IGN covering the same game?
I imagine what is happening behind the scenes is a little like Brandon Saltalamacchia documenting his CardGamer journey on Twitter. The team will be watching their analytics with anticipation over the next few weeks.
We have a great thing going here at Detailed and several sites we work on, but I can't recall the last time I built a site in preparation for a big event so I'm slightly jealous.
Maintained by
Glen Allsopp
, the founder of Detailed. You may know me as 'ViperChill' if you've been in internet marketing for a while. Detailed is a small bootstrapped team behind the Detailed SEO Extension for Chrome & Firefox (170,000 weekly users), trying to share some of the best SEO insights on the internet. Clicking the heart tells us what you enjoy reading. Social sharing is appreciated (and always noticed). You can also follow me on
Twitter
and
LinkedIn
.