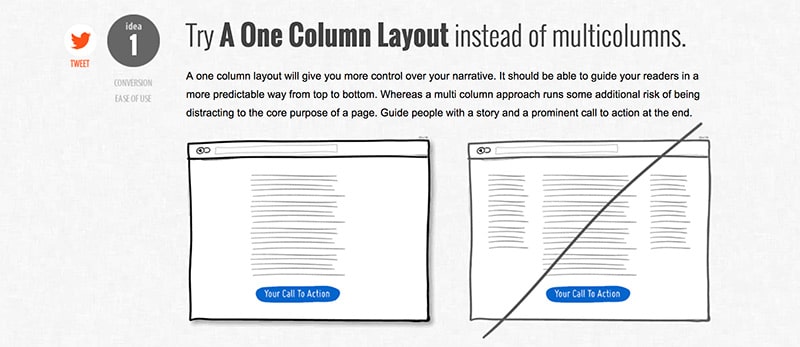 As soon as I set eyes on this website I knew it would have impressive numbers to go with it, even if it only consists of a single page.
I wasn't wrong.
With over 43,100 shares on Facebook and links from 1,570 different websites, GoodUI.org is the epitome of what it takes to create something remarkable and be rewarded for your efforts.
What I'm even more impressed by is that they've elegantly integrated an opt-in form into the header and footer of the website, which assuming is their only form of lead generation, has brought them over 44,000 subscribers.
Once you "get" the concept and what they're showing you – I personally skipped straight past the header at first – you just want to keep scrolling and learning. It's easy to spend 10 minutes on the site and get so much actionable data from it.
My willingness to stay on the site for so long was no doubt helped by the attractive graphics which accompany which user interface changes they recommend, helping you see exactly what they're referring to.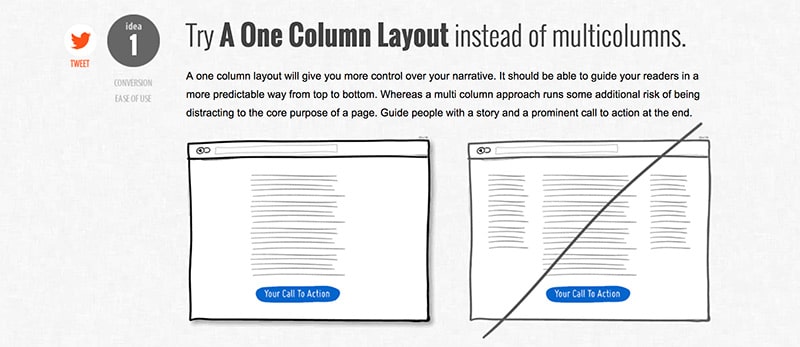 They've also nicely integrated 'tweet this' buttons so visitors are encouraged to share the site.
According to SimilarWeb the site is being visited more than 50,000 times per month, which is incredibly impressive when you consider it's essentially a really long yet enticing squeeze page.
At just shy of 10,000 words, if you're looking to replicate their success, you're going to have to put a substantial amount of time into the site before knowing if it would pay off.
That said, there could be the opportunity to repurpose any content you create if it doesn't, so you wouldn't be at a total loss.
I can't really give angle suggestions for this one as you have to really know your niche to consider creating something similar.
If your niche and knowledge allows you to share there any short pieces of wisdom that you could put together in a beautiful list, I may have just ruined your plans for the weekend.
Happy Friday!
View Case Study
Detailed Pro
gives you the traffic and link opportunities you need to grow your search and referral traffic.
Our full-time marketers manually pick the best marketing opportunities for your website, so you can focus on what's important to you.