After reporting on their record month of May and our exclusive on them reviving three of their older football sites, GRV Media have just announced another record traffic month for June, 2023.
That's not all, they've also just added five new team-specific websites to their network.
(For our American readers, I should note that in this context, football means soccer.)
GRV Media's Sophie Past revealed that June was an all-time record month with 33.7M combined visits for nine of their websites. Those sites being:
67 Hail Hail (about Celtic F.C)
Everton News
Geordie Boot Boys (about Newcastle United)
Leeds United News
Manchester City News
Notthingham Forest News
Rangers News
TBR Football (The Boot Room, a general football site)
Not only have they been adding writers to their team with three new hires in June, but they've been adding websites as well.
The new additions are specific sites covering Wrexham AFC 🏴󠁧󠁢󠁷󠁬󠁳󠁿, Real Madrid 🇪🇸, Barcelona 🇪🇸, Inter Miami 🇺🇸 and Sunderland 🏴󠁧󠁢󠁥󠁮󠁧󠁿.
Wrexham are far lower ranked than any other teams they cover, but they've been making world headlines in recent years thanks to A-List actors Ryan Reynolds and Rob McElhenney taking over the team. That was no doubt a huge factor in launching the publication.
The new sites don't even have favicon's yet, and Inter Miami's contains nothing more than the default WordPress post, 'Hello world'.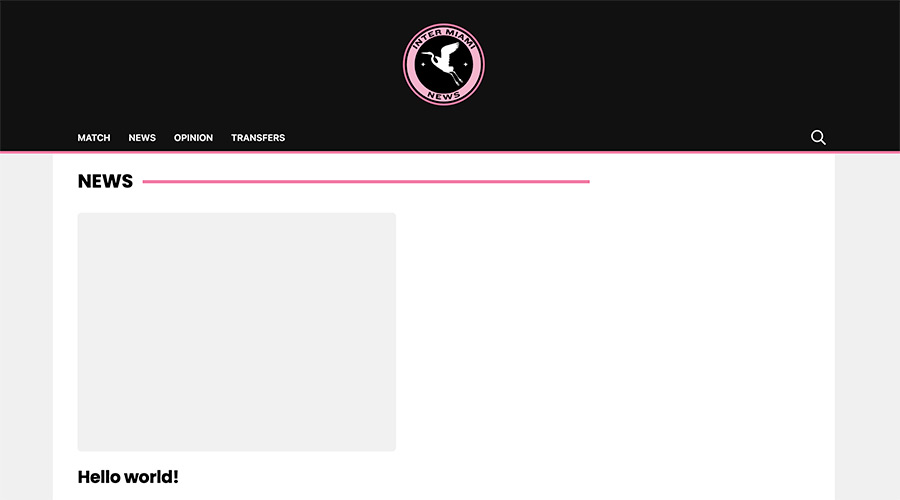 Inter Miami have often been in the news thanks to David Beckham's part ownership, but now they've just signed Lionel Messi who is possibly the most famous footballer in the world right now.
I never thought I would be writing about Sunderland since they're a local rival of the team I support, Newcastle United, but there we are.
As I mentioned in the two past updates on GRV Media, club football is not in session right now, with games not set to resume until mid-way through August. That said, transfer news is a hot topic – especially on social media – and the window is currently open so rumours are everywhere.
GRV also announced they now have a dedicated website for every single Premier League team. If you're not a football fan, the Premier League is basically the top division in English football, and the most watched league on the planet.
They're clearly going all out to capitalise on what is a winning strategy so far, so it will be interesting to see if they're still updating all of the sites 12 months from now. They did take a break with some other sites in the past (such as their site for Tottenham Hotspur) so success isn't guaranteed here.
I have to respect that GRV Media share updates like this because as an outsider they're fascinating to read. For that reason and a few others, I wish them the best of luck with the expansion.
Written by
Glen Allsopp
, the founder of Detailed. You may know me as 'ViperChill' if you've been in internet marketing for a while. Detailed is a small bootstrapped team behind the Detailed SEO Extension for Chrome & Firefox (170,000 weekly users), trying to share some of the best SEO insights on the internet. Clicking the heart tells us what you enjoy reading. Social sharing is appreciated (and always noticed). You can also follow me on
Twitter
and
LinkedIn
.