This article has received 3 edits. The last edit was made on August 11th, 2023
– Added commentary on the new owner and the new design they launched
Last month we reported that one of the online digital media goliaths we track, XL Media, sold personal finance blog Money Under 30 for $675,000.
XL Media acquired the site for $7M in August of 2017, so that's a ~90% decrease in value over the past 7 years. Of course they (hopefully) made some of that money back in revenue during their period of ownership, though my outro may make you think otherwise.
XL Media had been looking to exit their position in finance space – the prior month they sold another large site they acquired, Investor Junkie – and this is now them completely out of the niche.
If Ahrefs estimates are to believed then the site had some really good years of increased search traffic not long after the acquisition, but the last few years haven't been as positive: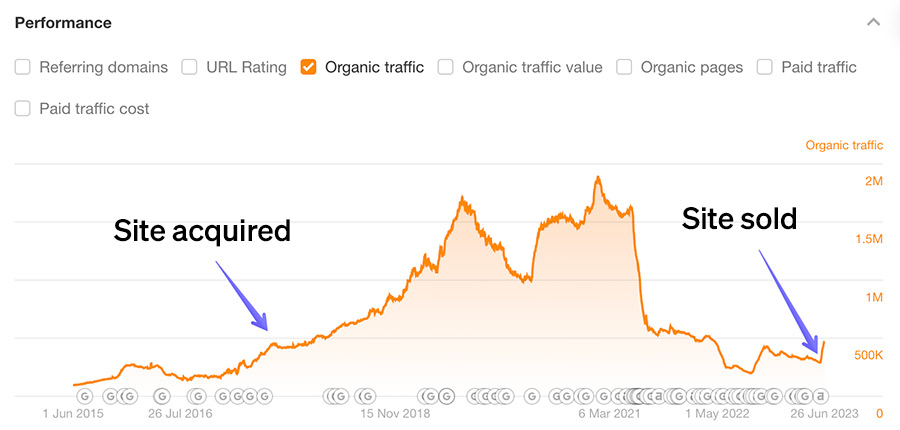 Now in August we have an update on who the new owner is: David Edward Weliver.
What's really cool is that David is actually the original creator of the site.
On his new about page he makes some interesting comments about the brand under its previous ownership.
As usually happens when big companies buy small websites, they ruined it. They only cared about ad dollars and not at all for content or audience. Lamentable, but predictable.

Then, in 2023, I learned XLMedia was selling Money Under 30. They were giving up. So, I bought it back.

I have a lot of work to do. The site is still infected with a lot of the thin "me too" content XLMedia published in their sleazy effort to make a quick buck. Over time, I will replace it all the kind of helpful, trustworthy advice that made this site successful in the first place.
He didn't hold back there.
When it comes to ranking in Google, Money under 30 is in one of the most competitive niches online, up against other digital goliaths like the publicly listed NerdWallet ($NRDS).
I can't help but think they could have given the site a bit more love on the design and personality front over the years — they don't seem to make much attempt to draw you in as a reader to come back regularly.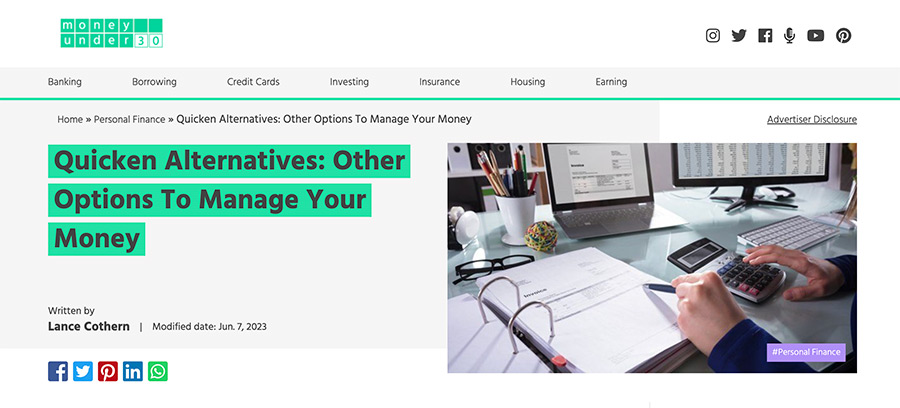 New owner David, via Northern Lights Media, has already started to make his mark with a new redesign: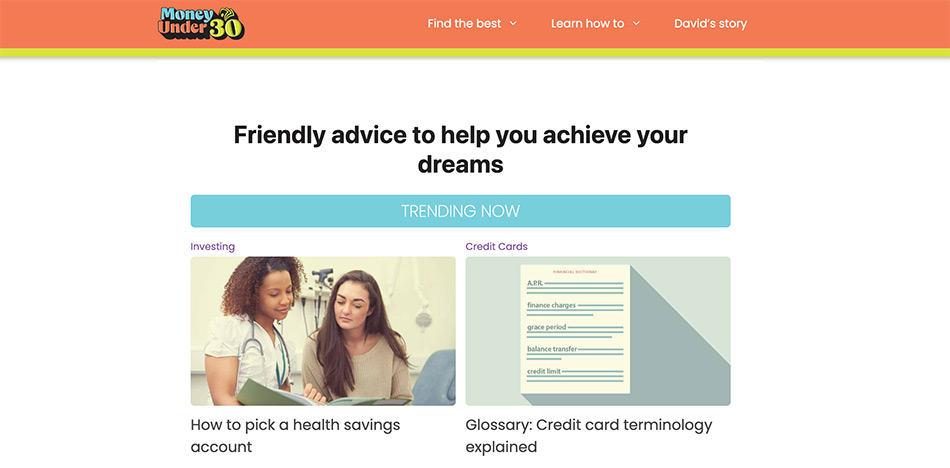 I'm going to be honest but respectful here: I think it needs a lot of work.
I know green is a bit overdone for sites in the finance space, but there are so many different colours going on here that make it look a little…cartoony. It might also be the narrowest design I've seen in a while, which tends to be reserved for the kind of site you would see promoting celebrity gossip via Taboola or Outbrain ads.
Design is a very subjective thing and David might (fairly) think Detailed looks ugly, so I won't go into this too much. The content David produces is going to matter more than anything, and I sincerely wish him the best of luck.
The New Owners First Change? Tweaking The Homepage Title Tag
From what I can tell, the first things the new owners did to the website was change its homepage title tag.
On the 1st of June, 2023 I have their homepage title tag as:
Money Under 30 | Advice On Credit Cards, Investing, Student Loans, Mortgages & More
On the 8th of June – one week later – I have that tracked as:
Homepage – Money Under 30
Now in August this has been changed back to:
Money Under 30
I definitely prefer simple title tags for homepages, especially as they don't tend to be great for ranking for anything other than brand names, but this is as simple as it gets.
Originally the favicon was missing from the site, but that has now been replaced as well.
XLMedia ($XLM) Gets A Little Bit Smaller
In the year ending December 31, 2022, XL Media's personal finance division generated revenues of $1.9M, resulting in a loss of $1.3M EBITDA.
At the end of May they had announced the sale of other personal finance assests like InvestorJunkie, Greedy Rates and Young and Thrifty.
We're now down to tracking just 8 sites for XL Media, which are:
SaturdayDownSouth (Sports)
101GreatGoals (Sports)
SaturdayTradition (Sports)
CrossingBroad (Sports)
Dough Roller (Finance)
Secure Thoughts (Computers & IT)
SaturdayRoad (Sports)
SaturdayOutWest (Sports)
If you've read every word of this article then you'll be confused as to why there's a personal finance site still in the list when I mentioned they've now exited that space.
I need to go back through the ownership story of Dough Roller because I can't find any kind of sale announcement. I can only find information on XL Media ($XLM) announcing its acquisition.
The XL Media stock price has struggled over the years, down 92.41% over the past five.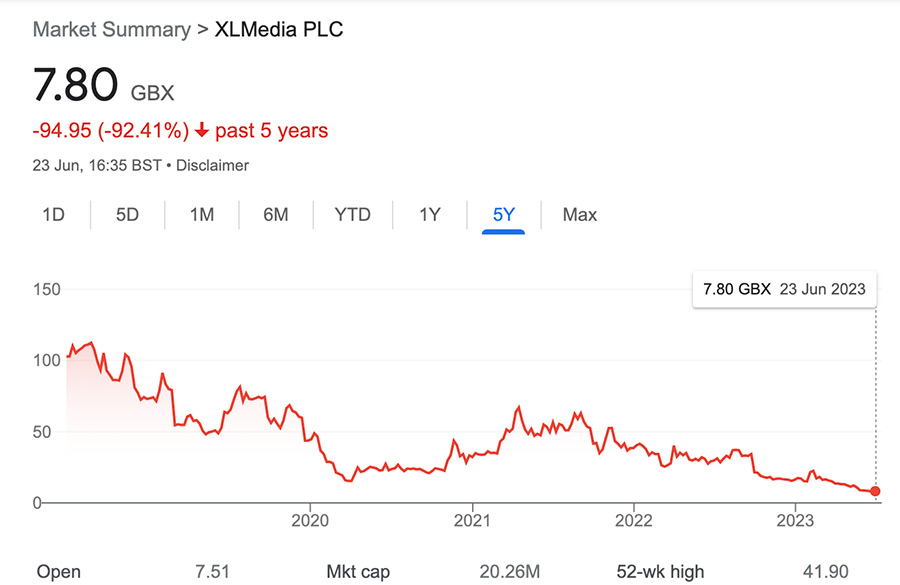 They had already told investors they want to focus on their sports and gaming devisions, and it looks like they're doing exactly that.
I like reporting on media brands doing well, so I'll keep you up to date on whether they're able to turn things around.
Written by
Glen Allsopp
, the founder of Detailed. You may know me as 'ViperChill' if you've been in internet marketing for a while. Detailed is a small bootstrapped team behind the Detailed SEO Extension for Chrome & Firefox (170,000 weekly users), trying to share some of the best SEO insights on the internet. Clicking the heart tells us what you enjoy reading. Social sharing is appreciated (and always noticed). You can also follow me on
Twitter
and
LinkedIn
.