NationalWorld made an interesting ommission from their half-year 2023 financials released today, but did share intimate details about how their business is performing.
Trading as $NWOR on the London Stock Exchange, they revealed that revenue for the first half of 2023 was 4% down on last year, but saw digital revenue increase 9%.
That digital revenue increase is thanks to a 21% increase in pageviews to their network overall, thanks to websites like:
And literally dozens more.
Before I get into more details of their financials, I was a bit disappointed to see that they didn't cover their acquisition of SnapDragon in any way.
In January of this year they picked up 50 football-focused sites which covered specific teams in the Premier League, Championship, League 1 and the Scottish Premier League.
Each one of the links in this screenshot is a separate website:

Not mentioning acquiring so many websites, despite discussing other acquisitions, is a bit surprising to me.
One possible reason is that the sites just don't get that much traffic, since they're aggregators of news elsewhere. Similarweb doesn't back up that theory however, with GoonerNews alone (focused on Arsenal Football Club) picking up over 1 million visits per month according to their estimates.

I didn't look at traffic estimates for every single one of the sites, but some had very low numbers, with their site targeting Wolverhampton Wanderers F.C. fans attracting an estimated 3,000 monthly visits.
Sites for better known teams like Manchester United receive an estimated 300,000 monthly visits.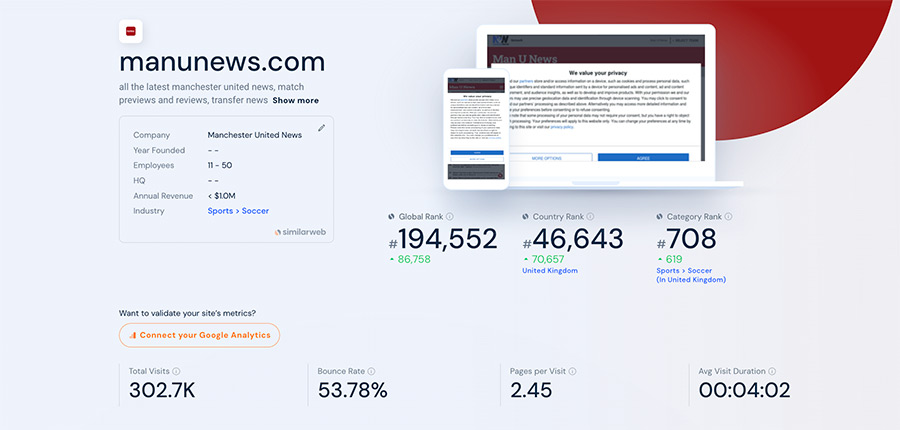 NationalWorld did get into the finances of their acquisitions, but only talked about other brands they acquired such as Bann Media, Insider Media and JPIMedia Group.
Breaking Down Their Digital Publishing Revenue
NationalWorld are prominently a print publisher, with £31.7M being generated there (compared to £8.9M for digital revenue) in the first half of 2023. On the print side that's a 13% decline over the first half of 2022.
Digital publishing revenue however is growing. You can see the numbers broken down in the graphic below: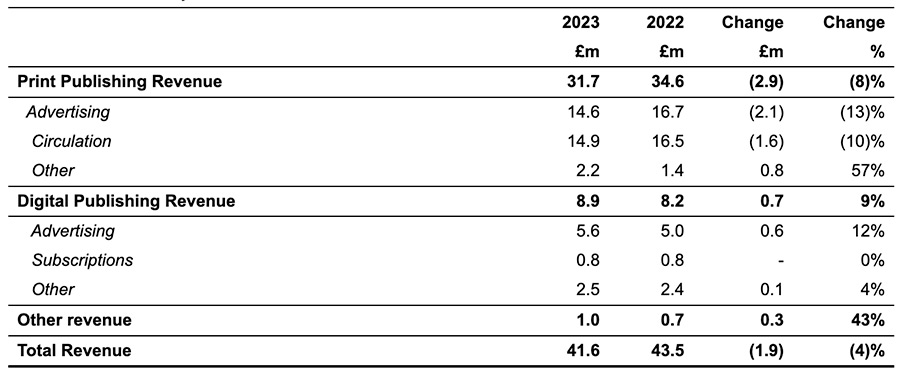 On the digital side you can see they increased both advertising and other revenue. Other revenue in this case includes "contracts for both Meta and Google content."
Average monthly pageviews were 141 million across their network of sites, a 21% increase over the previous year.
Revenue from digital subscriptions was stable, despite a pretty big blow where they lost 11% of subscribers. Subscription prices increased which balanced the numbers, though they appear to primarily be focusing more on pageview driven revenue from advertising, rather than subscriptions, going forward.
One of their goals for the rest of the year is to hit an average of 200 million monthly pageviews.
I won't claim that National World are one of the most exciting companies we track due to their focus on more generalised topics (the 50-football-site network being a nice exception) but it's great that we have these specific insights on revenue and pageviews.
Written by
Glen Allsopp
, the founder of Detailed. You may know me as 'ViperChill' if you've been in internet marketing for a while. Detailed is a small bootstrapped team behind the Detailed SEO Extension for Chrome & Firefox (170,000 weekly users), trying to share some of the best SEO insights on the internet. Clicking the heart tells us what you enjoy reading. Social sharing is appreciated (and always noticed). You can also follow me on
Twitter
and
LinkedIn
.