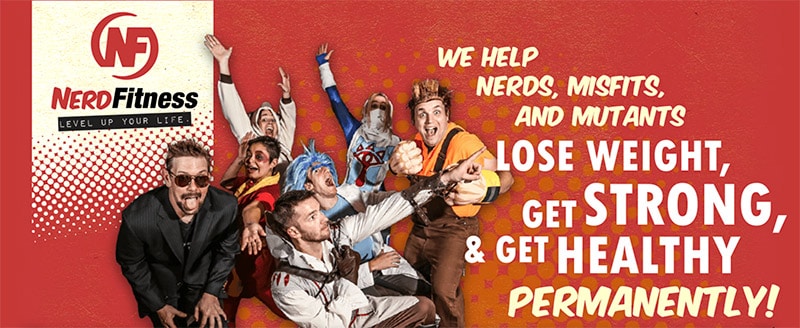 Though I actively avoid marketing conferences and meetups these days, I did used to be a lot more open to sitting down and meeting with people I admire in the online marketing world.
One of the people I met up with in South Africa was Steve Kamb, of Nerd Fitness fame.
Steve's site reaches millions of people each month and has enough incredible content ideas to inspire a months worth of Detailed updates, but that's not what I want to discuss today.
Instead, the thing that really caught my eye about Nerd Fitness is the forums.
More specifically, a forum category called '4 week challenges' that – every four weeks – let's people document their progress with a certain fitness goal and have accountability from others.

In their own words,
Pick 3 diet and/or fitness quests, and one level up your life quest, and work to complete them over the next four weeks. A quest is simply a goal that you'd like to complete.
So what's so special about this area of their site?
It is incredibly active.
Over the years the challenges have resulted in over 1.5 million (!) forum posts.
The challenge for November alone has already passed 38,000 posts.
People are flocking to these challenges and loving them.
Now, of course, if you're going to replicate this idea, it helps to have a forum on your website and a large audience who can discover your challenges.
That said, I don't think a forum, or a large audience, is a requirement.
My own Marketing Inc forums are updated daily, but if truth be told we only have around 30-40 active members on the site. Even the people who have huge success with our program (five-figures monthly revenue) disappear after a while and focus on other things in life.
That said, when one of our members Mike posted a thread last month about November Goals, it was surprisingly well received with over 163 views (compared to 30-40 on average for other threads in that forum category).
In other words, people like to share their goals and what they're working on somewhere, even if thousands of others aren't following along with them.
I would go so far as to say that even a blog post that people can keep commenting on would be sufficient to take advantage of this angle.
Of course, this doesn't work for every niche, but there must be thousands where visitors all have a specific goal, where someone can create the community to let them document their journey with it.
Check out the Nerd Fitness forums to see how passionate people are about the challenges each month and you'll see how much potential there is here to create something similar for your audience.
View Case Study
Detailed Pro
gives you the traffic and link opportunities you need to grow your search and referral traffic.
Our full-time marketers manually pick the best marketing opportunities for your website, so you can focus on what's important to you.