Today the New York Times Company revealed their revenues for the second quarter of 2023 were $590.9M, a 5.96% increase on Q2 of 2022.
They added 180,000 new digital subscribers, more than half of whom subscribed to their "entire bundle" of offered products, and are closing in on ten million in total.
Revenue from digital advertising increased to $73.8M, while print advertising continued its expected decline, down 8.6% to $44M.
I think the New York Times is an interesting digital goliath to follow, but it's their Wirecutter arm that I'm most interested in. If you're unfamiliar with that section of their website, The New York Times purchased product-review site Wirecutter (then The Wirecutter) in a deal worth $30M in October of 2016.
A few years later they would redirect its content to a subfolder at nytimes.com/wirecutter.
As you would expect from a product review site they cover topics like the best reading lights, earplugs, waffle makers and every product in between.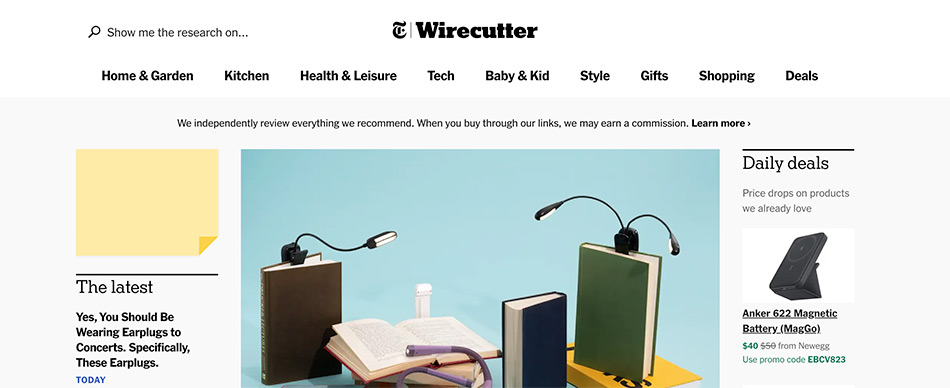 While reading today's press release I realised it's very possible that for the second quarter of 2023, the Wirecutter generated more in revenue than the entire price it was acquired for. Up to $38M.
Unfortunately The New York Times don't give exact numbers, but we can get very close to them from the statements they make.
For instance, they said that,
Digital other revenues, which consist primarily of Wirecutter affiliate referral revenue, digital licensing revenue and our student subscription sponsorship program, totaled $38M.
We don't know what the percentage split is here, but it implies the Wirecutter affiliate revenues were at least $15M and probably a lot more than that.
Later in their earnings announcement they also said,
Other revenues increased 16.1 percent in the second quarter of 2023, primarily as a result of higher Wirecutter affiliate referral revenues, higher licensing revenues related to a Google commercial agreement and higher TV and film revenues.
Once again giving focus to the success of how well Wirecutter is performing (emphasis my own).
While they did mention that this was the best non-holiday quarter Wirecutter has ever had, it should be noted that Amazon's Prime Day fell in Q2, which no doubt helped numbers here as well.
Interestingly, Wirecutter also has its own subscription option which likely helps fund the investment into purchasing products to review.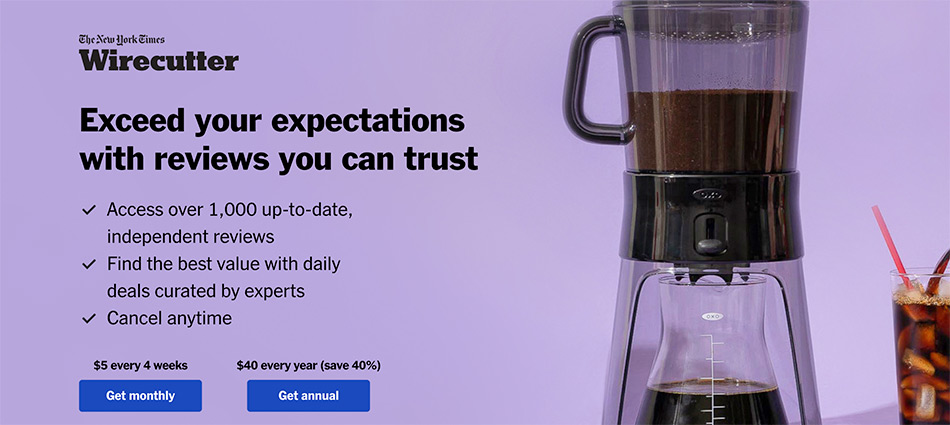 You can purchase a subscription independently or as part of a bundle with other NYTimes offerings.
We're fortunate that any individual product review URLs on the NYTimes domain come under the /wirecutter/ sub-folder so we can get an idea of how well that part of their website is performing in search.
Semrush estimates this section of their website is receiving around 17 million clicks each month from Google: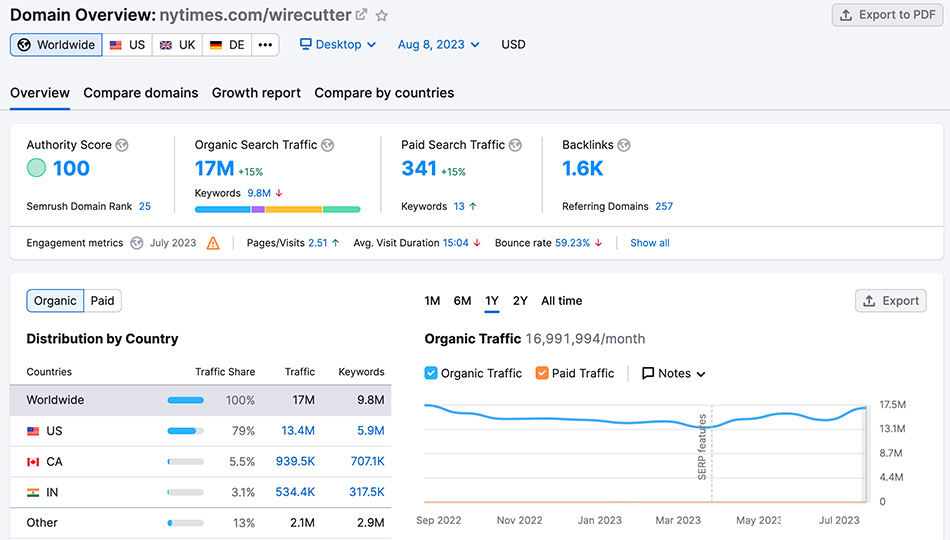 The numbers here are huge, and no doubt help to explain why they're able to generate so much revenue in affiliate commissions.
Of course, we can't forget that a lot of people will be reading their reviews by clicking directly to them just because they're already on the NYTimes website. There aren't many companies that could have made Wirecutter into the huge success story it is today.
This has been busy few weeks for earnings reports, and I expect one or two more that are blog-worthy, then we'll be back to regular programming.
Written by
Glen Allsopp
, the founder of Detailed. You may know me as 'ViperChill' if you've been in internet marketing for a while. Detailed is a small bootstrapped team behind the Detailed SEO Extension for Chrome & Firefox (170,000 weekly users), trying to share some of the best SEO insights on the internet. Clicking the heart tells us what you enjoy reading. Social sharing is appreciated (and always noticed). You can also follow me on
Twitter
and
LinkedIn
.