Overstock (trading as $OSTK) have announced they're gong to redirect their site, Overstock.com, to BedBathandBeyond.com in the coming weeks.
In their press release they stated "The name change will roll out in Canada next month" (next month referring to July) which I presume means changing mentions in marketing materials because their new website and app isn't set to be launched until August.
From then on, people who try to visit Overstock.com will find themselves on BedBathandBeyond.com.
I've covered another big domain redirect from a public company recently and I think this one will be equally interesting to watch.
Not that I think 'Domain Rating' really matters in this context, Ahrefs give Overstock a DR of 84 and Bed Bath and Beyond's site a DR of 86. Meaning they value the link profile of BB&B a little higher than the current Overstock site.
Here's how the BB&B site looks in preparation for the relaunch: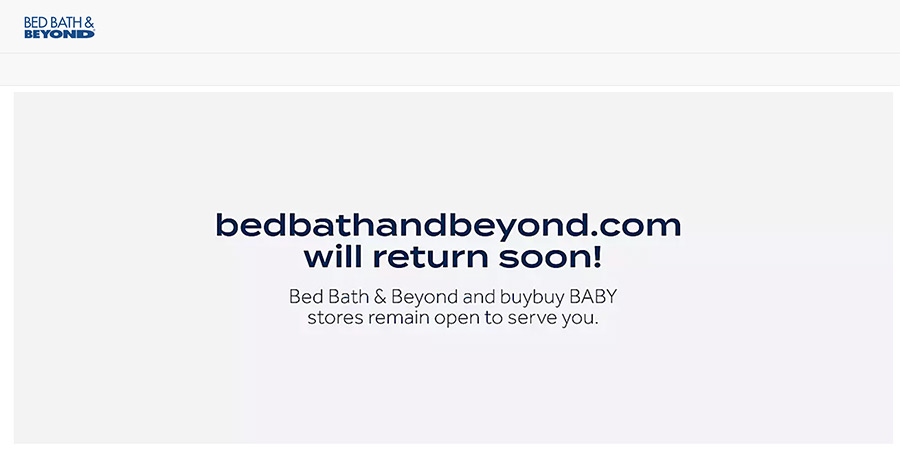 Overstock have already added 100,000 items to their site following the recent purchase of Bed Bath & Beyond's assets for $21.5M. A move which sent their share price 20% higher.
Overstock have had around 5 million customers make purchases on their site, while BB&B have had around 10 million online.
I personally prefer the Overstock name but apparently it has caused confusion over the years and if I'm honest I don't know the brand value Bed Bath and Beyond has in the US.
Emphasis my own in the screenshot below from their press release on the news.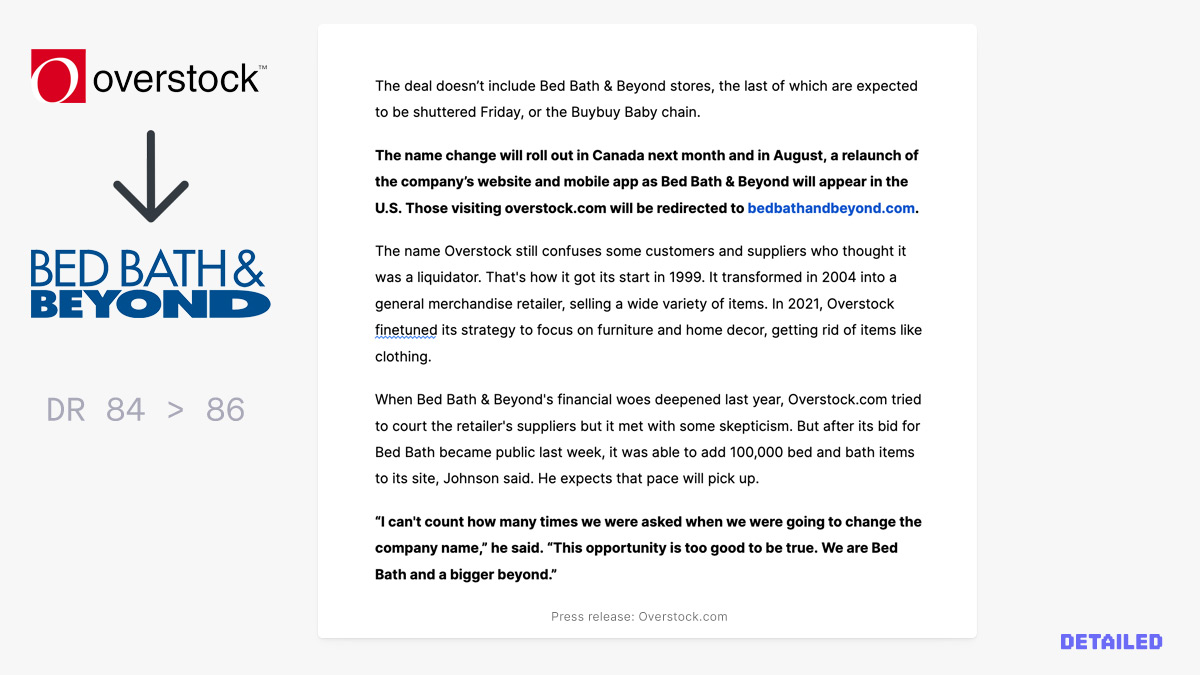 I wouldn't expect there to be any real drama in terms of them completely losing search traffic or anything like that.
The difficulty involved in this will depend on whether URL structures are changing, how different on-site SEO will be for their current pages and how many new pages will be on the BB&B site that aren't currently on Overstock. That last point being based on my understanding they're still adding new products since the acquisition.
Bed Bath & Beyond product and category pages already redirect back to the sites' homepage since declaring bankruptcy, but they're not all out of Google's index just yet.
I'll check in on this in a month and let you know how things are going, but it's nice to have another case study in the world of big site 301 (308?) redirects.
Written by
Glen Allsopp
, the founder of Detailed. You may know me as 'ViperChill' if you've been in internet marketing for a while. Detailed is a small bootstrapped team behind the Detailed SEO Extension for Chrome & Firefox (170,000 weekly users), trying to share some of the best SEO insights on the internet. Clicking the heart tells us what you enjoy reading. Social sharing is appreciated (and always noticed). You can also follow me on
Twitter
and
LinkedIn
.