If there's one thing I pride myself on, it's the freshness of our private database which tracks the digital goliaths of the web and the websites they're behind.
The database is primarily used to track which sites Google is rewarding, the specific niches media companies are entering and which brands are thriving overall (a few dozen are public companies, which makes it even more interesting). It gets updated multiple times per week as digital goliaths are constantly acquiring sites, launching new ones, or selling others between themselves.
I have three different systems in place to let me know when new sites are added to a portfolio as I really don't want to miss anything.
You can imagine then my surprise to see that Pillar4 Media, behind affiliate success stories like Sleepopolis and Garage Gym Reviews, acquired two fitness and nobody seemed to notice (myself included).
The acquisitions happened two months ago, yet Pillar4 don't mention them on their own website (they have an 'Our brands' section) and the sites in question don't have any mentions of Pillar4 on them either.
I wasn't familiar with the smaller site they acquired, BreakingMuscle, but BarBend.com has been atop fitness search results for years.
According to third-party estimates, BarBend is now the largest site in the Pillar4 Media portfolio. It has one of the more stable Ahrefs traffic charts I've seen in a while: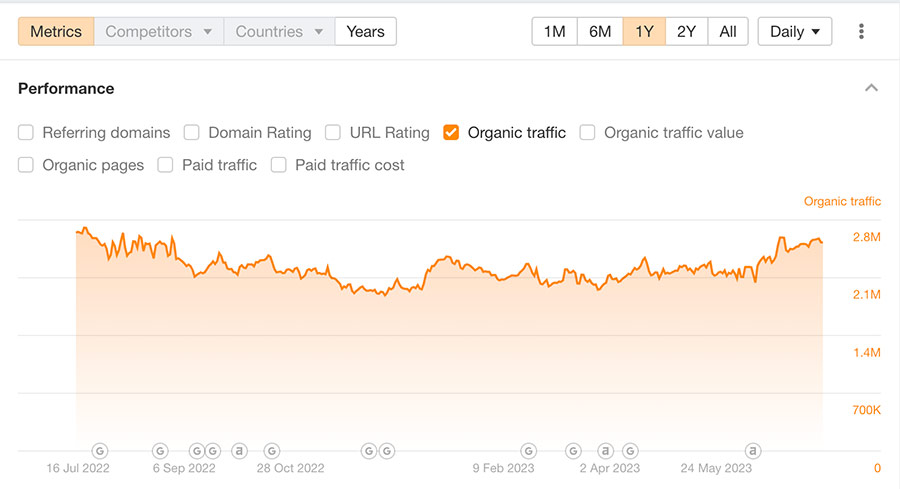 BreakingMuscle, which was acquired by the BarBend team in 2021, only does around 12% of the search traffic of its sister site, but it's growing rapidly.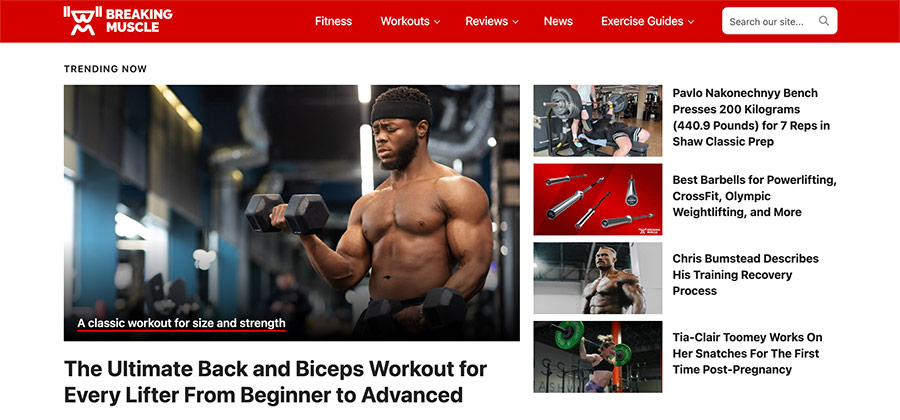 Over the last few months I had actually been looking into BarBend from the perspective of them being an independent affiliate site (I should note that product reviews are definitely not all they cover) but that has to change now they're part of a digital goliath.
This Story Is About To Get a Lot More Interesting
If Pillar4 don't mention the acquisitions on their website and no other media outlets picked it up (besides a random sentence on Forbes, which wasn't the main point of the article), then how did I find out about it?
The Twitter profile of BarBend co-founder David Tao showed up on my 'For You' tab and after going through his profile, I saw him tweeting about the deal.
What's really cool is that as part of the acquisition news he shared some very specific stats about the site:
BarBend reached 31M visitors in 2022
They have 18 full-time employees
Drove $19M in GMV sold for 2022
They have 10,000 articles published on the site
Raised $800,000 back in 2017
We don't get to see insights like this very often so I hope you found them as interesting as I did.
If you want even more info on what happened with the site behind the scenes, I recommend this great article on Medium which expands upon David's tweet.
While there were no financials disclosed, the sale was a great result for the founders and investors alike.
Unless of course this sentence from the announcement article – "Our investors are ecstatic; a few have called me with literal tears of joy." – was because they had feared they were never getting their cash back.
I'm joking of course. I absolutely love seeing people build great online brands and get a nice payday at the end.
David Tao will be moving from CEO of the company to Head of Brand at Pillar4 and co-founder Kenny Kline is now President of their entire fitness division.
Well done fellas.
Finally, if you've heard of Pillar4 before but can't figure out where from, it may be from my article on the 16 companies dominating Google.
In that deep-dive I shared that Pillar4 actually power the affiliate product reviews on SportsIllustrated, which is a pretty huge deal.
I can't wait to see what they do with the site next.
Written by
Glen Allsopp
, the founder of Detailed. You may know me as 'ViperChill' if you've been in internet marketing for a while. Detailed is a small bootstrapped team behind the Detailed SEO Extension for Chrome & Firefox (170,000 weekly users), trying to share some of the best SEO insights on the internet. Clicking the heart tells us what you enjoy reading. Social sharing is appreciated (and always noticed). You can also follow me on
Twitter
and
LinkedIn
.