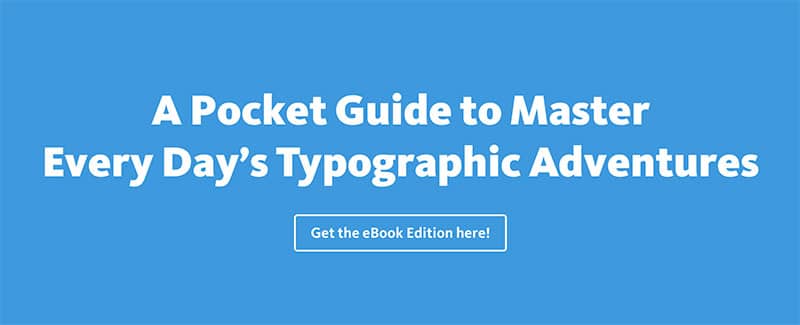 If you've been involved in your niche online for even just a few weeks, it's likely you've found a few common questions that pop-up, or even the most commonly referenced sources for answering them.
Today's example shows how you could build a side-project to create a resource for your industry that people might not know they need…until you make it for them.
When Benedikt Lehnert created A Pocket Guide To Master Every Day's Typographic Adventure it started gaining traction overnight and has since received 3,000 Facebook shares and links from over 200 different websites.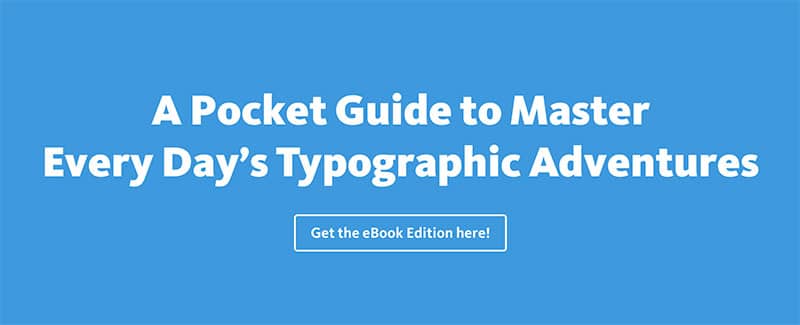 Essentially a one-page website, the guide describes rather neatly just what typography is and how mastering it helps anybody get their message across more successfully.
This guide is beautiful in both its appearance and execution. I really love the functionality and the gorgeous graphics he uses throughout the page.
They perfectly complement the typography theme of making language visible and certainly proves that Benedikt is a master of his craft.
It's no surprise to learn that since the guide was published, Benedikt went on to become the Director of Product Design for Outlook on iOS, Android, and Mac.
Aesthetics aside, I think the main reason for the guide's success is that he took a pretty complex topic and broke it down so well.
The structure is incredibly user-friendly and split up into eight sections. Each sub-topic is explained clearly with brief examples and links for further reading.
With his clever headline and introduction, Benedikt lets us know why we should care about typography and how mastering it benefits our everyday lives.
What's also astounding is that he managed all this in less than 2,000 words, so it really is a virtual "Pocket Guide".
This kind of side project offers many possibilities for monetization and funneling traffic to your other projects, too. This could be through advertising, sponsorship, list building or linking to your other sites.
After the Typography Pocket Guide launched in 2013, it attracted FontShop / FontFont as a sponsor. Benedikt even self-published the guide and it is now available as an eBook.
The great thing for us is we can apply the pocket guide theme to practically any niche.
Remember, the goal is to take something in your industry that is rather complex and add value by making it more accessible to the masses.
Find something that people tend to overlook and show why it's actually beneficial to them to potentially add even more traction.
Here are some examples to get your creative juices flowing:
A Pocket Guide To Mastering On-Page SEO
A Pocket Guide To Mastering Your Tax Return
A Pocket Guide To Mastering Public Speaking
A Pocket Guide To Mastering Your Time Management
A Pocket Guide To How Boxing Judges Score Fights
While some topics might be too complex to even distill in this way, you could supplement your writing with links to other resources or even embed videos.
If you could write a similar pocket guide for your niche, laborious outreach to resource pages could become a thing of the past, and lots of links could be heading your way.
View Case Study