The year was 2007. I was guest posting ferociously around the web, doing all I could to promote the personal development blog I ran at the time named PluginID (no longer online).
After sensing how much some bloggers cared about being the 'biggest site' in the niche, I created something which brought in more links and traffic than any guest post I ever wrote.
That something was a list of 50 self-improvement blogs, ranked by a score I assigned to each based on metrics like Alexa traffic stats and Google Pagerank.
Twitter and Facebook were not a 'thing' then, but the Alexa stat alone was enough to keep people coming back to the site to check their ranking.
The numbers were automated so I never had to touch the page again, and only cost around $150 to put together.
Here's how it looked at the time.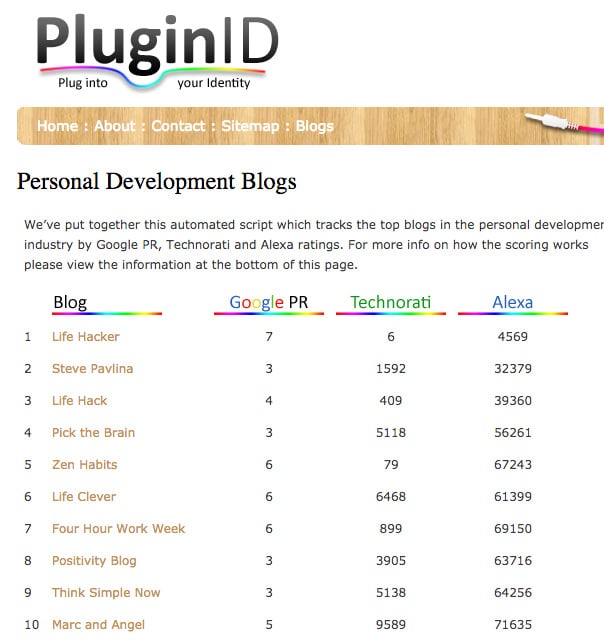 Ever since that day, I've always known how powerful it can be to promote other people in your space.
Even if they're your 'competition'.
A few months ago I ran a live case study on my other website, Gaps.com, and built a new brand in the personal finance space.
When it came to marketing the website, I did the same thing again.
I ranked the best bloggers in the niche using metrics like Twitter following and website traffic (according to SimilarWeb).

Even though I was now using the tactic 10 years later, the response was just as good as before.
Ranking The World's Most Popular Finance Blogs https://t.co/e5RjOhxeaZ via @SpokenGrowth

— Jon Dulin (@MoneySma) March 15, 2017
So excited to be featured on this list of the world most popular personal finance blogs by @spokegrowth!! https://t.co/oTWe3GE9QG

— CleverGirlFinance (@CleverGirlCGF) March 17, 2017
Ranked on a list of the world's most popular finance blogs. Now to start moving up it! Thanks to all my readers!https://t.co/Ie2ClmSIDh

— Top Money Habits (@topmoneyhabits) March 15, 2017
I'm not the only one who has seen success with this method.
In a lot of industries you can find smart marketers who have made a 'competition' out of who can get to – and stay top of – the leaderboard for their industry.
These rankings are mostly just for fun and to satisfy curiosity, but it no doubt appeals to the Ego of those higher up the list.
Industries as niche as 'survival' have a popular site site which ranks the top websites in the space.


Even though this page was created six years ago, it's still picking up backlinks, and receives around 1,000 visitors per day.
People don't even care about the metrics they use anymore (Alexa), but they still check back to see their ranking.
They keep their links to it up as well, with many of them linking sitewide.

Not bad for a site that presumably took a day or two to put together.
That's the power of ranking your niche.
I even touched on how you can use this in newsletter format on a previous Detailed post.
If you're going to build your own version of this, I would either put it on a separate domain or on a sub-domain of your current website.
I say this because even though you're doing it for more traffic (and potential links), you don't want it to seem like that's all you're doing it for.
In my opinion, if you use a sub-folder (e.g. yourdomain.com/top-sites) it just looks like a link building effort and won't do as well.
Though I used a sub-folder when ranking personal finance blogs, that's only because I was on a very tight deadline and rushed it.
If I had more time I would have also made the stats automatically update, but it's success on Twitter shows that even a static ranking can generate traffic.
The metrics you choose are up to you, but here are a few suggestions:
Domain backlink count (via Ahrefs or Majestic)
Alexa rank (though it's a little dated)
Traffic numbers via SimilarWeb
Twitter followers
Facebook likes
If you don't hire someone to rank people automatically (I can't imagine it costing more than $200 on Upwork), then what I do is give each value a score.
So for Twitter, I give certain follower numbers a value, like so:
0-500 followers: 1 point
501-1,500 followers: 2 points
1,501-3000 followers: 3 points
And so on.
It's a little bit time consuming, but you only have to do it once.
Once you've created the page, you just need to get it out there.
I recommend adding Twitter and Facebook meta tags to your site so when people share it on social media, you can display an enticing image.
Once it's up, you just need to let those who are on the list know about it, and make it easy for them to share it with others.
132
Welcome to Detailed
We share content marketing case studies you can actually use, seven days per week.
We'd love for you to join us through one of the channels below…

Listen to our daily podcast

Follow us on Twitter (daily) or Facebook (weekly)

Subscribe for email updates (max once per week)

Watch our detailed site reports on Youtube