Latest News
Added new insights on their paywall experiment and conversion rates September, 2023
Ported this page over to our new 'Digital Goliath' structure September, 2023
Added their revenue numbers for the first half of 2023 July, 2023
Revenue
Reach Plc are listed on the London Stock Exchange as $RCH
Reach Plc's most recent revenue numbers were 279.4M GBP (~$354M) for the half year until 25th June, 2023. This is a 6.05% decrease compared to the same period of 2022.

In a September 2023 interview with Press Gazette they revealed they've converted more than 1% of their audience to their new metered paywall offering. The paywall was initially introduced on the Manchester Evening Newa dn liverpool Echo sites, as well as their accompanying applications.
At the time of the 1% conversion reveal, the price of their paywall was £19.99 per year or £2.99 per month.
Network
Changes are made here every month
We currently track 21 sites for Reach Plc:
Note that we do not attempt to track every single site owned by a brand. If a domain is a placeholder, primarily hosts non-English content or focuses on a niche we don't track then it was purposefully excluded from the above. That said, for the majority of brands we feature far more sites than they do on their own 'Brands' pages.
Network Updates
It's hard to stand out when there are literally hundreds of thousands of new websites coming online every single day, but when one of them is owned by a digital media goliath then it definitely gets my attention.
This week Reach Plc ($RCH) launched the US version of their news site, the Daily Express, We currently track 20 sites for Reach Plc ($RCH), including the Mirror, the Liverpool Echo and the Manchester Evening News. The Mirror alone is estimated to pick up over 30 million visitors each month from Google, according to data from Semrush.
Reach websites primarily target visitors in the UK, which is why it will be interesting to see if they're able to crack the US market (and US search results) with their latest foray into the market: Daily Express US.
Launching at the-express.com, I assume having a hyphen in their domain was not their first choice. I can see the non-hyphenated domain is for sale, and I would be surprised if they hadn't put in an offer for it before launching.
It helps that they already have their own network of sites and a lot of reach online because they're already picking up some incredible backlinks in just their first week of going live. That's translating to search traffic and rankings as well: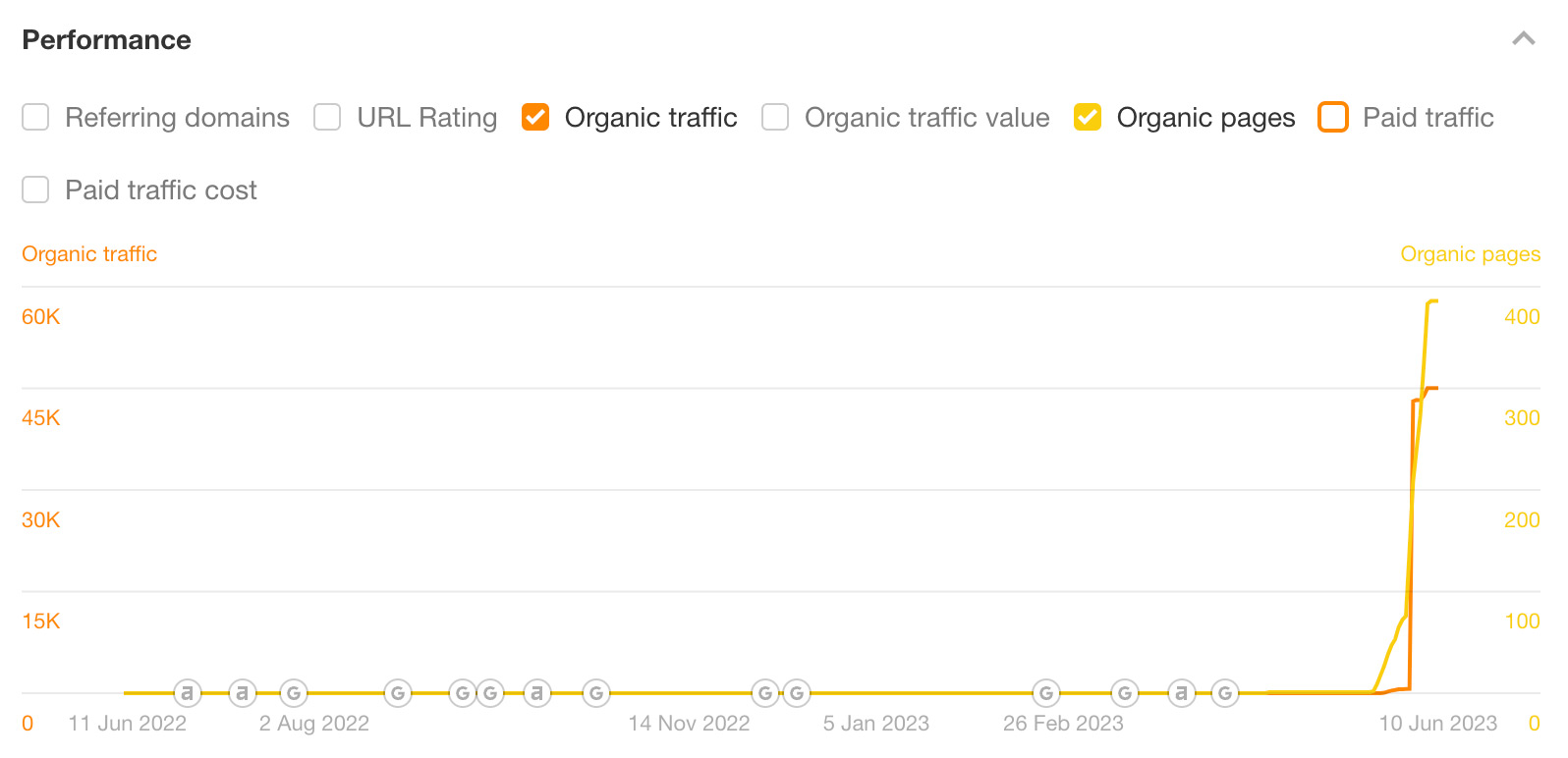 Note: We only share traffic screenshots – even if they're just estimations – of large media goliaths and / or public companies. We never share traffic stats of companies clearly trying to stay under the radar. Reach Plc are a public company.
Third party tools are estimating they've already published 400+ pieces of content, and Google is sending them an average of 45,000 visitors per month.
It's my understanding that they have plans to take their flagship UK news brand, The Mirror, and try and replicate its success in the US as well before the end of this year. I have no doubt they'll be using The Express US launch to see how viable the model is.
If it's a success, I wouldn't be surprised to see other UK-focused publishers try to model their approach.
Editor-in-chief Lloyd Embley had this to say about the launch,
"With its proudly mainstream news agenda, including covering the worlds of showbiz, royals, TV, tech, travel and sport as well as centre-right politics, we know there's a huge appetite for Express content in the US. We are excited about meeting this need and growing a significant new audience."
I fully expect they'll quickly grow search traffic to hundreds of thousands if not millions of visitors per month. After all, they're following a proven SEO formula: Lots of content to rank, lots of links to support that content, and enough money in the bank to be consistent with it.
What's perhaps just as interesting is going to be who they're taking traffic from. I don't imagine they'll be publishing too many stories you couldn't have found on other sites, so who they replace could make for an interesting write-up.
Maintained by
Glen Allsopp
, the founder of Detailed. You may know me as 'ViperChill' if you've been in internet marketing for a while. Detailed is a small bootstrapped team behind the Detailed SEO Extension for Chrome & Firefox (170,000 weekly users), trying to share some of the best SEO insights on the internet. Clicking the heart tells us what you enjoy reading. Social sharing is appreciated (and always noticed). You can also follow me on
Twitter
and
LinkedIn
.