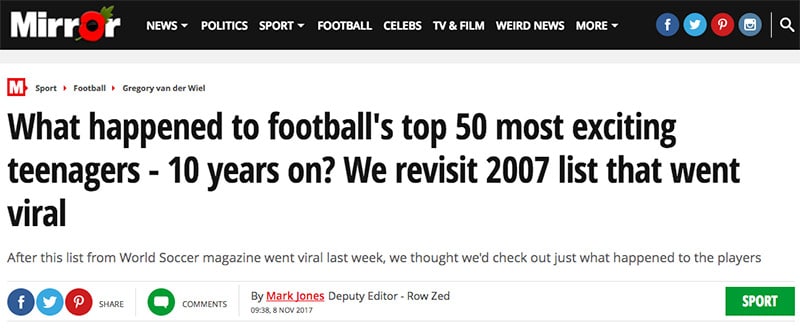 Before I begin, I have to say that if you didn't check out yesterday's Gaps article, it's one you're not going to want to miss. I'm really proud of it and the feedback has been incredible so far.
As is often the case, even though I have a list of hundreds of things to write about here at Detailed, I tend to write about the freshest case study that I've found.
As the sub-heading for this article suggestions: I don't have any stats for the particular case study I'm going to share with you as it's only 24 hours old.
That said, a quick Google search will find you hundreds of examples that have followed the same 'formula' and picked up links and social shares.
Yesterday I found myself drawn to an article from the UK's 'intelligent tabloid' (their words), The Mirror.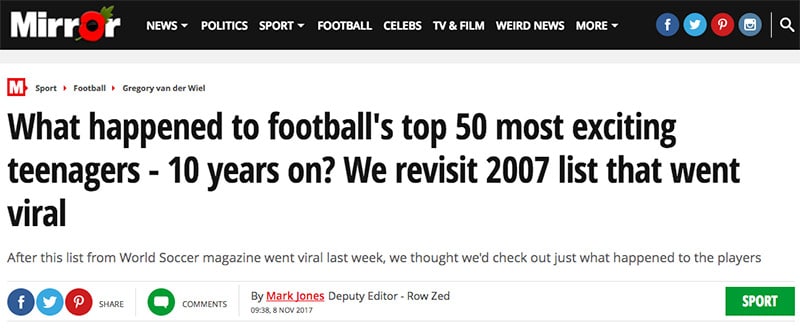 I don't even follow football anymore after leaving football-mad England when I was 17, but I still found myself scrolling through the list to see how accurate predictions made a decade ago were about promising teenagers in the sport.
The thing I love about this angle is that you can literally do this for any topic.
Someone somewhere has made a prediction on just about any topic you can think of.
One little tip is to search for "[niche] predictions" or "[niche] most promising" (no quotes) in Google, and then set the date range to around a decade ago.
This was literally my first search term – notice that I changed the year of the results – and already the second result is promising.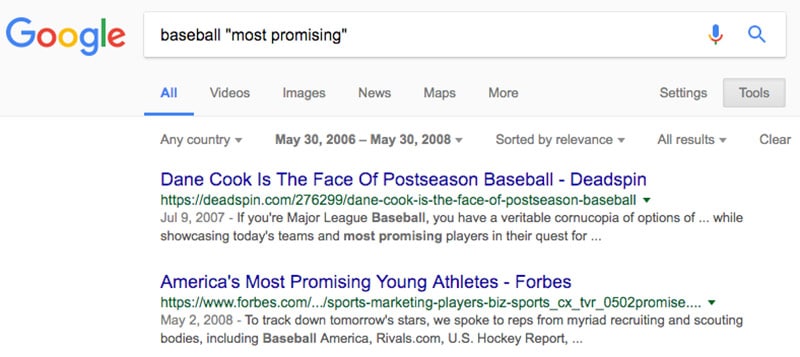 See if you can find something that was especially popular back in the day on the off-chance that some people would remember the original article and be even more curious to see how accurate the predictions were.
Even though I admittedly don't care about football 10% as much as I did when I lived in the UK, The Mirror's article really drew me in, and there's the real potential for you to do the same in your niche as well.
View Case Study
Detailed Pro
gives you the traffic and link opportunities you need to grow your search and referral traffic.
Our full-time marketers manually pick the best marketing opportunities for your website, so you can focus on what's important to you.