It's hard to search anything news or review related in the world of running and not see iRunFar show up somewhere in the results.
I mean no disrespect when I say it doesn't look like a site that reaches millions each year and is owned by a digital goliath – AllGear Digital – but that is the case.
I predict at some point in the near future the site will get a redesign and its own visual identity, similar to other high trafficked sites in the AllGear portfolio like Switchback Travel and GearJunkie.
SimilarWeb certainly seems to corroborate their statement around the site reaching millions (which I assume was referencing how many people come to the site yearly, rather than monthly).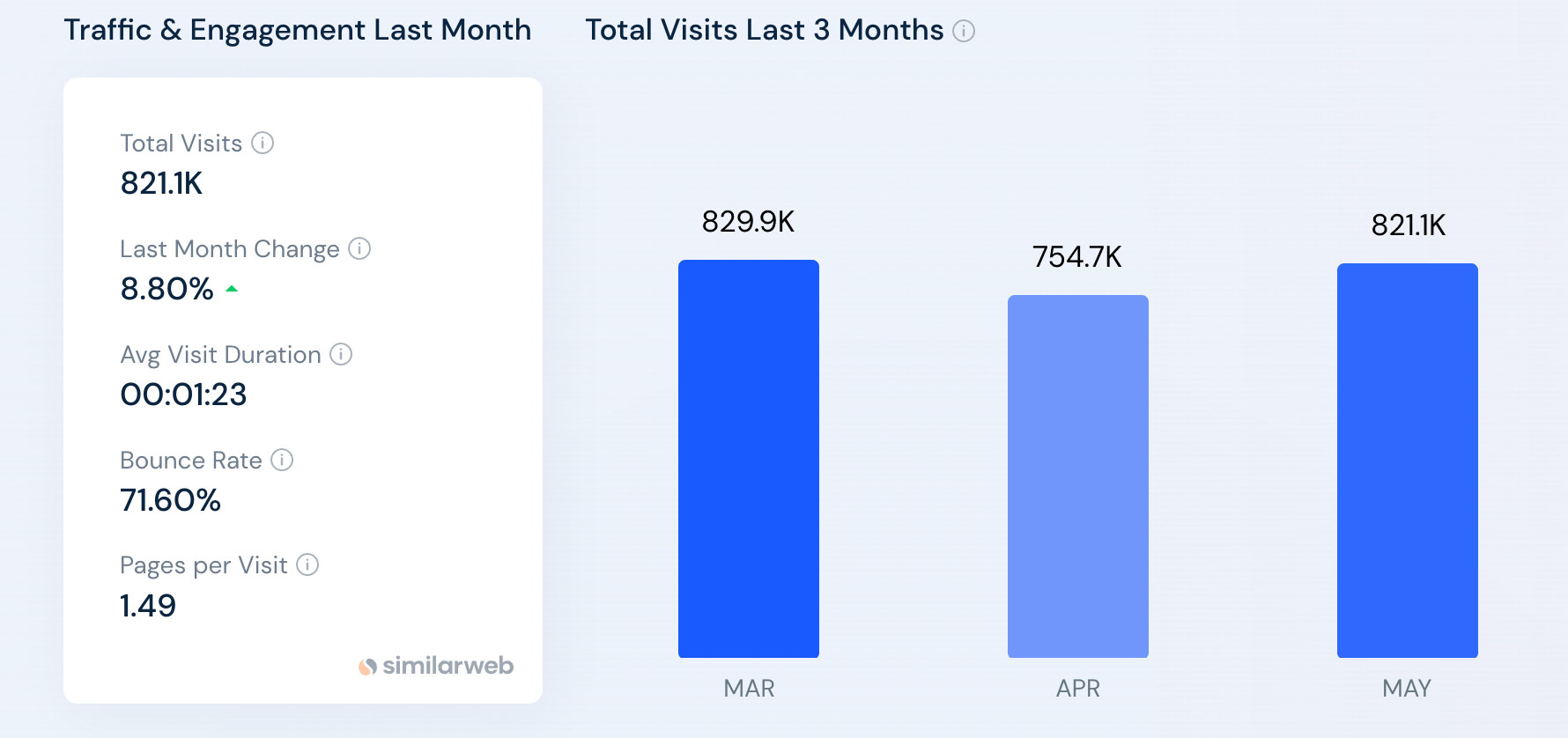 Founded in 2007 by passionate trail runner Bryon Powell, iRunFar became part of the AllGear Digital group (then primarily referred to as Lola Digital Media) in January of 2021. At the time they cited financial stability, room for growth and being able to offload administrative tasks as motivation for the move.
This week it was announced that Bryan moved back into his role as Founding Editor, and Meghan Hicks was promoted to Editor-in-Chief of the site.
So Why Is This a Story? And Why Am I Sharing It on an SEO & Media Blog?
In normal circumstances this isn't a story I would share.
It's great personal news for Meghan and I wish her all the best in her new role — especially as she seems excited to keep growing the brand in a niche she truly cares about.
If that's all I wanted to discuss, I could have linked directly to the press release.
Something to keep in mind is that a lot of my time spent online is basically in two "worlds". In one world I religiously track the most successful brands ranking in search results. I'm constantly curious about whether they're growing, other traffic sources they benefit from and how much money they're able to make from publishing content online.
SEO, which I've been writing about for over a decade, is so intertwined with successful digital media empires that it's hard not to follow both.
My other "world" that I spend a lot of time in online is a bit different.
It includes people launching their very first websites. People spending days testing the newest AI article writing tools to find the one with the output they like the most. People hitting their first 50,000 visitors per month from Google. People looking for their next niche. People debating a Googler's meaning behind a recent tweet and whether they should make any website changes because of it.
I love the nitty gritty of building, designing and improving websites of the second world, and then I love the bigger picture of the first world, where there's companies publishing content online and generating hundreds of millions of dollars a year.
(Some of them are public, so we know these financial numbers are accurate).
I care about the very act of someone being announced as Editor-in-Chief because to me it represents the perfect mix of those two world's colliding.
It was started by, and continues to be ran by, people who clearly love the topic of running and want to share that with the world. Now it's ran by a company that owns lots of successful online projects and frequently updates people on changes behind the scenes with them.
When the founder announced becoming part of AllGear Digital, dozens of comments were posted congratulating them on what they had achieved.
While search results are full of digital media goliath's who have brought legacy brands online or acquired more marketshare, they're also sprinkled with sites where it's pretty obvious that the person writing the site isn't "real", doesn't care for their niche and is clearly just having content published in the hope of ranking and making money.
I have no problem with the latter, and have benefited from that approach myself. But if they were to announce being acquired, I doubt they would receive a single reply, and certainly not dozens like the running site in question.
They have no moat or followers because of who they are.
On the other hand there's also the category where people are just really passionate about a topic, cover it for years, and almost by accident start to rank well and pull in lots of search traffic. Google sends some of its best clicks to people who have read little to nothing about SEO.
It's my belief that over the next few years, the people who are simply passionate writers and the people who are just in it for the money are going to have to become a little more like the digital goliath's of the internet. More focused on design, organisation, processes, efficiency and profits.
They'll also likely need a mindset shift where you think of things like changing your team members as press release worthy. Where you start treating side projects like a real business.
The digital goliath's aren't on the perfect path.
They're going to have to become a bit more like the passionate writers and those just in it for the money. Bringing in writers that people specifically want to read from. Finding new keywords to target that weren't originally on the content calendar. Being open to constant testing of different on-site elements (schema markup, lead magnets, post introductions, etc.) to see what improves rankings, conversions, feedback and time on site.
Of course, there is already a mix of sites and brands doing both of these, but I believe many more will have to evolve in this direction.
Is the business you're building that publishes content online the kind to announce when you bring new people on board or when other team members get promoted?
If you're the only person behind the brand, what if you published an annual personal update? Would anyone care?
I track over 120 media brands now that are in this position or heading towards it, and it might be the mindset shift you need to catch up, and stay ahead. The mindset where you're treating publishing posts on WordPress as a legitimate business you're in for the long-haul.
With AI likely to take a bigger place in search results going forward, I expect the impact to change up the companies Behind the SERPs quite a bit, and I plan for my reporting to cover exactly that.
If you're here with me for the journey, I really appreciate it.
Let's keep tracking who's thriving and navigate this new landscape together.
P.S. Meghan and Byron if you somehow come across this one day from a Google alert or from searching for your own name, I hope you don't mind the tangent I took with your announcement. Congratulations, and hopefully the backlink somewhat makes up for it.
Written by
Glen Allsopp
, the founder of Detailed. You may know me as 'ViperChill' if you've been in internet marketing for a while. Detailed is a small bootstrapped team behind the Detailed SEO Extension for Chrome & Firefox (170,000 weekly users), trying to share some of the best SEO insights on the internet. Clicking the heart tells us what you enjoy reading. Social sharing is appreciated (and always noticed). You can also follow me on
Twitter
and
LinkedIn
.