It's a great feeling when you finally get to hit publish on a blog post you've been working on.
If you're like me, the following hours are spent wondering whether this one is going to be a 'hit'.
You likely know of many factors which dictate whether people read (and then share) an article, but have you ever considered that science may be one of them?
I've recently noticed a trend of people making a certain 'claim' in headlines, and having that result in their work being shared thousands of times.
Let me give an example to help you see why I think it's working so well.
You're on a personal development blog and see an article titled 'Happier People Have These 9 Things in Common'. It's a good headline and something you might want to check out.
Yet if we add a claim to the headline – so that it now becomes 'Scientists Say Happier People Have These 9 Things in Common' or '[Scientifically Proven] The 9 Things Happier People Have in Common' – you have to admit that's a more compelling approach.
Headlines that mention anything to do with science or research make us feel like an article is true and factual, rather than just opinion-based.
I know I frequently mention Business Insider in these updates but they write so much content – and get so many views – that they're great to use for examples.
Take this article for instance.


It received 126,000 views within two weeks of going live, no doubt helped by the 'scientific angle' they portray.
That's for the UK version of the article. The US edition picked up over 300,000 views.
Business Insider really seem to like this type of research-based headline for good reason: It works.
Another article they recently published is called 'How to Take the Perfect Vacation, According to Science'.

Again you can see an impressive view count for this article, having reached over 35,000 people.
Other media outlets are also keen to utilise scientific research to rack up views on their articles.
This Forbes piece featured the headline 'Science Says These Five Things Prove You're Smart'.

In just a few months this article has been viewed more than 240,000 times.
Authority Nutrition is a health-focused site which regularly puts the 'science angle' in their headlines to pick up more shares and pageviews.
A recently updated article about coffee has been viewed over 650,000 times.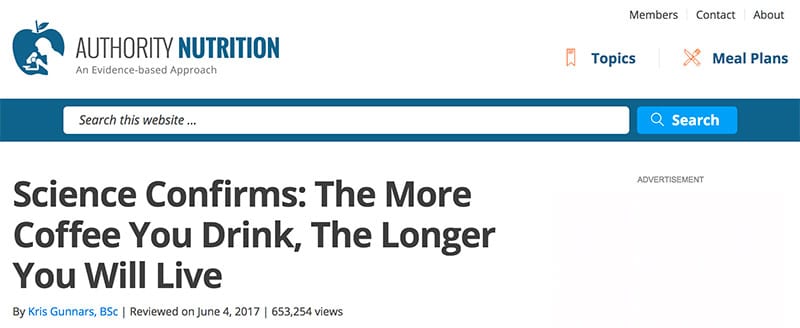 With over 11,000 shares on Facebook, it's yet another example of how making scientific reports digestible can appeal to a lot of people.
Another Authority Nutrition article which took this same angle was even more popular, being pinned on Pinterest more than 250,000 times.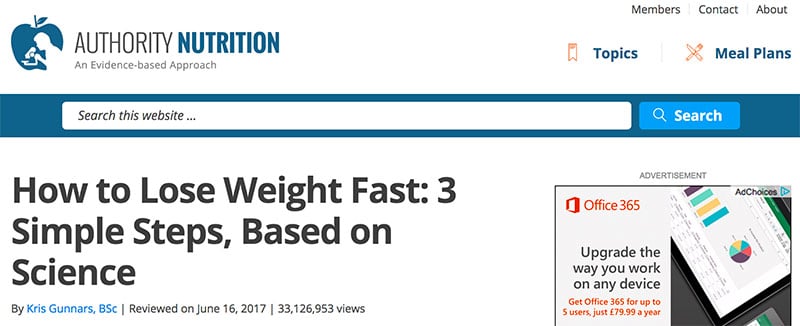 If you didn't notice the stats in that screenshot, the article has been viewed more than 33 million (!) times.
In many cases it seems that the studies (facts) are found first, and then the articles are created to work around them in a relevant way.
In the Business Insider article The 'Perfect Vacation…According to Science, insights are taken from a book called 'The Importance of Being Lazy'.
Just from the data in this one book, there are a number of articles you could now write.
Some example titles include:
Why you should work fewer hours, backed by science
The secret to a happy retirement according to research
Science proves why relaxation is so important
Research confirms: A hammock can help your health
Once you find relevant data, you can pick the angle.
A British tabloid called The Sun recently shared the following research:

How many thousands of people do you think were interviewed to complete this scientific study?
Hundreds? Thousands?
Just 97.
In other words, just about any study can be made to make a claim, though I would refrain following in The Sun's footsteps.
If you do even just a few minutes of Googling you'll find people in any niche who have successfully added a 'science spin' to make an article go viral.
Maybe it's time you did the same.
90
Welcome to Detailed
We share content marketing case studies you can actually use, seven days per week.
We'd love for you to join us through one of the channels below…

Listen to our daily podcast

Follow us on Twitter (daily) or Facebook (weekly)

Subscribe for email updates (max once per week)

Watch our detailed site reports on Youtube