When researching successful content marketing tactics to inspire your own online traffic-generation efforts, I try to find the top sites in any niche I encounter.
Once I have the top sites, I then attempt to find their most popular content and see if there's anything I can learn from it.
Usually the best performing content on a site is a mix of blog posts, videos, and interactive articles.
One site I recently came across, A Real Me, offers just one type of content: Quizzes.
They have a quiz on every topic you can imagine.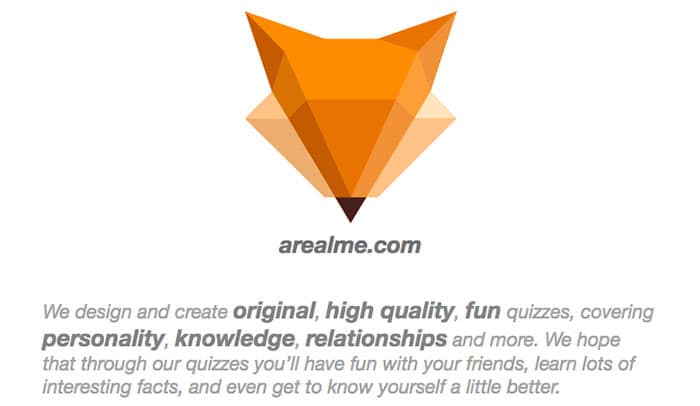 Before you skip this article thinking that's all you need to know, I do have a few more examples of how powerful quizzes can be, and some interesting numbers on the source of their traffic.
I was surprised to see that not all of their traffic was coming from social media (i.e. Facebook) and they actually pick up 25% of their visitors from search.
In other words, around 1.5 million people each month find this website via Google and Bing.
Some of the top terms they're ranking for right now include:
IQ Test
Test
iqテスト
Emotional intelligence test
Eq
Those are some pretty competitive keywords, even if one of them is in Japanese.
The site has been around since 2014 but doesn't appear to have focused on SEO until late 2016, with a huge rise in backlinks.

It could be that Ahrefs only recently noticed the site – hence the massive jump – but I haven't seen them make this kind of mistake before.
They're not the only website to have benefited from tests and quizzes of course.
Bookbrowse.com has a quiz which aims to find out "What's your reading personality?" and has picked up links from 139 different websites.

I love that there's even a website which primarily offers tests geared towards fans of Harry Potter.
The Sorting Hat has picked up links from over 1,000 websites, with most helping promote their popular quiz on finding which 'house' you would have been put in.

The examples don't stop there.
Automotive enthusiast website Car Throttle, which reaches around 4 million visitors per month, have an entire section on their website dedicated to quizzes.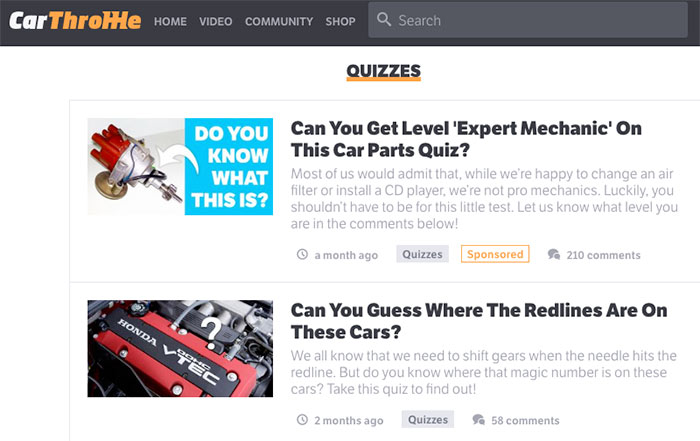 I've been involved in the automotive niche online myself and I can tell you that quizzes are some of the most popular content that Car Throttle share.
There's a reason they have so many of them.
If you want to put a Quiz on your own site, there are a ton of different platforms which help you create them.
I've personally used Playbuzz (which CarThrottle also use) but it seems like you now need to contact them for pricing information.
If that's ever the case with a site, you can assume their offering is expensive.
Another popular platform seems to be Opinion Stage. I haven't used it myself, but you get access to quite a few features for just $19 per month.
At the end of the day, I don't think the software you use to display your quiz is that important – The Sorting Hat's implementation is really basic – but what matters is how good your questions are and how curious people are to see the results of your test.
If you can figure that out, you could just create your next content marketing hit.
82
Welcome to Detailed
We share content marketing case studies you can actually use, seven days per week.
We'd love for you to join us through one of the channels below…

Listen to our daily podcast

Follow us on Twitter (daily) or Facebook (weekly)

Subscribe for email updates (max once per week)

Watch our detailed site reports on Youtube