As you follow Detailed over the coming months, you'll find that I'm a big fan of side project marketing.
In it's simplest form, this type of marketing requires that you build something separate from your current website which is so valuable that people can't help but share it.
They're typically also marketing agnostic, meaning there's no obvious 'brand' behind the sites and they simply appear to be created for end users.
Today's example is such a simple idea, but proves that when you execute a side project well, you can pick up thousands of links and reach hundreds of thousands of people.
Benjamin Libor & Sidney Ottelohe created SpreadShare, a community-curated website where people can upload spreadsheets that are useful for startups and business professionals.

Some spreadsheets which are popular on the site right now include:
Open Chatbot: An open list of chatbot influencers connecting to meet up
London Coworking: A list of co-working spaces, hotels, cafes and other in London
Bangalore Startups: A list of Bangalore startup people
There's a clear focus on resources for those in the marketing world.
I think the idea behind the site is great, but I'm not sure if it will remain very popular.
Even if it is reaching a ton of people…

I say this because end users don't seem to be contributing much content.
Even at the height of it's popularity (right now), five of the last seven submissions were from the owners.
The most recent user submission is a spreadsheet on "Universal Audio Plugin Sales Data".
While I'm sure it's useful to someone, I can't imagine it will encourage their general audience to keep coming back.
Also, if you look at the top posts on the site, they are interestingly just about marketing and self-promotion.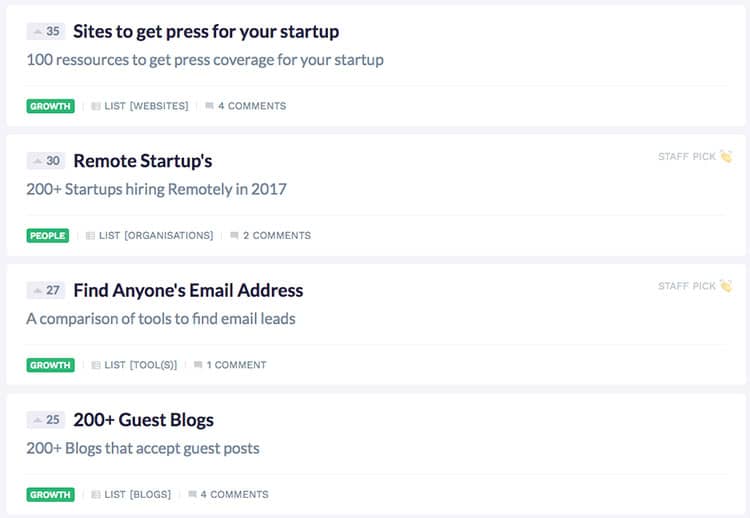 While the intention behind Spreadshare may have been to create something collaborative, the most popular content is simply a list of links that others don't seem to be adding to.
The second top story of all time mostly appears to be a promotion vehicle for another company.

And if you go through the other top resources, many of them require approval before you can look at the data.
When you can view a sheet, many seem rushed just to submit there. The third top post on the site is literally 21 half-filled spreadsheet rows.
I know I sound like I'm hating on the website here, but that isn't the case. I think it is beautifully executed and the idea behind it is really smart.
The owners don't dictate what people are going to share and what people are going to vote for.
The reason I wanted to "criticse" the end result is to make an important point: This site is picking up traffic and links because of the idea behind it, rather than the execution.
I could be wrong (your thoughts on Twitter?) but I don't think it lives up to the potential it has. At least for now.
Based on the concept alone, I would happily share this on impulse without really looking into it, and I think most people have done the same.
Of course, there are some great posts on the site and I'm sure the owners will always look to improve it, so I'll update this post in a few months with any developments.
With every Detalied case study I try to give you ideas on how you can mimic someones success, so let's say I created my own version of this site called Readshare.
A resource where users can share their best curated lists on topics relevant to writers.
Based on what's popular on Spreadshare, I imagine the kind of content people would love on the site include things like:
17 resources on character development
50 places to get feedback on your first book draft
21 interviews with authors on their writing process
There wouldn't really be anything 'new' about the content on your site, but that said, there's nothing really new about the information on Spreadshare. It's just packaged in a new and interesting way.
As long as you're focused on helping visitors with their own venture (e.g. writing a book) you could really make a site like this for any niche.
A few more angles that come to mind are:
Fitshare: A community where people can share diet plans, workout routines and their progress
Cookshare: Resources for beginner chefs where people share job openings, chef interviews and more
Nomadshare: The best resources on all topics for digital nomads
I think that last one could really take off.
Following on from what's poplar on Spreadshare, I imagine lists of co-working spaces, coffee shops and anywhere else with great internet would be popular.
While the site appears to be custom coded, the spreadsheets link directly to Google Docs, so you only need to create the voting / link aspect, which a number WordPress themes can take care of for you.
Benjamin and Sidney created something really smart here, and I would love to see the community thriving when I check back in a few months.
To end this post with something that hopefully motivates you, I have to congratulate Gonzalo who took action with my 15 words case study and made the homepage of Product Hunt this week!
So cool. @gonsanchezs took my article https://t.co/XrpRxn2yj9 and hit the front page of ProductHunt. pic.twitter.com/YZ3JgU1qsy

— Glen Allsopp (@ViperChill) June 27, 2017
If you have success with any ideas shared on this blog, I would love to see them.
View Case Study
Detailed Pro
gives you the traffic and link opportunities you need to grow your search and referral traffic.
Our full-time marketers manually pick the best marketing opportunities for your website, so you can focus on what's important to you.