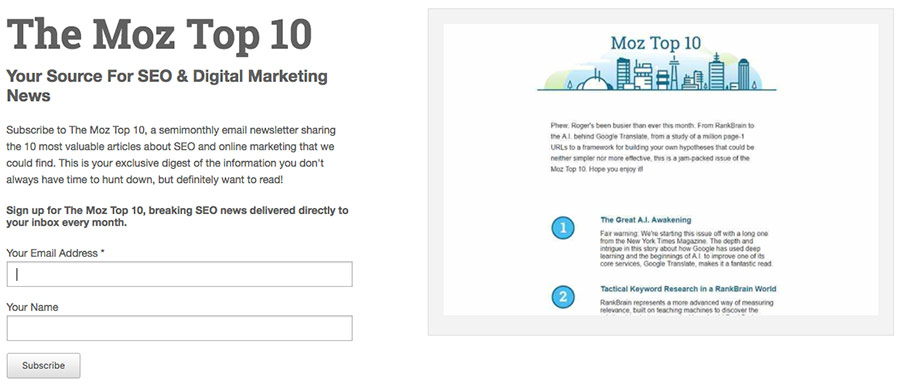 There are some companies who have figured out how to provide regular value to their subscribers without having to put in too much effort to create great content.
Their strategy may just surprise you: They send readers the best content their 'competitors' have to offer.
When you work so hard to grow your own audience, that might seem like a foolish idea. On the surface, you would be right.
But when you dig a little deeper there are two surprising benefits to this practice:
You're quickly seen as an authority in your niche for having such a grasp of the space
You provide a genuine resource that makes people look forward to each update
The 'Top 10' newsletter from SEO software provider, Moz, is a great example of this.
Their bi-weekly newsletter shares the 10 best online marketing articles from around the website.
It's easy to think they're crazy to give eyeballs to other websites, but you would be missing a key point: Sharing the best marketing content helps to position Moz as a leader in the niche.
And, of course, people truly enjoy the newsletter.
View Case Study
Detailed Pro
gives you the traffic and link opportunities you need to grow your search and referral traffic.
Our full-time marketers manually pick the best marketing opportunities for your website, so you can focus on what's important to you.