This article has received 8 edits. The last edit was made on August 13th, 2023
– Added new comments based on Vertical Scope's Q2 2022 results
The Streamable is one of dozens of sites we currently track for VerticalScope, trading as $FORA on the Toronto Stock Exchange.
Revenue for The Streamable
In Q2 of 2023, VerticalScope noted The Streamable contributed $200,000 in adjusted EBITDA, a 94% decline compared to $4.1M in Q2 of 2023
---
If this isn't your first visit to Detailed you might be very confused seeing a headline like this on the site.
After all, Detailed isn't a news site. I write huge 10,000+ word guides on affiliate-populated search results and the 16 companies dominating Google. Did we get hacked?
I'll write more on this on our Behind the Scenes section in the near future (nothing on this topic is written there for now), but the short summary is that sometimes big events happen in the world of SEO and online publishing that I would like to have some record of to revert back to.
Detailed is not turning into a news site and I'll make any news updates far more minimal in a future design update, but I also see covering topics like this as an opportunity to improve my writing skills, so as long as the stories I share are interesting…why not?
I'm constantly finding interesting news in this space – often that I haven't seen covered elsewhere – and its increasingly hard to reference at some point.
Today's story is a perfect example of that.
I can't find a single tweet or news story covering Vertical Scope ($FORA) and their comments on Google's recent algorithm updates which have significantly impacted the revenue of one of their flagship sites.
That flagship site is The Streamable, which covers news and reviews regarding everything related to the world of TV and streaming services. The screenshot below gives a great example of the content they cover: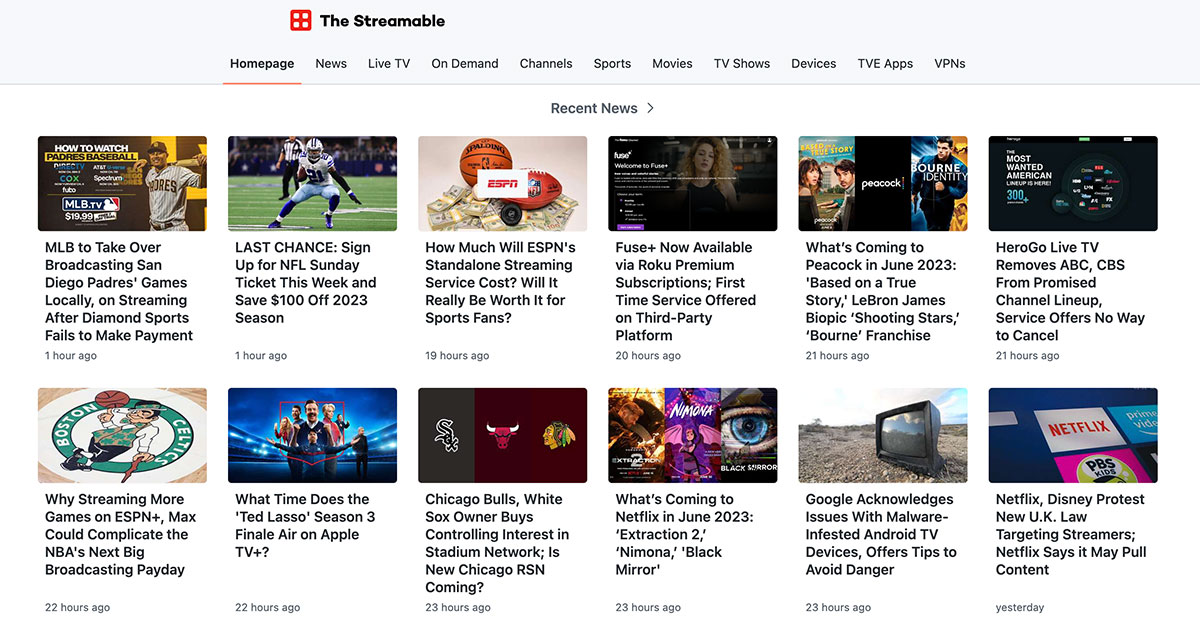 In their Q1 2023 earnings call, they stated,
Against this major step back in revenue, we also faced Google algorithm changes aimed at product review site that significantly hurt site traffic. We continue to work on remediation efforts, but the traffic growth has not yet turned positive.
As VerticalScope are a public company I don't mind sharing traffic screenshots for their sites, but I'll leave that out of this update.
Let's just say that Ahrefs data definitely corroborates a huge traffic drop and while SimilarWeb isn't perfect, it looks like around 80% of their traffic comes from search.
In the earnings call they also stated that past revenue the site made resulted in an early payout of an additional $15M to the previous site owners, on top of the $25M they spent on the acquisition initially.
For 2023 they expect the site to generate $2-3M EBITDA, adding that "On a run rate basis, call it 10x to 12x EBITDA multiple. Not great in 2021, we wouldn't have been happy with that. In 2023, it's awful."
As I mentioned on Twitter, I feel like The Streamable is the kind of site that Google can change their mind on with any future update.
On the surface they don't seem to publish content I couldn't find elsewhere, and I don't need an expert in entertainment to tell me what time the next episode of Ted Lasso airs.
But, people do search for the exact type of content they publish and Google has to rank someone.
Whether you agree with relying on it for a business model or not, this kind of short-lived content is probably responsible for helping newsrooms fund more substantial content.
One thing this definitely kills is the easy-click stories like "what time is the Super Bowl" — which you may hate, but because they do viral traffic every time, pay the bills in many newsrooms.
It's not nice to read about Google updates hurting anyone's business, especially when they seem so disappointed in what has happened to the site, but this is a reality of relying on SEO at times.
Things don't look great at the moment, but I wouldn't be too pessimistic on whether they can turn things around.
If you skipped the intro, then I want to reiterate that Detailed hasn't suddenly turned into a news site. My focus is still huge in-depth guides that share unique insights on certain aspects of SEO and online publishing.
I just like the idea of trying something new, and I'll make some design changes to our blog homepage so that any kind of news updates aren't as visible as the larger reports we're known for.
Still, if you found this interesting, hitting 'Like' below would be appreciated. I'm not sending an email about this article nor sharing it on social media. It's really just something I wanted to write.
Written by
Glen Allsopp
, the founder of Detailed. You may know me as 'ViperChill' if you've been in internet marketing for a while. Detailed is a small bootstrapped team behind the Detailed SEO Extension for Chrome & Firefox (170,000 weekly users), trying to share some of the best SEO insights on the internet. Clicking the heart tells us what you enjoy reading. Social sharing is appreciated (and always noticed). You can also follow me on
Twitter
and
LinkedIn
.