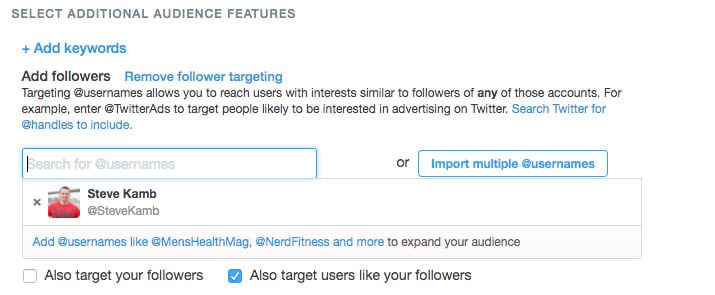 Yesterday I went into detail about a free tool I created which allows you to search Twitter and extract the 'top' users for any query.
Today I'm sharing another free tool which is infinitely more simple, but has been incredibly valuable to me.
I can sum up what the tool does in one sentence: It allows you to find who any Twitter user talks to the most.
That might not seem very useful, but consider these three points:
If you can't get an 'influencers' attention, you can get the attention of the people they closely follow instead
You can find other big players in any niche you may wish to connect with
You can run hyper-focused Twitter ad campaigns on a much larger set of people
Let's start with that first point.
Just for an example, we'll assume you're in the marketing world and want me to check out your content, but I haven't replied to your pitches. (Side note: I don't respond to emails too quickly but I'm always pretty open on Twitter).
One way to get on my radar would be if someone I follow or talk to often shares your content on Twitter or with me directly. In other words, if someone I trust recommends you as a resource.
If you head on over to my Influence tool you can easily find who the people I trust actually are.
The tool scans up to 2,000 Tweets a user has made and brings back the people they have spoken to the most.
If you enter my username (@viperchill), here are the results you get: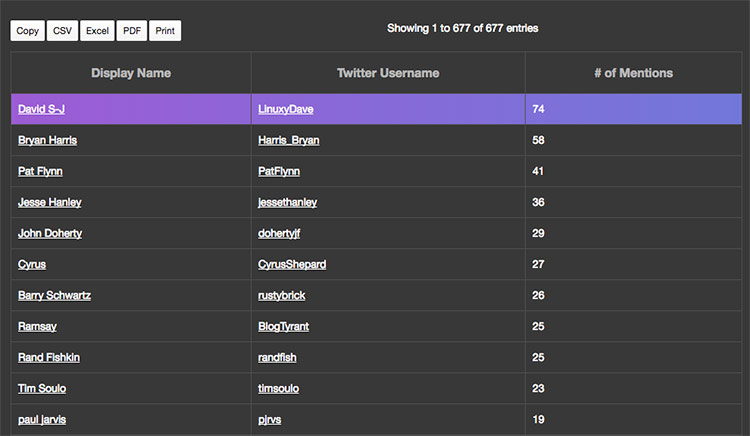 That's a list of 677 different people I've talked to in my last 2,000 tweets, ranked by how many times I've mentioned them.
I can guarantee that if any of them were to recommend your content to me, I would check it out.
If they shared it on Twitter I would more than likely see it as well.
Using myself wasn't the best example as I'm pretty open to anyone messaging me, but think about how this could work with bigger 'players' like Tim Ferriss or Gary Vaynerchuk or…anyone, really.
Another great use for this tool is to simply find influencers in a niche you operate in and want to know more about or a niche you may not be too familiar with.
For instance, let's say I get a marketing client in the health space and I don't know many influencers who may be able to promote them. As long as I know just one, I can use the tool to find many more.
Online society is much like offline society. People tend to socialise with those on a similar level to them, meaning influencers talk the most with other influencers.
Let's take my friend Steve Kamb of Nerd Fitness fame for this example.
Steve runs an incredibly popular health blog and he's active on Twitter, so he would be an obvious choice to start with if you want to find more big names in the space.
Here's who Steve talks to the most: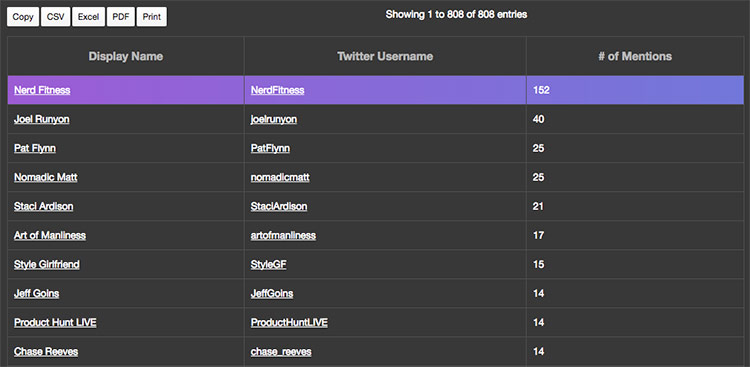 Now we can ignore the top result as it's Steve's own blog that he mentions, but let's look at the follower counts of the other people he talks with.
Joel Runyon: 9,914 followers
Pat Flynn: 148,000 followers
Nomadic Matt: 113,000 followers
Staci Ardison: 3,965 followers
Art of Manliness: 162,000 followers
Chris Guillebeau: 146,000 followers
While they're not all in the health space, they are people who, like Steve, have a substantial following.
If you're looking to find people to connect with in any niche, this tool helps you find the people you might want to talk to.
The third use case I mentioned in the introduction was for Twitter ad campaigns.
When creating a new Twitter ad campaign, Twitter allows you to target the followers of specific people. I can have my ad only show to Steve's followers, for example.
Here's how that looks when setting up a campaign: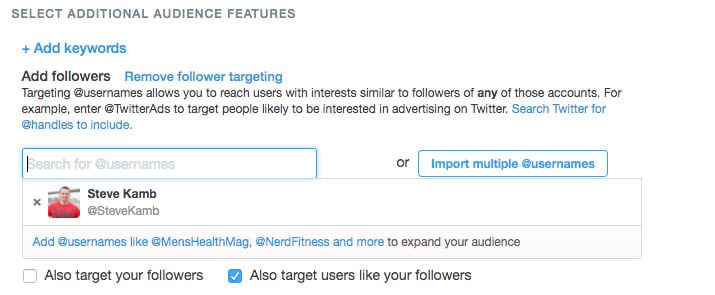 If you've ran ads online before on any platform, you know the key to success is to do a lot of testing.
Running slightly different campaigns, or to slightly different people, to see if you can get more clicks or impressions for a smaller fee.
Testing different audience targeting is so important that I've ran over 400 campaigns on the Twitter ad platform.
I'll do a Detailed guide (pun intended) to Twitter ads in the future but let me say that I've been able to get thousands of clicks for pennies each thanks to the specific people I targeted, which the tool helped me to find.
The simple version of my process is this:
Step #1: Search for someone I know is an influencer in a niche (and active on Twitter
Step #2: Note down the people they talk to the most who create content in the same industry
Step #3: Run those new people through the tool and do the same with the people they talk to the most
You can very quickly find yourself with 50+ Twitter users you can target with separate campaigns to see who's followers are the most responsive to your ads.
While the tool is fairly simple, I've found myself using it hundreds of times, and I hope you find some use for it as well!
79
Welcome to Detailed
We share content marketing case studies you can actually use, seven days per week.
We'd love for you to join us through one of the channels below…

Listen to our daily podcast

Follow us on Twitter (daily) or Facebook (weekly)

Subscribe for email updates (max once per week)

Watch our detailed site reports on Youtube