"20 of the most important SEO blogs online"


"complete with handy guides explaining how you, too, can get in on the gold"
Today I'm going to reveal a little-known Google ranking factor which may help explain why some of your top pages refuse to rank higher.
As you likely know, Google often show the date associated with an article next to its description in search results.
This date is not necessarily when an article was published or indexed. The date shown can actually be anything you choose (as long as it's not a time in the future).
What you might not have considered is that having an old date associated with your article could be dramatically hurting your click-through rate and your rankings.
This is not just a theory. I have the data to back it up.
10 Pages Ranked, One Didn't: Here's Why
There are eleven pages on this website I'm really proud of.
They're our "best blogs" pages, which automatically rank sites based on how many mentions they pick up around the web.
The rankings for each niche update every 24 hours, with an example from the cryptocurrency niche shown below.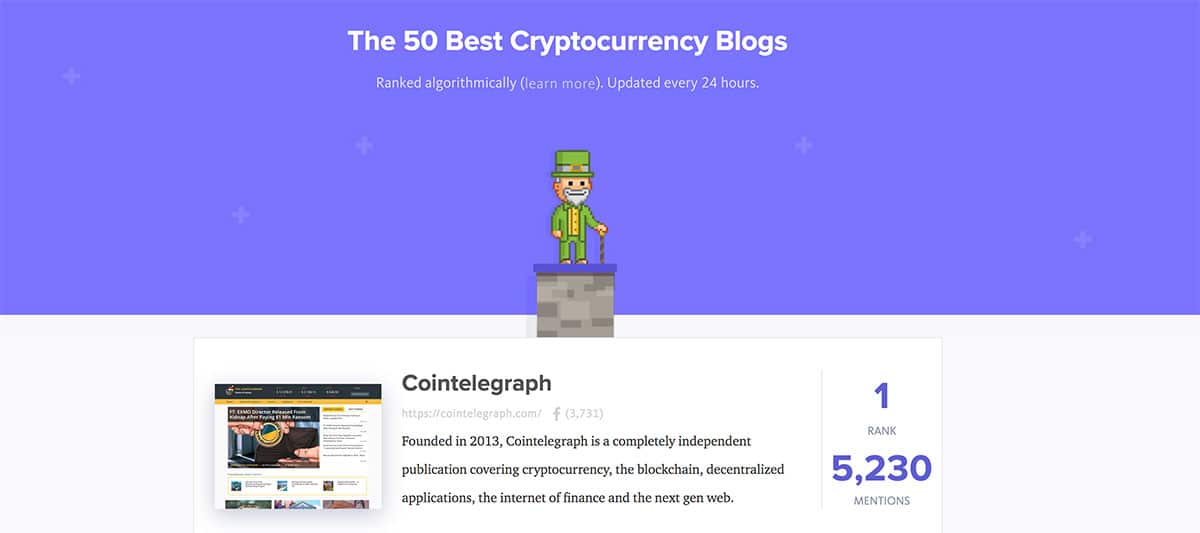 I'm biased but I genuinely believe we've built the most useful "best [niche] blogs" pages on the internet, if for no other reason than the technology behind them.
Google seem to think so as well, because all but one pull in a respectable amount of search traffic.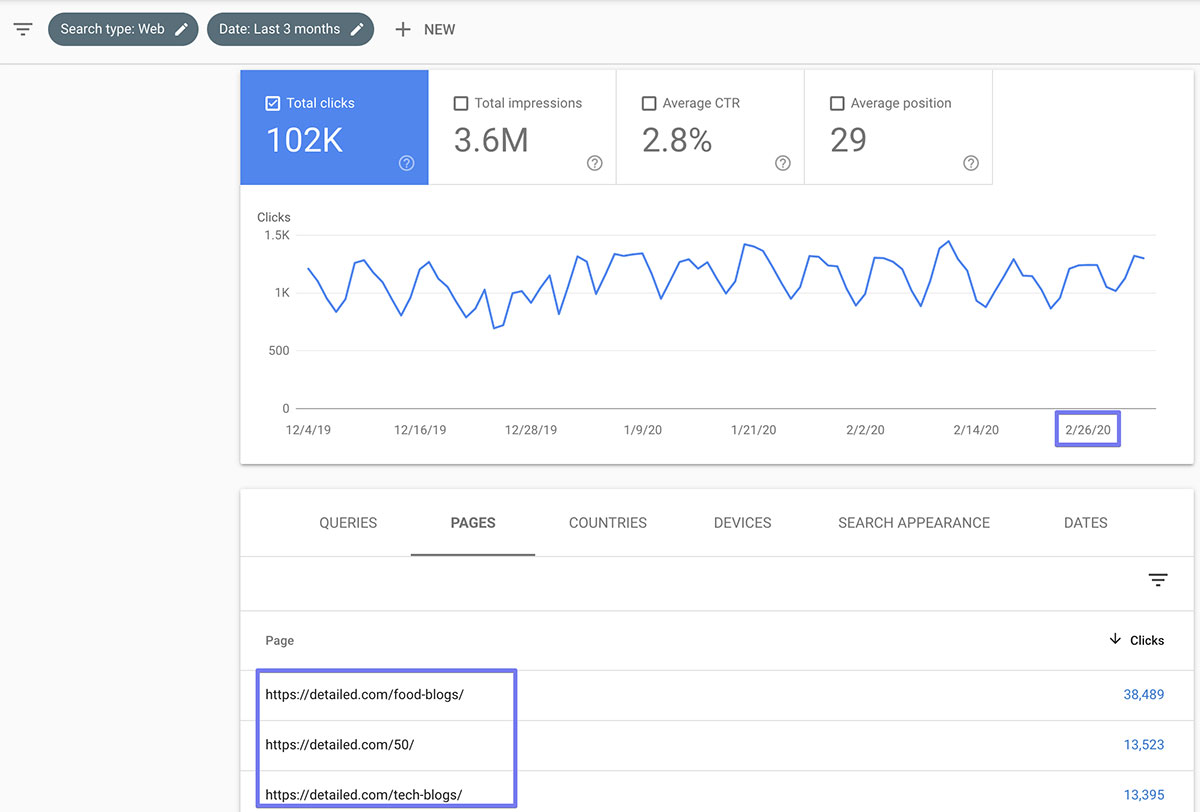 I did say all but one.
Back in 2018 (though this still applies in 2020) I noticed that one of these pages – covering the best design & development blogs – had never picked up any search traffic at all.
It was identical to the rest, just targeting a different niche.
After a few hours of digging into why this may be, I finally found the primary cause.
If you look at my "best blogs" pages as a whole, they typically have the same date associated with them: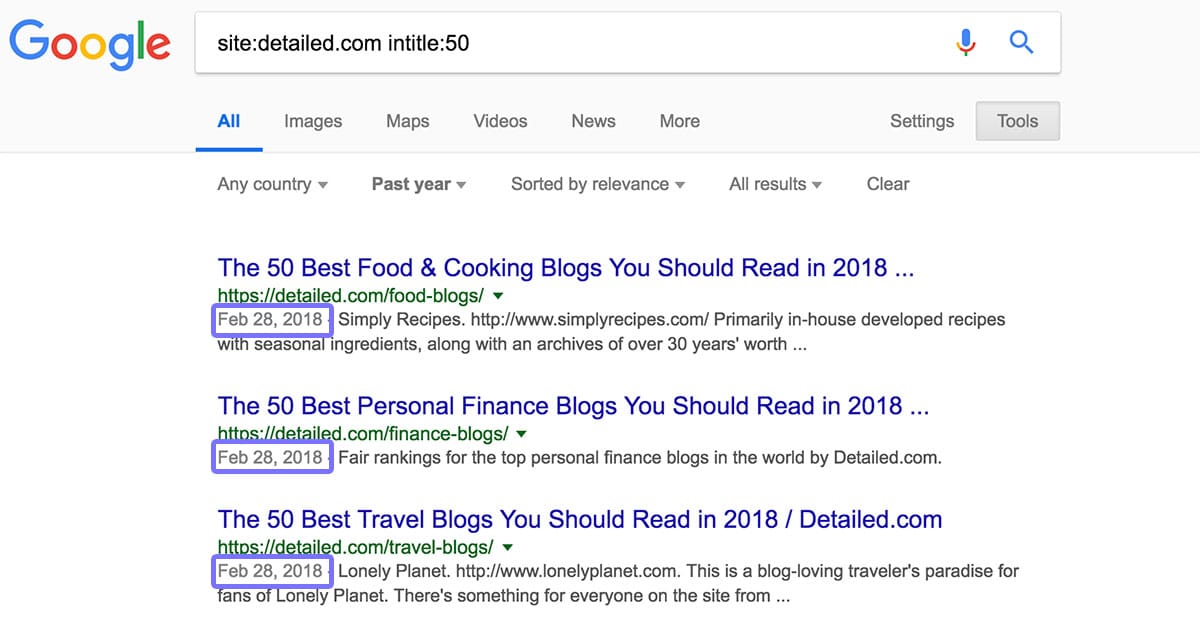 There is no text on the site which tries to influence this date, and I don't use any schema markup on these pages either.
This date is simply when Google first discovered them.
My page on design and development blogs however had a totally different date associated with it.
In fact, Google thought this page was 12 years older than the rest, even though it went live at the exact same time.
Take a look for yourself…

See the date under the green URL? Yep, they associated the page with the year 2006.
Once I noticed that, I had to figure out why it was happening.
Why 2006, and why September 2006?
Fortunately, I realised why pretty quickly. I went to the page, hit CTRL + F and typed in 'September'.
It turns out that the description for a site I had featured, Smashing Magazine, mentioned their site was founded in September of 2006.

Google mistakenly assumed this is when my page was published, helping to explain why it had never picked up any organic search traffic whatsoever.
As soon as I saw this, I knew I had to update the date associated with the page.
Though old content can rank in Google, as this is the only page that didn't rank, and it's the only page with a 2006 date associated with it, I knew the date was affecting rankings.
You can see in the screenshot below I managed to update the date Google assign to the page.

I did this just by writing a new date at the top of the page and changing my schema markup.
Finally, after months of receiving no traffic at all from Google, the page is starting to pick up some rankings.

That's not all.
I've been able to use this exact same discovery to diagnose serious ranking issues for our 7 and 8-figure clients, for rankings that are far more important than anything to do with the best bloggers in a certain niche.
Want to know how to do the same? Let's keep going…
How to Find the Date Google Associate to Any URL
I'll be honest: What I covered above was a bit of a freak incident. If you have a page that's struggling to rank, it likely isn't because Google have associated the wrong date to the page.
That said, knowing how to find the date Google associate to any URL is incredibly useful for:
Making sure Google has noticed your 'published' or 'last updated' changes
Determining whether freshness might be a ranking factor
You may not have an old date assigned to your content, but a huge percentage of keywords rank partly thanks to "freshness" these days, so you can definitely benefit from knowing how to assign a new one.
There are two ways to figure this out.
Option #1: The 'Tools' Way
This option is the quickest but on some rare occasions it simply doesn't work.
I was unable to find the date associated with my /design-blogs/ page using this method so had to use option #2.
Option two is a little more nerdy and will surprise even the most advanced SEOs but let's keep things simple to start with.
Simply search for the URL you're trying to determine the date of, then go to Tools > Any Time and go back as far as you like in a Custom Date Range.
You can see an example of this below: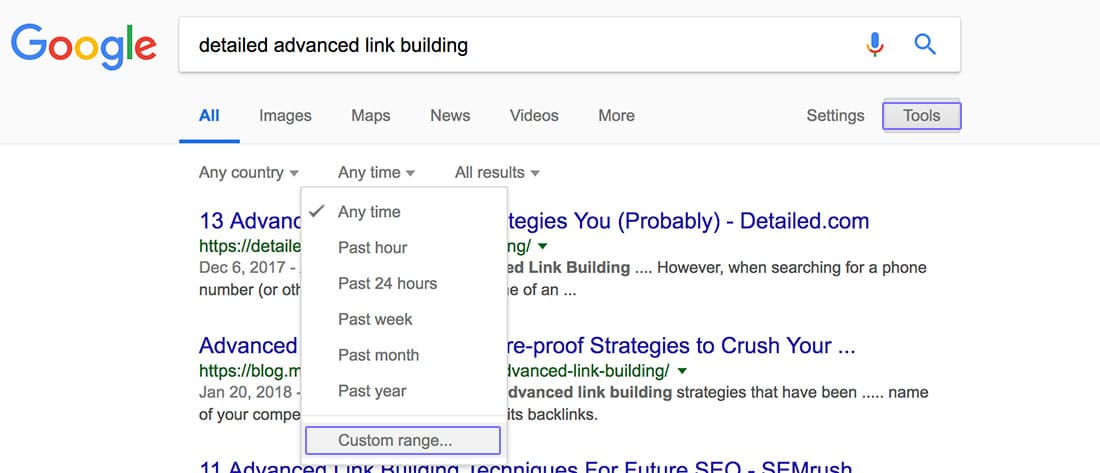 The maximum date range you can set is to go back fifteen (15) years.
From there, you should see the dates assigned to any search result. If that doesn't work for you – it should for 99% of queries – then option two has your back.
Option #2: The Nerdy Custom Search Engine Way
I love this method because it always works and it looks pretty nerdy.
If you work in an office with other SEOs and you share this with them they'll think you're a genius.
The first step is to head to Google Custom Search (Google CSE) and create a new search engine.
When you're asked to add sites, include those you would like to find the associated date for.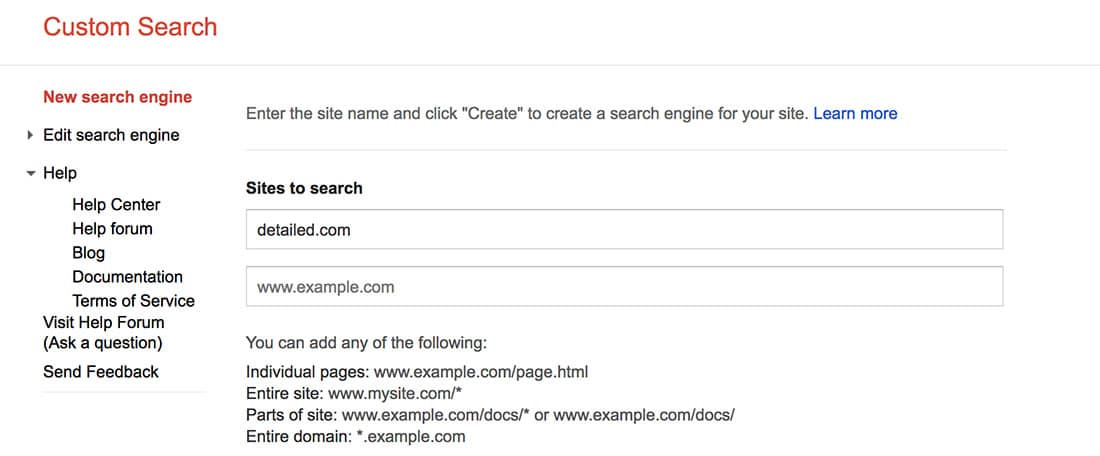 Once you've added all the sites you want to track – just one is fine – you can then load up your search engine.
From there, search "inurl:keyword" (without the quotes), replacing keyword with a word from the URL of a page you're trying to find.
(Note: Google have attempted to block this. If you recall the story on the Detailed homepage, I said that Google started showing zero results if you use the "site:" operator.)
If the date doesn't appear next to the article, change the setting in the top right to 'Date' rather than relevance.

Then it will definitely show. Notice the date under the green URL.
Pretty cool, huh?
Now you can not only see what date Google assigns to your own URLs, but your competitors URLs as well, which is incredibly useful when determining whether "freshness" may be a ranking factor.
There are lots of other tricks I love to use Custom Search Engine's for so be sure to look out for those in a future update.
Bonus Tip: Freshness Is So Powerful, A Lot of Big Sites Fake It
Please don't view the following text as a suggestion of what to do, but rather an insight into what other sites are doing.
Freshness is so important to some keyword rankings that a lot of big websites actually change their published date, rather than their modified date, to benefit from it.
This makes Google change the date associated with their piece, likely improves their click through rate, and definitely improves their rankings.
I'm not telling you to do the same as it's not exactly above board in my book, but sites are doing it for a reason.
Let me share an example from TechRadar, who pull in an estimated 43 million (!) visitors from Google each month.
You can see their guide to the best 65-inch TV has a July 26th date associated with it.

Where is that date coming from?
Well, if we look at the source code of the page, we can see they are telling search engines like Google that's when the article was published.

Thanks to Archive.org, we can see the page was published at least a year ago, and certainly not in July 2018 like their code claims.

I'll let you be the judge on whether they should use 'last modified' rather than 'date published' like everyone else.
Either way, they are making sure the dates associated with their top articles are fresh for a reason.
And it's not just one page where they do this, but literally hundreds.
Thanks for reading.
Please do hit 'reply' on the email that sent you here and share your feedback. I read every email personally.
And if a friend broke the rules and sent you here, you can subscribe via our homepage.
If you want to know more about me, Glen Allsopp, then you can find more about my story here. (Warning: Cheesy photos in supercars I don't own).
I have no interest in becoming famous or known, but it might be nice to know who is sending you emails.
Or, if you want to discuss these strategies in our brand new Facebook group, click the button below…
Join Our SEO Secrets Facebook Group
We're about to hit 14,000 members. Pretty cool!
P.S. You should get Secret #3 in about 72 hours from now.
Look out for an email from me then 🙂
P.P.S. Want me to personally look at your website and offer feedback? Check out our video audit services, here.