I started writing this article on the 17th of August when I discovered the news I'm about to share but I wasn't able to write it up as my new report on digital goliaths, Detailed Q1, had to take priority.
The reaction to Q1 was incredible — thank you to everyone who took the time to read and share it.
As I'm a little slow to cover this I'm surprised nobody beat me to it (though one of the original site owners noticed), but maybe that's because the news I have to share is super nerdy: We now have a great idea who bought three finance sites from XL Media for $1.3M.
To recap, at the end of May of this year, publicly-listed XL Media announced they sold the finance websites Investor Junkie, Greedy Rates and Young and Thrifty to MPD Media for $1.3M cash.
It was slightly frustrating at the time that I had no idea who MPD Media are, and I guess I still don't today. We do now know who owns those three websites, however, because they've been redirected elsewhere.
InvestorJunkie, a DR70 domain, was redirected to Moneywise.com.
GreedyRates, a DR53 domain, was redirected to Money.ca.
Young and Thrifty, a DR52 domain, was also redirected to Money.ca.
Digital goliath Wise Publishing owns both Money.ca and Moneywise. According to their homepage, they reach over 10 million unique visitors each month: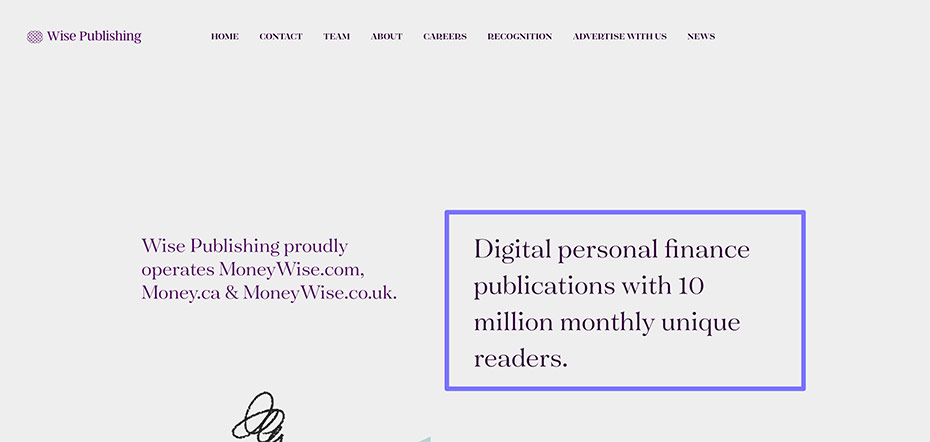 I couldn't tell you how MPD Media relates to Wise Publishing, but unless the sites were sold again within the last few weeks, then I'm guessing it's just another name for their operations.
These acquisitions were not the only thing they've been busy with as their website Moneywise.ca was recently rebranded to Money.ca.

I'm not sure how I feel about that rebrand personally. Money.ca is a great domain name, but there's a similar site they don't own on Money.com. Plus, they still run both Moneywise.com and Moneywise.co.uk, so they own that brand name.
They know what they are doing, but I thought it was an interesting decision.
A Respectful Summary on How They Handled The Redirects
Starting with InvestorJunkie, which was the most authoritative domain in terms of backlinks, it looks like they've copied a lot of the content from the domain, but not everything.
Some parts of InvestorJunkie have been left on the original domain. You can't go to the InvestorJunkie homepage any more, but you can view their NFT category:

They probably have no plan to produce content on NFTs, so I'm not surprised that it wasn't recreated on the Moneywise domain.
It seems like a lot of content was added to Moneywise that didn't previously exist, and then existing articles and categories on InvestorJunkie were redirected to the most relevant alternative on Moneywise.
As a semi-specific example, InvestorJunkie had an article on promo codes for a specific service for 2019, which now redirects to a proper 2023-focused page on Moneywise.
I could talk more about this and how they handled things with the other two domains, but I'm crossing a line that doesn't need to be crossed.
The real story here, at least to me, is that I finally have a better idea of who MPD Media are, and at the very least we're now clear about what they planned to do with their $1.3M acquisition.
Finally, I want to add a disclaimer that when I add 'Exclusive' to a headline – as I've covered a few times before – please don't take me too seriously. I'm incredibly new to writing about news in any form, and I'm just having fun where I think I'm the first to share information on something.
A week after I started writing this story, the founder of Investor Junkie, Larry Ludwig, told me he also saw the site had been redirected.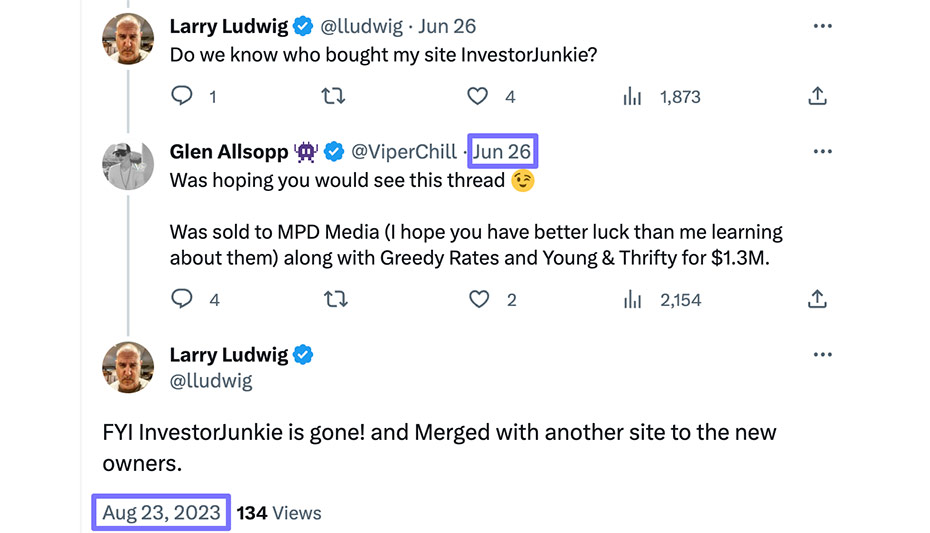 We've both been interested in this story for different reasons, and it's nice to get a bit of clarity on exactly what ended up happening here.
Larry originally sold the site to XLMedia for $5.8M back in 2018. It should be interesting to watch how Wise Publishing's websites benefit from the new content and links they've acquired.
Written by
Glen Allsopp
, the founder of Detailed. You may know me as 'ViperChill' if you've been in internet marketing for a while. Detailed is a small bootstrapped team behind the Detailed SEO Extension for Chrome & Firefox (170,000 weekly users), trying to share some of the best SEO insights on the internet. Clicking the heart tells us what you enjoy reading. Social sharing is appreciated (and always noticed). You can also follow me on
Twitter
and
LinkedIn
.