Today ZoomerMedia ($ZUM) announced the acquisition of Canadian-focused tech and business newsletter, The Peak.
They've no doubt been inspired by the success of daily newsletter Morning Brew which Insider acquired for around $75M back in 2020. It's smart they've put a spin on the angle to focus on a specific country.
According to the statement released by ZoomerMedia, The Peak's flagship daily newsletter has a readership of 115,000 Canadian's. I'm going to assume that's how many subscribers they have, rather than how many people on average are opening each issue.
I've seen people comment on social media how $5M is a lot of money for a newsletter with 115,000 subscribers ($3.5M is cash on closing, with a $1.5M promissory note), but that's not the only aspect of their business.
They also have a finance-focused newsletter with 25,000 subscribers, and a 7-minute podcast released each weekday which gets around 100,000 downloads each month.
When it comes to social media, they 2.8 million people on TikTok and Instagram in May of 2023. While that isn't as valuable as having the permission to land in the inbox of 100,000+ people, those numbers are still impressive.
And finally, we can't forget they do pick up search traffic to their website, ThePeak. The numbers aren't huge (a few thousand visitors each month) but it's no doubt something they'll try and grow.
ZoomerMedia are one of the 100+ media brands we monitor for news, with the 6 sites we track for them including EverythingZoomer, VisionTV and ClassicalFM.
If they make any more interesting acquisitions like this, I'll try and keep you in the loop.
If You Don't Mind, Can I Get Personal for a Second?
If you're subscribed to Detailed via RSS or come to the website directly, you'll notice that over the last two weeks I've been posting what can be best described as news content.
This is a far cry from the 10,000+ word reports we're known for.
Those reports are still my main focus, but I am enjoying these more frequent updates and just seeing what happens. I'm not sharing these stories on any form of social media, via email, or similar.
What's kind of crazy to me is that I'm technically the first news site in the world to cover this story.
If you Google any kind of variation of 'ZoomerMedia' and 'The Peak' you'll only find a press release from $ZUM on a site that hosts thousands of new releases each day. It's not exactly easy to find.

Not a single tech publication has published this story, yet to me it's a pretty big deal. Someone selling what is primarily a newsletter for $5M is no small feat. Especially when you realise it was started just a few years ago.
One of the things I've enjoyed the most about getting into news-focused publishing, even if I only end up doing this temporarily, is that I've built some really interesting systems to help me find interesting news before anyone else.
The harder part has been finding the signal in all of the noise, but I think I have it nailed down pretty well.
The real test of whether I've built a system worth sharing is whether any other sites go on to cover this story. If I end up being the only one to write about then maybe it's not as interesting as I thought.
But if the likes of AdWeek or Axios or TechCrunch or any other big name cover this later, then I'll start writing up the systems I have in place where I can get notified on a story like this as it happens.
And not just for ZoomerMedia, but literally hundreds of other brands as well.
I have a database and custom software set-up for this, but use a simple Google sheet to keep track of all the brands I care about: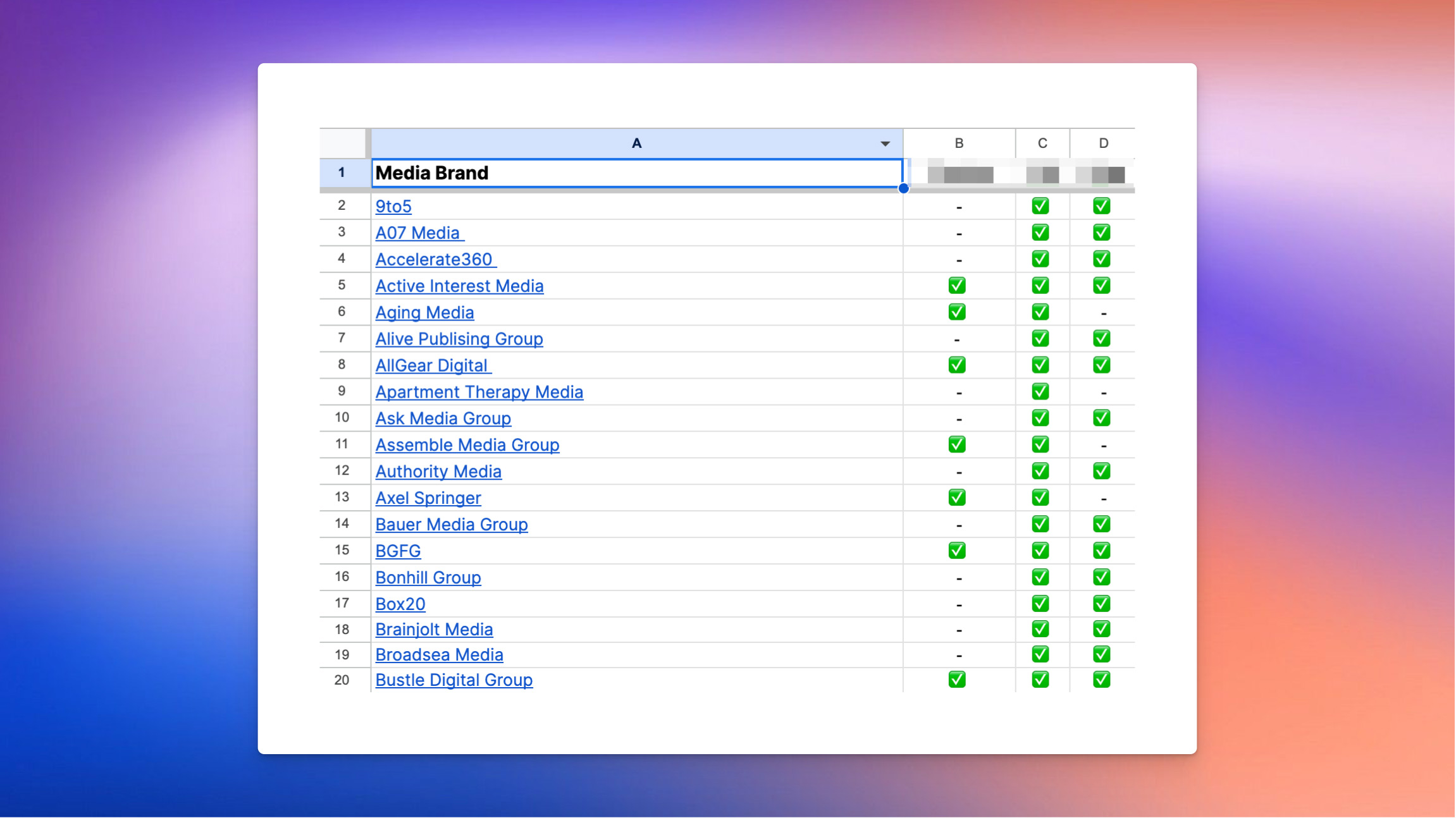 I can see in analytics that a few dozen people are clicking on these stories each day (they're not on our homepage, and I'm not sharing them anywhere) so if you're reading this, you're one of less than 100 people who will come across it.
Thank you for being with me here on this mini experiment. If you're curious about more of the behind the scenes of what I'm doing here, click the 'Like' heart and I'll get a guide written up on this as soon as I can.
Written by
Glen Allsopp
, the founder of Detailed. You may know me as 'ViperChill' if you've been in internet marketing for a while. Detailed is a small bootstrapped team behind the Detailed SEO Extension for Chrome & Firefox (170,000 weekly users), trying to share some of the best SEO insights on the internet. Clicking the heart tells us what you enjoy reading. Social sharing is appreciated (and always noticed). You can also follow me on
Twitter
and
LinkedIn
.