If you clicked on this page because of the 'What the…' messaging in the footer then I admire your curiosity.
In return, I won't waste your time…
This whole story starts about a year ago, when I was following the writers behind a newsletter called Morning Brew.
I'm no longer a subscriber – daily emails were a bit too much for me – but it has been an incredible success story so far. With their mission to help you get smarter in just five minutes per day, they quickly grew to 2.5 million subscribers, then sold a controlling stake to BusinessInsider at a valuation of $75M.
This article is not here to give them free press though.
It's what all of their staff on Twitter do that caught my attention: In all of their usernames, they put a little coffee cup emoji.
This one ☕️.
Here's the co-founder of MorningBrew with it on his Twitter profile:

They're also not shy about basically saying, "Hey, this emoji is ours".

I thought this was just a quirky little thing, until a few weeks later I saw the coffee cup emoji in a different context, and instantly thought of MorningBrew.
In other words, after seeing it enough times on Twitter, they had turned an emoji into something that made you think of their brand, even if the situation had nothing to do with them.
If this was their plan, then it worked.
The Emoji I Chose for Detailed, and Why
The obvious thing to do here if you wanted you jump on the same concept is to search Google for stats on the most popular emoji's and pick one to "make it yours".
Logic being that the more popular it is, the more people are going to see it in everyday life and think of your business.
I'm admittedly not normal though, so decided to choose an emoji you might not have even seen before, and might never see again.
I chose this little guy – 👾 – and promptly added him to my Twitter username…

The reason I chose this emoji is pretty simple.
First of all, it's purple. Purple is my favourite colour (young Glen would never have believed I would desert Blue) and it's also a big part of the colour scheme here at Detailed.
Secondly, while it's described as an 'alien' on Emojipedia, I view him as a little robot crawler, which is the perfect mascot for a website on SEO.
Hey, I told you it was simple.
Making an Emoji 3D (Yes, There Was Actually a Design Process)
I'm pretty proud that over the years I've learned to design and customise 99% of my own websites.
This blog uses a custom theme.
This specific page uses a custom theme template.
The animations and little 'quirky' things you see around here are things I've likely put in place myself.
But I have absolutely no talent whatsoever when it comes to 3D design.
This is despite how much I love how 3D graphics look, and how many I've purchased many in the past, such as this one that shows up on the homepage of our SEO training program, SEO Blueprint.

Fun fact, that graphic (the left part, which was created exclusively for us) has been viewed over 800,000 times on Dribbble.
With my emoji in mind, I emailed the same person who created the aforementioned graphic and basically said something along the lines of, "I know this is weird, but can you create a 3D version of the 👾 emoji please?".
I've worked with this person a few times so I know how talented they are.
A few days later I received three options to choose from:

I thought I would ask for changes once I saw the thing in 3D – it would be easier for me to visualise what I do and don't like – so said that #3 was my favourite.
A few days later I received this: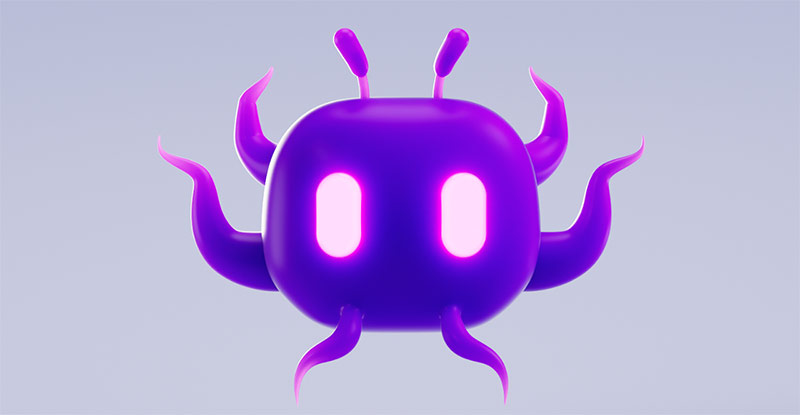 I'm not sure what you think but for me, this was pretty perfect.
I especially liked the 'glow' in the eyes.
There were a few changes I asked for though:
Please match the colour scheme more to my website (#7878f7)
Please also make an angled version
Please make the straight version a little more 3D
The reason I keep working with this designer is they know my taste and I don't have to ask for many revisions. What I received back was exactly what I was looking for:

This is now the "little purple alien thing" you will see throughout this site.
If you're curious, the straight, original version I asked for was $150 (I knew this upfront).
An additional angled version was another $50, so $200 in total.
I gave a 10% tip, which comes to a final payment for my 3D emoji – with multiple angles – of $220.
I'll be using these graphics in a lot of different places (blog headers, my footer, link cards on Twitter, etc.) so I'm very happy with the price and the use I'll get out of it.
You can already see I've been having some fun with it: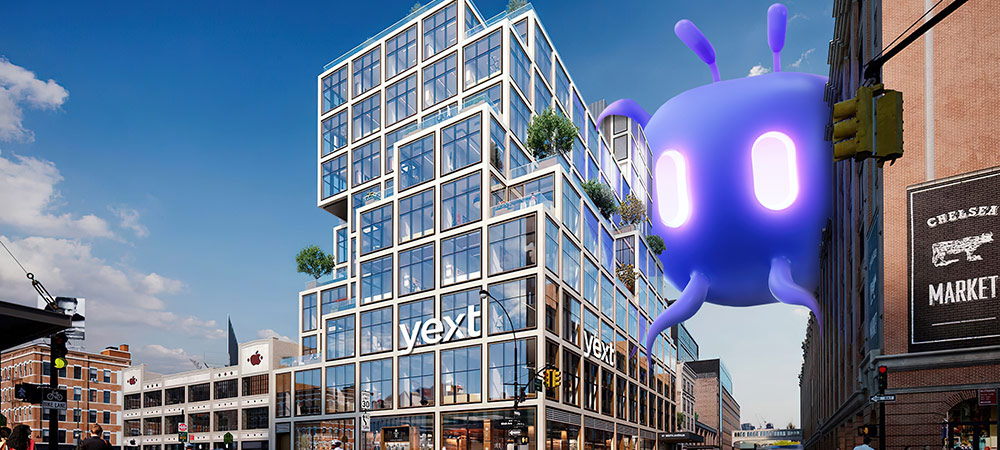 I've shared more about our header graphics over here.
Just So You Know I'm Not Crazy, I Would Have Done This Even If 👾 Doesn't Make You Think of Detailed
As I've shown earlier, I'm a big fan of 3D graphics.
There's another one in the header for my Twitter profile.
I really like the idea of just having some kind of mascot for our brand, especially for use in things like link cards on Twitter.
When I was planning to write this article, I really thought that this is just an idea for bloggers or newsletter owners. Particularly those that are active on Twitter.
But the more I thought about it, since there are so many emojis out there (3,600+ if you can believe it on an iPhone device, and there were surprisingly 471 at launch), you really can find something for any industry.
Here's a few emoji's I think could be branded pretty well, even if people don't associate the emoji to your brand: 🧼 🎲 🦄 🙊 🧬 🎉
WordPress likes to change the look of these a bit, so here's a graphic of them:

If you're on desktop, you may have noticed that I actually have a 3D version of the confetti emoji running across the top of this website. That was purchased from a set though, and isn't unique to us.
Note that I don't know the legal / copyright situation with emoji's, so don't copy them directly. Put your own spin on them like I have (at least when using them in graphic form on your own website).
You can obviously use the real thing on the likes of Twitter.
A Funny Little Bonus from 'Owning' an Emoji
After people have read an article like this one, they sometimes use it in messages to me almost in a "If you know, you know" kind of way. Or, "Yes I've read a lot of your stuff, and here's one easy way to show it."
I know, I'm thinking into this way too much. I just think it's nice when people add it randomly in messages to me:

This might just be the longest article ever about branding an emoji and I don't think there's anything missing, so let's stop there.
Just don't forget to sneak in a 👾 the next time we talk (!) and let me know if this inspired you to brand your own.
If you like these behind the scenes updates, please reply to our newsletter and let me know, so I can keep writing more of them.
P.S. Interested in more behind the scenes content? You can find it here.
We're a small bootstrapped team, trying to share some of the best SEO insights and niche opportunities on the internet. Clicking the heart tells us what you enjoy reading. Social sharing is appreciated (and always noticed). – Glen Allsopp