"20 of the most important SEO blogs online"


"complete with handy guides explaining how you, too, can get in on the gold"
Over the last few weeks there has been a lot of noise about possible Google algorithm updates.
While the updates have certainly been substantial, something you need to keep in mind is that Google update their algorithm every single day. Often multiple times per day.
Search results are also different around the world, and in different languages, and changing search results is a staple of Google, rather than something that has suddenly just happened.
However, what has happened in recent months has certainly been substantial, and the daily updates that typically occur certainly don't compare to this in any way.
Thanks to the unique trackers we have here at Detailed, we've seen substantial average ranking shifts across a number of websites.
Here's one example that I shared on Twitter:
Client site (with permission to share). Six months of downward trending search traffic. Beefed up many pages, improved design elements but probably most importantly, disavowed a TON of links. They deserve all the credit. Fingers crossed it continues. pic.twitter.com/4Vo4EIRvuo

— Glen Allsopp (@ViperChill) November 15, 2018
That graphic is from our custom built search rankings tool which essentially tracks "visibility" for any domain that we like.
We track overall rankings for keywords across a site, and determine whether their average position has improved or worsened in Google.
In the image above, the bar has gone up, which means that average ranking position has increased quite suddenly.
Other trackers, such as Moz's Mozcast, show similar events happening recently: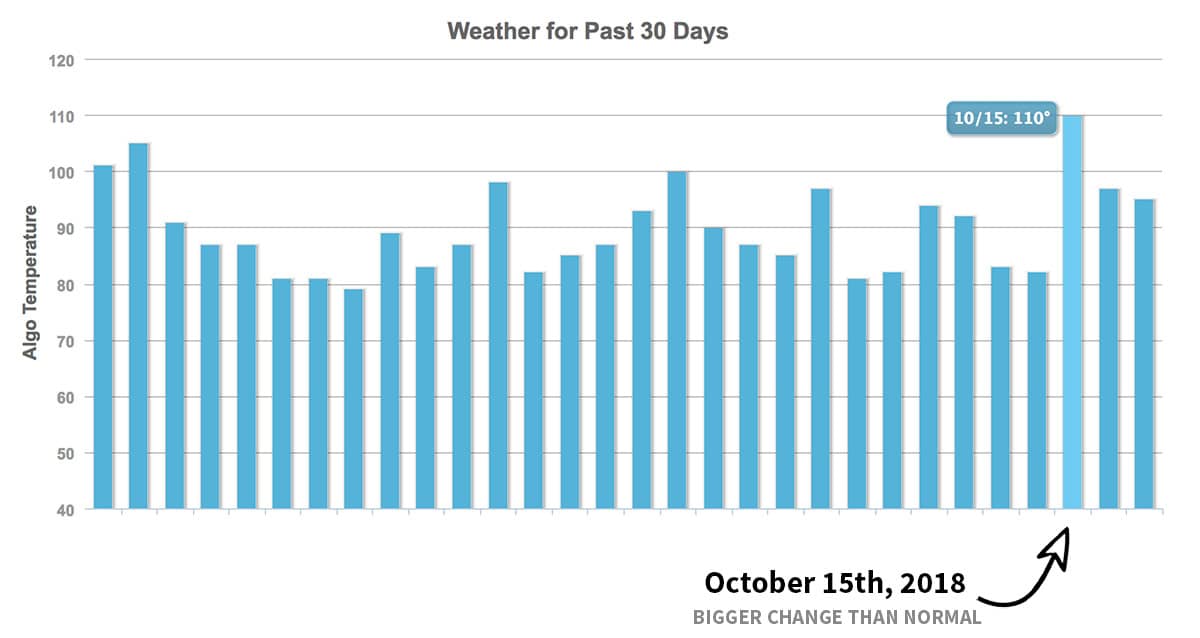 Of course, due to their only being up to "10 blue links" on a page, this means a lot of sites have received positive improvements from these updates as well.
Want us to look into your site specifically to see if we can help? Send me an email to glen@detailed.com.
Something you should always keep in mind when it comes to overall search results is whether you are really the best result for a user query?.
Of course, there are things you can do to improve rankings such as on-site SEO, being optimised for answer boxes (rank zero) and building links to your site, but it's important to keep in mind "What Google might be thinking."
If your design needs work, your user experience isn't great and others provide better value to search users, that could be at the core of your problems.
Something people mistakenly think is a Google algorithm update may actually be something else that is negatively impacting a websites rankings.
For example, one reader reached out to me about a possible negative SEO attack he had received on his health blog.

This turned out to be a manual penalty for schema markup that the webmaster hadn't noticed.
Unfortunately, since this latest update we have been completely overwhelmed with requests for help. We literally can't support the numbers of emails we are receiving. My sincere apologies.
Update: November 9th, 2018.
A new client came to us around four months ago after a constant downward trend in search traffic.
I can take little credit for the result below as they've been working incredibly hard but they are starting to come out of the traffic dip now:
They've implemented a lot of the basics and are continuing to improve their site, so hopefully this continues.
We have a few other clients who are recovering nicely as well, but this one is certainly the most sudden spike.
If you have a specific site that has been negatively affected and you would like me to look into for you, please don't hesitate to send me an email: glen@detailed.com.
Alternatively, you can also use our contact form.
Update January 9th, 2019: There is a lot of talk about updates happening right now. We'll update this page accordingly once we've dived in more.