Almost two years ago to the day, BuzzFeed acquired Complex Networks in a deal worth $300M ($200M in cash and $100M in BuzzFeed equity).
The acquisition included brands like Complex.com, First We Feast, Pigeons and Planes and footwear news site, Sole Collector.
In that time their stock ($BZFD) has gone from trading in the high $9's, down to just $0.58 as I write this today.
The acquisition of Complex can't be solely blamed for their struggles of course. Lots of factors have gone into BuzzFeed losing their place as an exciting media brand to invest in.
New reports released this month suggest that BuzzFeed are already looking to offload that June 2021 purchase.
What I haven't seen reports on is what BuzzFeed have just done with one of those popular sites they picked up.
This month they redirected SoleCollector, a sneaker news site which was averaging around 1.3M visitors per month from Google (according to data from Ahrefs), to a directory on Complex.com at /sneakers.
SoleCollector is still ranking well, with tens of thousands of pages indexed in Google, but clicking on them will now take you to the Complex.com domain.
Here's how the site looked just a few weeks ago…
You can see a pretty significant traffic drop for SoleCollector in the following Ahrefs screenshot, though perhaps not significant enough to immediately realise the site is no longer a "thing".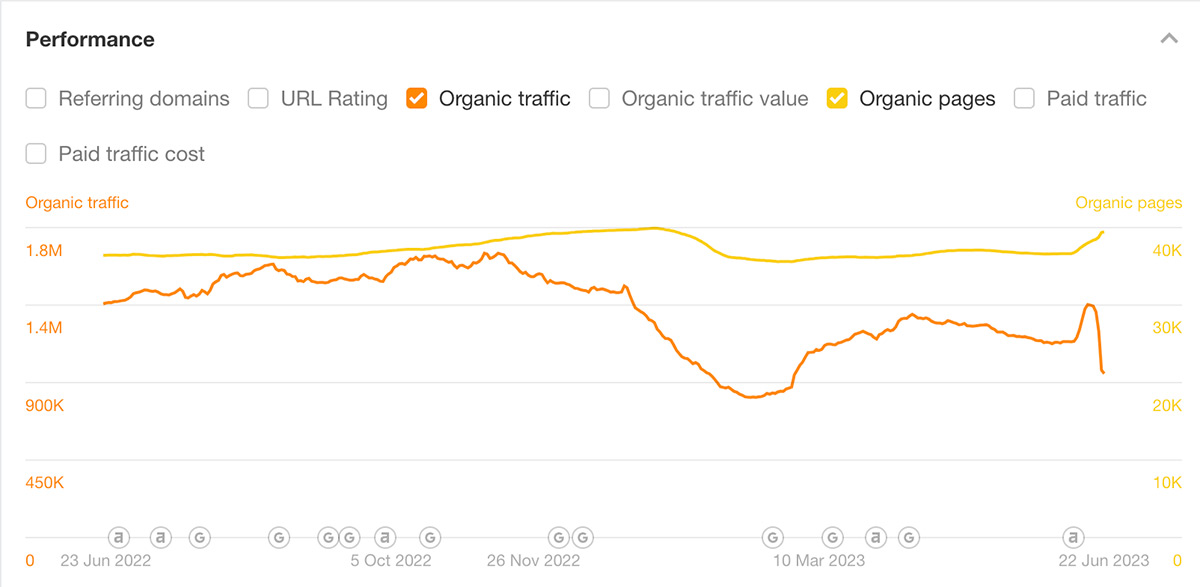 The redirect is a little bit too recent for us to get an accurate picture of how much traffic will be transferred over to Complex, but it's something I'll be watching with interest over the next few weeks.
Maybe I'm Naive, But I Assumed This is Something a Public Company Would Announce
I completely understand that tracking when websites redirect is a very nerdy thing to do. That said, I can't help but think that essentially shutting down a site they acquired is a pretty big deal for a public company that is very reliant on rankings and search traffic.
According to estimates from SimilarWeb, SoleCollector receives around 59% of its traffic from organic search, while Complex receives around 66% from the same source.
If the redirect remains in place, pretty soon SoleCollector will lose all of that search traffic and any advertising revenue that came with it. Of course, there's a very good chance the Complex domain will recover most, if not all, of that traffic.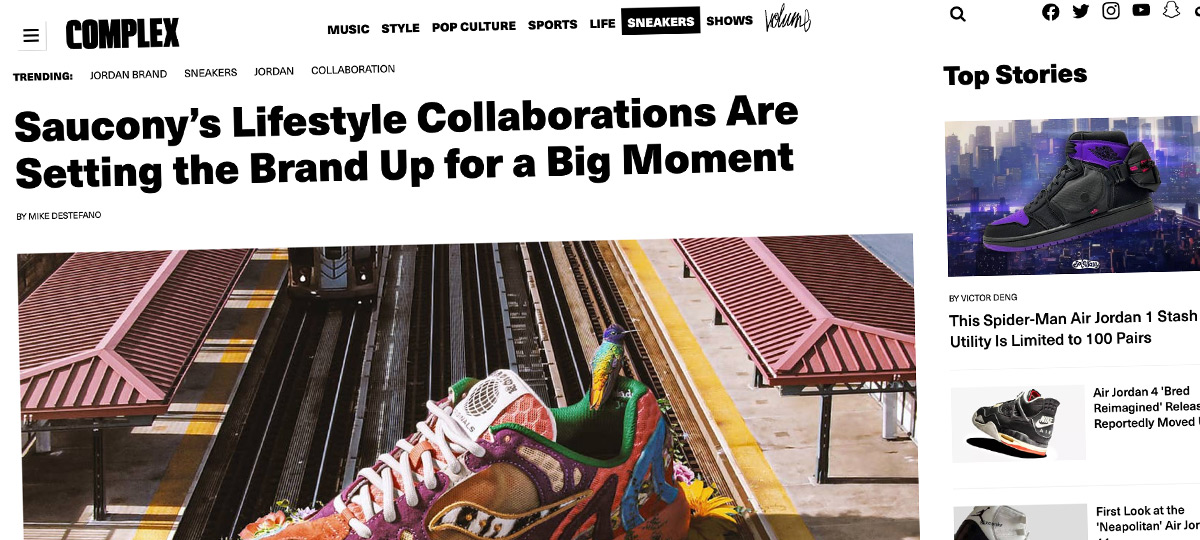 There's also the very real possibility that the Complex domain will see a bigger increase in search traffic than whatever SoleCollector loses.
Still, the BuzzFeed press page is pretty active with "lesser" updates and they are a public company with an expected duty to update their investors on these things.
Of course, I may be showing my lack of experience reporting news here. It's not like I've seen other companies report specifics like this outside of quarterly updates, and maybe it's just more interesting to me as an SEO then it would be to anyone with a significant investment in BuzzFeed stock.
It may also be the case that SoleCollector was losing money, so there's no real negative outcome to potentially warn investors about.
The final possibility is that they did say something and I simply missed it. I promise I've looked, but if that is the case then I guess I'm just surprised the announcement didn't feature on their press page as well.
I've reached out to BuzzFeed for comment but after six hours before publishing this I'm yet to receive a response.
Back to SEO Now, Because This Should Be Interesting to Watch
The reason I noticed this change in the first place is because I'm obsessed with digital publishing goliaths and how they handle their vast networks of websites.
From a purely technical SEO standpoint, it's great to have yet another example where a proven, popular domain in search results now redirects to an existing subfolder on another high-authority site.
The fact that they're a public company and you might recognise some of the sites involved makes it a little bit more interesting.
A common theme in questions I receive privately is from people thinking of acquiring other businesses to redirect to their main brand, who want to know the probability they'll see a positive ROI.
I always like to have a handy list of domains to track which have gone through the process so here's another one I can add to it.
As far as Complex search traffic goes, we can already see that Ahrefs has picked up a ton of new pages being added to that specific folder (the yellow line in the screenshot below):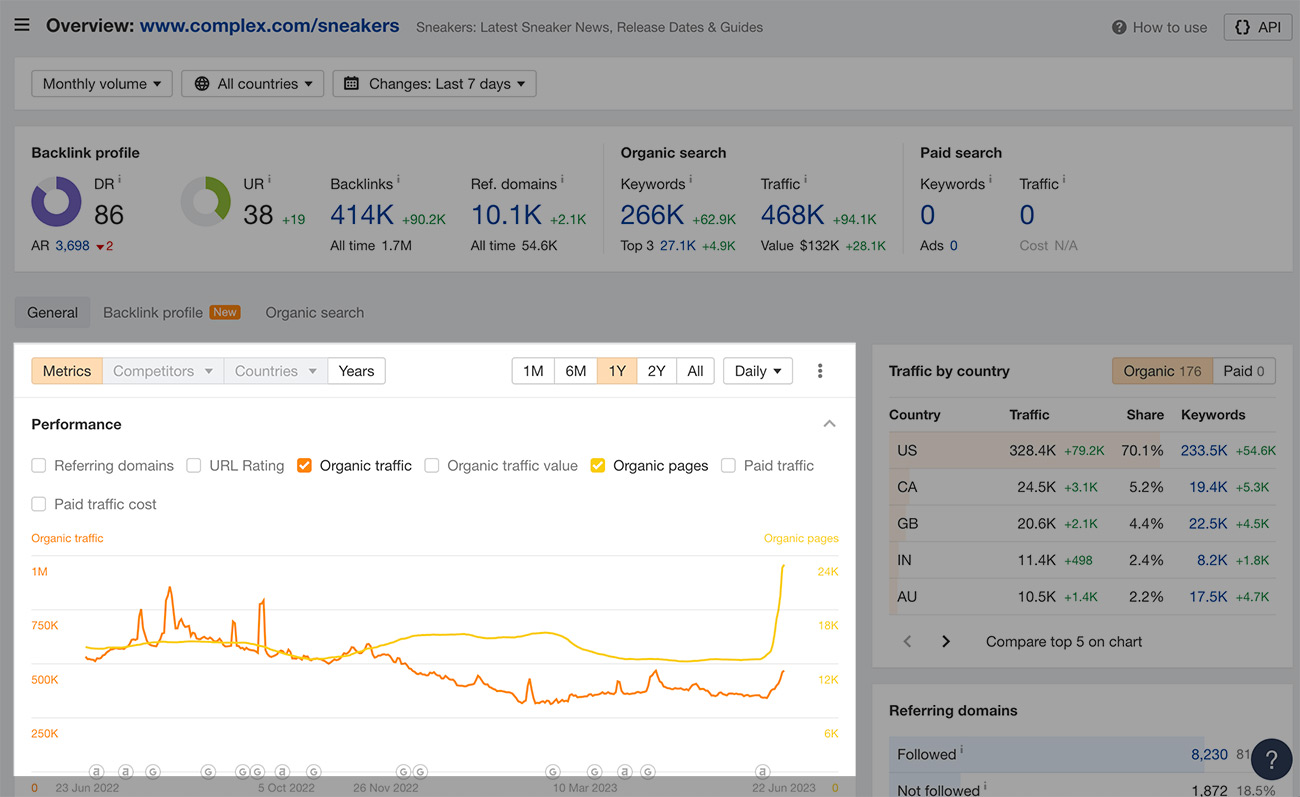 One thing to keep in mind with redirects like this is that it's not always as simple as redirecting every article, like for like, and just moving your rankings elsewhere.
The fact that the domains have different levels of 'authority' will come into play.
There may be topics on SoleCollector that have already been covered in an almost identical way for Complex so now the pages could also be "competing" against each other.
They might not want to move over pages which weren't performing too well on the original site.
There's also the case of URL structures to think about, which have changed quite considerably.
A URL on SoleCollector which was: https://solecollector.com/news/jordan-luka-2
Now looks like: https://www.complex.com/sneakers/a/brandon-richard/jordan-luka-2
There's an extra folder in there, and author names are now part of the URL structure.
Before I Sign Off, A Quick Note on Outing and How Far I'll Go Here
I completely understand if you don't read every word of every update here, so I do want to mention that when I covered TIME's new subdirectory, I went into a lot of detail about what I'm wiling to report on and where I think others go too far in the world of SEO.
You can read my entire thoughts on that, here.
The short version is that I will never cover sites doing anything shady, reveal sites which clearly want to be kept private, report on large traffic losses (they may be inaccurate, which can have many negative consequences) and never do in-depth breakdowns of specific sites without permission.
If I thought BuzzFeed were doing something shady and against Google's guidelines, I wouldn't report on it. I'm not the Google police.
(I guess I might make some exception if their actions are clearly terrible and could impact their stock massively in some way, but I hope I don't have to make that decision any time soon).
What they've done is common and probably happens thousands of times per day on the internet.
The thing that makes it newsworthy (at least to me) is that BuzzFeed are a public company, and according to estimates both sites involved get more than a million visitors each month from Google.
I'm not going to get into the keywords they were ranking for or the links they built to the original sites and so on. Tools exist to look into those things but I don't think it's my place to report on them, nor really relevant to the story.
Never in my life did I think I would write over 1,000 words about a website redirecting, but I guess that's what happens when you're in love with the space you cover.
Thank you for being here.
Written by
Glen Allsopp
, the founder of Detailed. You may know me as 'ViperChill' if you've been in internet marketing for a while. Detailed is a small bootstrapped team behind the Detailed SEO Extension for Chrome & Firefox (170,000 weekly users), trying to share some of the best SEO insights on the internet. Clicking the heart tells us what you enjoy reading. Social sharing is appreciated (and always noticed). You can also follow me on
Twitter
and
LinkedIn
.