This report has received 13 updates. The last was made on August 14th, 2023
– You can now see the status code (200, 404, etc.) for URLs under Schema > Hreflang
– The PAA extraction box now only shows if 'People Also Asked' exists in search results
Today I'm very excited to announce that our 100% free SEO extension for both Chrome and Firefox have just went live with some much requested features.
If you're already a user of either then they should update automatically. You may need to quit and re-open your browser for them to force the change.
If you're not a current user, then maybe I can convince you…
Hreflang Checking, Including Back Referencing
If you're working on a website with multiple localised version, you can now see all variations of a specific page straight from the extension.
Simply go to the 'Schema' tab and click on 'Hreflang'.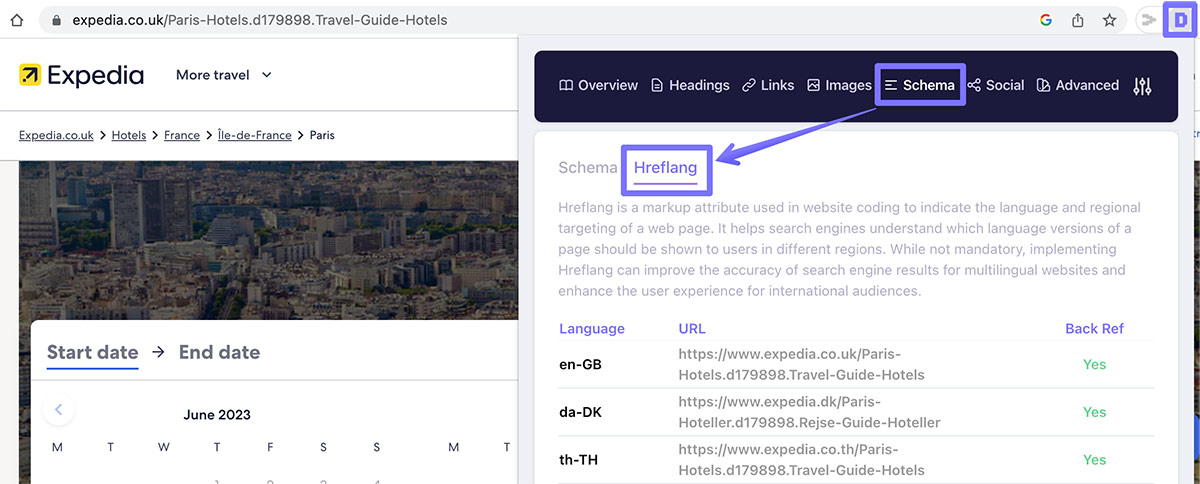 Back referencing, when enabled, allows you to see if the other localised version of a page also reference back to the page that you're currently on.
Extract 'People Also Ask' from Google Search Results
This is something we've made a manual option to enable so you don't suddenly wonder why the Detailed 'D' icon is showing up in search results.
If you want to enable it, you can do so like this: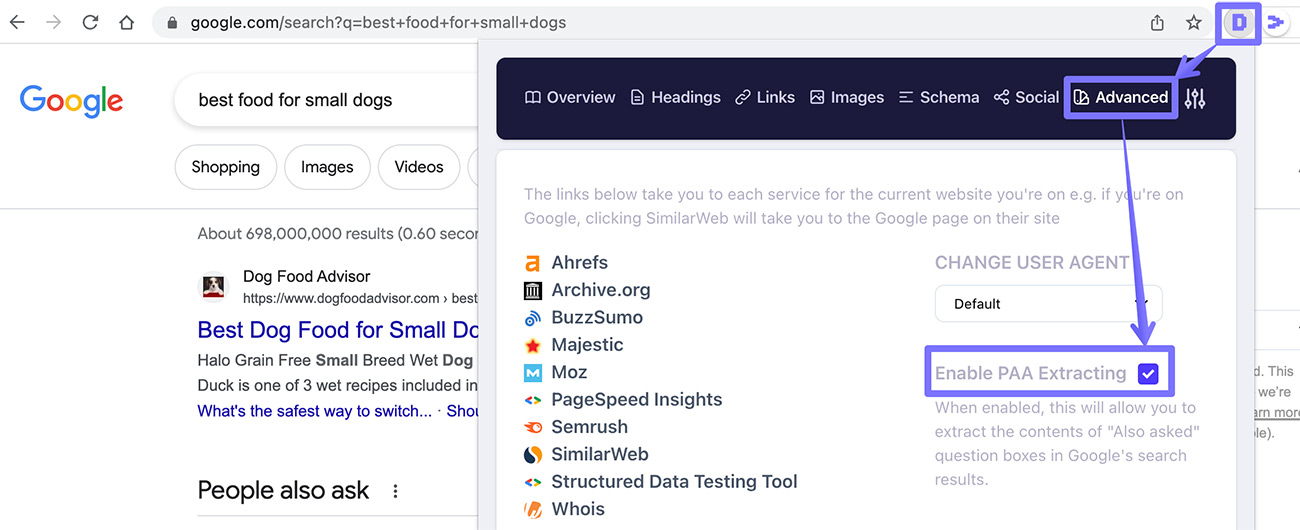 From then on, whenever you search for something in Google, you should see an option like this:

Once the tool has finished running, it will automatically save a .csv file to your downloads folder.
You can then open this file in Microsoft Excel, Libre Office, Numbers (Mac) or something like Google Sheets.
In Google Sheets, an extracted PAA will look like this:

This has been a much requested feature (more info on that below) so I'm really happy to push it live.
Export Schema from Any Page as a .Json File
As the headline says, you can now see the schema for any page you're on an export it as a .json file.
Seeing the Schema was already a feature, but we've added the option to download it as well.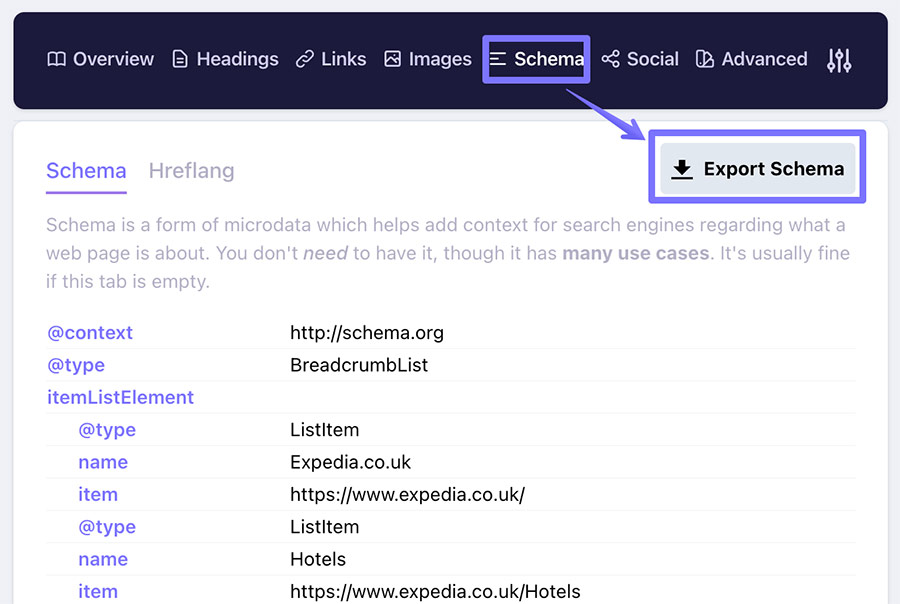 We had a few people request this as well, so it's nice to finally bring it live.
Change Your User Agent
This is a bit of a more advanced feature and not something you'll find yourself using often, but it is something we wanted to add.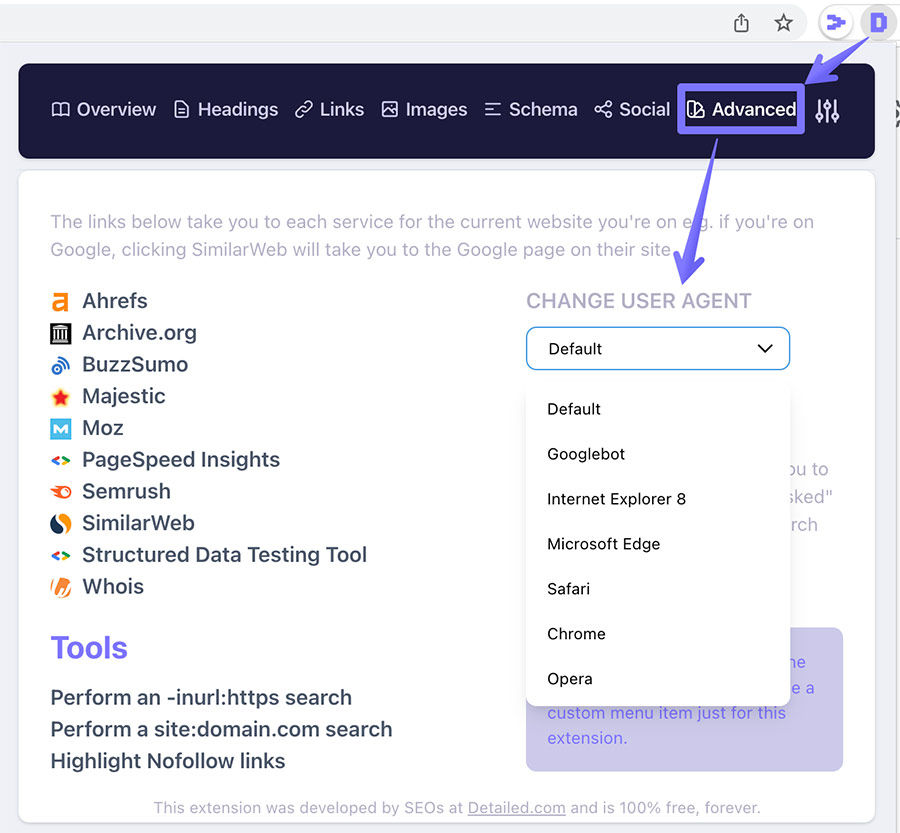 You can now change your user agent to:
Googlebot
Chrome
Opera
Microsoft Edge
And a few other options.
I imagine the most popular of these is going to be Google's Googlebot. Some websites display different content based on which user agent is accessing them, and this helps you to spot any differences.
If You Love Our Extension, Reviews Are Much Appreciated (I, Glen, Read Every Single One)
The Detailed SEO extension is something we update for free, does not contain any form of tracking (we get offers, monthly), and it's something we've updated for more than three years now.
If you head on over to our extension on the Chrome store you'll see I've replied to pretty much every single review in there.
If you could take the time to leave a review – I have a hunch they help our rankings in the extension store – then I would sincerely appreciate it.
As a Final Note, A Personal Update on Where to Draw the Line Adding Features Available Elsewhere
The features added in today's update just make sense.
They're not always things I've desperately wanted – I don't have a need to change user agent very often – but if we want to become the ultimate, free SEO extension, it makes sense to have them.
The entire reason that the Detailed SEO extension exists is actually because of another extension, SEO META.
I used this extension in over 1,000 videos (literally that many) and told even more people to use it, but it was missing a number of features I wanted myself.
For instance, I really wanted a Right > Click menu so that I could open up specific tools (such as Ahrefs and Semrush) for that page that I was currently on, without having to type them in manually.
More importantly, I wanted to check for X-Robots HTTP requests, because if you're only looking for the meta robots tag (like SEO META was / is) then a page might still be marked as noindex, even though they say it isn't.
I reached out to the team multiple times but never received a response, so I was inspired to create the Detailed SEO extension and start adding new features I needed.
This wasn't a requirement (of course) but I've given them credit on our extension landing page from day one for the inspiration.

If you're been involved in SEO and extensions then you may have seen our new People Also Ask (PAA) extraction feature in another extension, SEO Minion.
As SEO minion recently went paid-only, people started asking us to add this feature.
Note: Before publishing this post I very kindly received personal blessing from the founder of SEO Minion to implement this feature in the Detailed SEO Extension.
Of course, SEO minion are not the only tool to offer PAA extraction. Fully-blown SaaS companies are built around offering exactly this, such as AlsoAsked and AnswerthePublic. Other Chrome extensions have a very simplified version of extracting as well.
That said, I would be lying if I said that people suddenly starting to ask us about this was a coincidence. Our installs went crazy for a while (thanks in part to shoutouts) and I also mentioned them in a tweet as a likely cause.
In a way, this modelling of ideas has already happened to us. When the SEO Pro extension went live, a lot of people tagged me telling me we had been copied. My response was basically, "Yep, this feels like a copy…but let people decide what they want to use."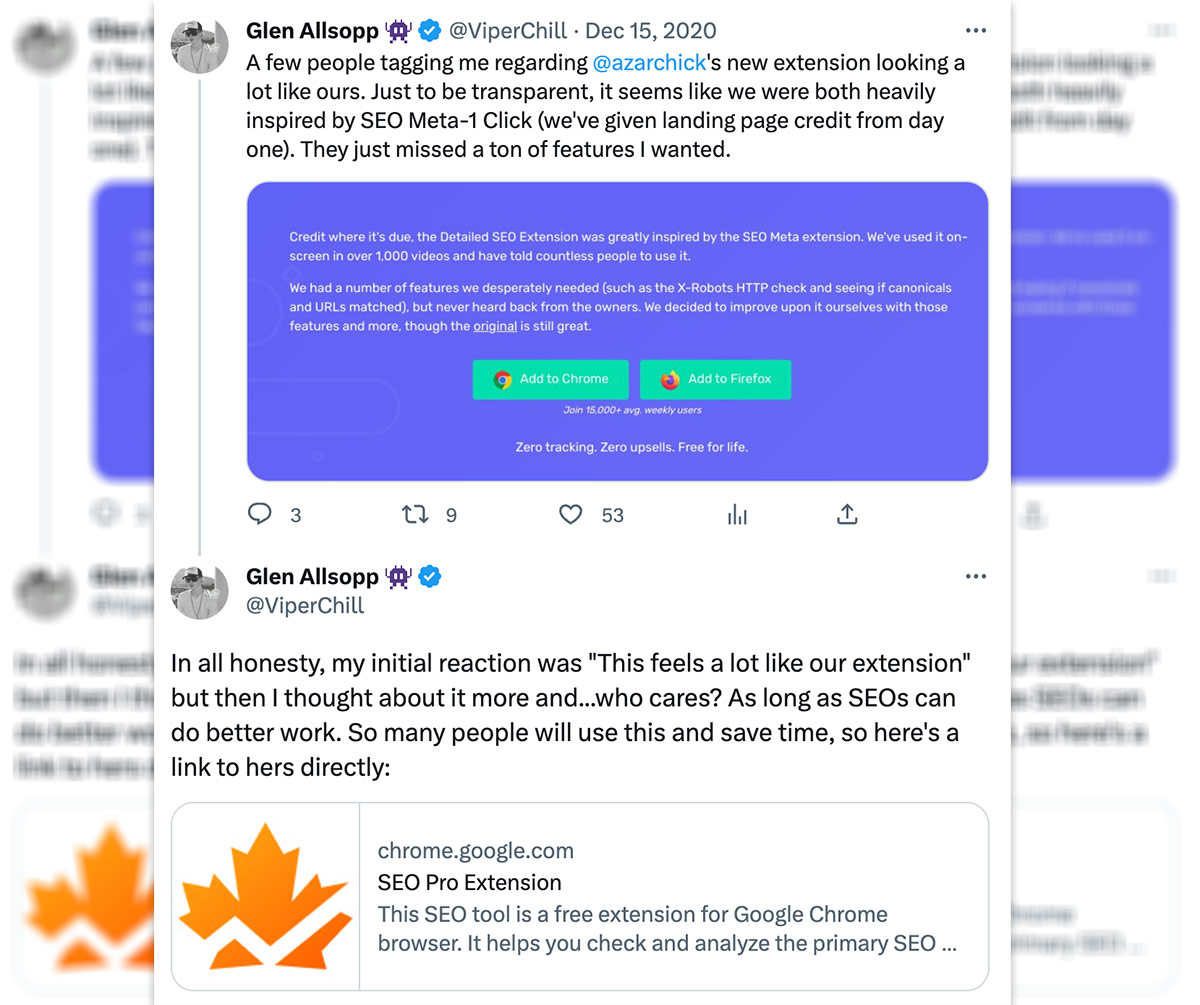 That was almost three years ago now, and my thoughts haven't really changed: Don't be a dick and create an exact replica, then let the market decide.
Danny Postmaa, who experiences people copying a lot, sums this up pretty nicely I think.
This is not the only time we've seen people build competing extensions of course. At the end of last year, SEO Crawl came out with something similar and got called out because of it.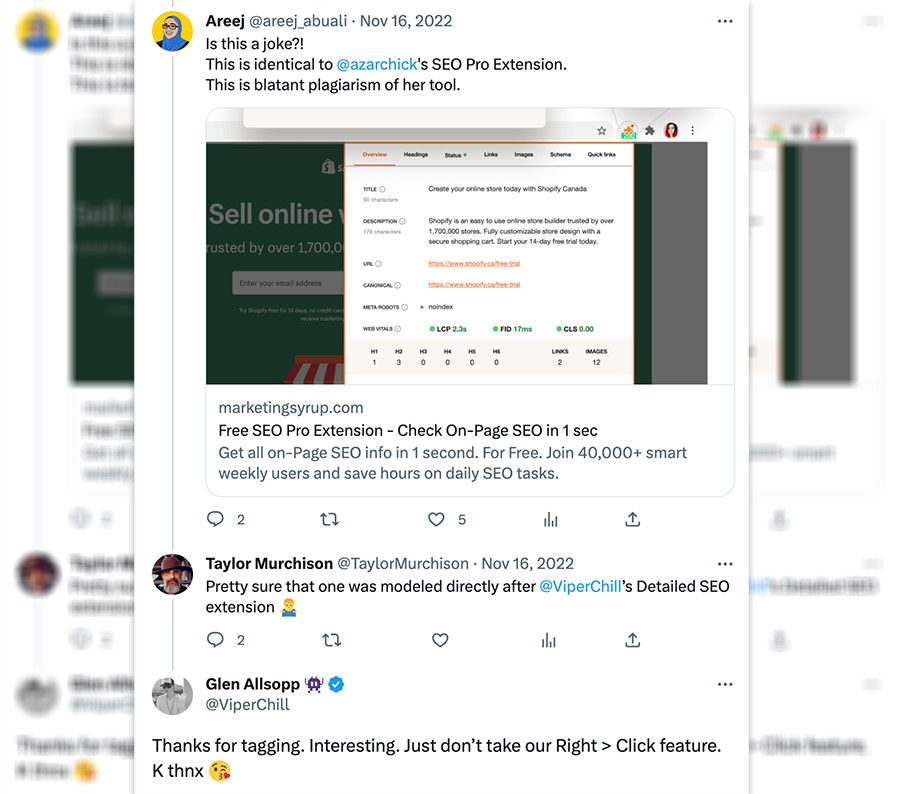 You can see my love for how we (currently) have exclusive access over the Right > Click feature, but I know it won't last forever.
Now that leads me to answer the headline of this section.
Where do you draw the line of what features to add that can be found elsewhere?
In the world of software, pretty much everything is a copycat.
Semrush, Ahrefs, Sistrix, Mangools. They all have their own take on things, but a lot of their feature-set is the same.
Buffer and dozens of other social media scheduling tools share a lot of the same functionality.
Go through any Chrome extensions category and you'll find thousands with almost identical features.
I genuinely believe 99% of people would just not care in my situation. It's free…I should add whatever I want, as long I'm not doing something illegal.
That is not how I feel though. I do want to be respectful to what others have built.
I guess a few rules for myself are:
#1. If I'm inspired by the entire functionality of another app, extension or similar, then either massively put my own unique take on it, or get permission from them to replicate it first.
#2. If there's another tool with features we don't have I would like to see improved, then reach out to them about it (like I did for SEO META).
#3. Do not be a hypocrite. Seeing your own stuff directly copied without credit can suck for a day or two, but don't make a big fuss about it. It will happen. I do not accept people stealing code, though.
#4. Don't overthink it. It's not like we're potentially hurting people by adding features to an extension for a web browser. Let's make sure our guiding star is that it's useful for users and won't have negative effects (like slowing down the extension for other tasks).
Adding a PAA extraction feature basically follows those rules for me. It's a tiny part of what SEO Minion is about (#1). I'm not going to ask them to reverse their decision to make their extension paid (#2). I should give credit where it's due, like in this post, and on our landing page (#3).
And then most importantly, keep building on the functionality to make it more useful to the end user.
I didn't really have to write this section, and I sincerely appreciate Akash (SEO Minion) giving us his permission, but I do like to have some rules to abide by for an industry I'm so involved in, so those are the first version of mine.
I think that's everything for now.
Thank you so much for reading. And if you do have a minute to leave a review, it would mean a lot to me.
Written by
Glen Allsopp
, the founder of Detailed. You may know me as 'ViperChill' if you've been in internet marketing for a while. Detailed is a small bootstrapped team behind the Detailed SEO Extension for Chrome & Firefox (200,000 weekly users), trying to share some of the best SEO insights on the internet. Clicking the heart tells us what you enjoy reading. Social sharing is appreciated (and always noticed). You can also follow me on
Twitter
and
LinkedIn
.