In my article on the 16 companies dominating Google I ranked DotdashMeredith as the third biggest media goliath on the internet.
At last check, Google sends more than 500 million clicks each month to the 49 sites that we track for them. Some of the biggest sites in their portfolio include:
Investopedia (Finance)
People.com (News & Media Publishers)
AllRecipes (Food and Drink)
VerywellHealth (Health)
TheSpruce (Home and Garden)
The Spruce Eats (Food and Drink)
SimplyRecipes (Food and Drink)
Entertainment Weekly (Arts & Entertainment)
Until very recently we were tracking 50 sites for them, but they've gone ahead and redirected an incredible domain in Parenting.com, to another incredible domain at Parents.com.
If you perform a site: search on Google you can still see a lot of pages showing up from before the redirect: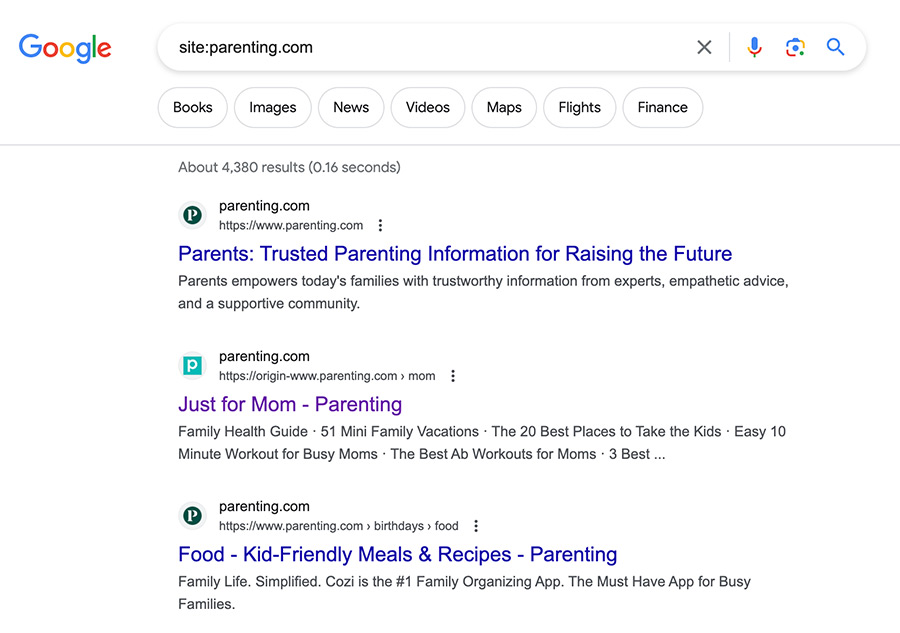 If you look at the second result in that screenshot, it looks like DotdashMeredith have left some kind of staging website open to Google.
The pages on the staging website still load and don't redirect you to domains' new home at Parents.com.
I imagine that isn't what they wanted to happen, but that isn't the only "issue" I wanted to point out.
We can also see that they didn't redirect every single URL from Parenting.com over to Parents.com. This makes sense, as Parents.com has been around for years and this isn't just a name change.
They're essentially consolidating two websites into one, which means they probably had to spend time making sure that they weren't adding content to the "new" domain that they already have articles covering.
What's strange to me however is that if they decided not to redirect a URL like for like, you don't land on a relevant alternate article or an attractive 404 page.
Instead, you see this:

Again, I imagine this is something they'll want to take care of.
Before I continue I want to clarify that this is not a criticism of the team at DotdashMeredith or the SEOs working for them in any way.
They are absolutely dominating Google…they know what they are doing. And while the redirect happened last month (June 7th, according to the Internet Archive), it's possible they're still working on deciding what to do with all of the content on the previous domain.
If anything it shows that merging two domains is a task that involves a lot of steps and isn't as simple as it might seem on the surface.
On one hand I'm a little surprised that a company dominating Google with so many different websites is now consolidating two of them together.
On the other hand, I already pointed out on point #9 of this article that they've consolidated other sites recently as well.
At the end of 2022 they redirected TheBalance.com, TheBalanceSMB.com and TheBalanceCareers.com to a previously unused domain at TheBalanceMoney.com.
That's three sites, which Ahrefs estimated were each getting at least one million visitors per month from Google, redirected to a brand new domain.
The DotdashMeredith team aren't afraid of experimenting and trying things out.
Parenting.com is such an incredible domain that it seems a shame it's going to spend the next few years of its life (at least?) simply redirecting elsewhere, but at the end of the day it's theirs to do with as they wish.
Traffic to the site has also been on a slow but steady decline over the past year, at least according to Semrush estimates.

Traffic to Parents.com has also been on a slow decline, but their traffic numbers are in the millions, which is likely why it was chosen as the site to redirect to, rather than from.
I have a feeling this isn't a big enough story for DotdashMeredith to talk about on their next earnings call (they're part of publicly listed $IAC) but I'll let you know if they do say anything related.
Written by
Glen Allsopp
, the founder of Detailed. You may know me as 'ViperChill' if you've been in internet marketing for a while. Detailed is a small bootstrapped team behind the Detailed SEO Extension for Chrome & Firefox (170,000 weekly users), trying to share some of the best SEO insights on the internet. Clicking the heart tells us what you enjoy reading. Social sharing is appreciated (and always noticed). You can also follow me on
Twitter
and
LinkedIn
.