This report has received 24 updates. The last was made on September 3rd, 2023
– Updated traffic numbers for August 2023
– Wrote an update on three sites they've revived
– Updated traffic numbers for May 2023
As someone incredibly optimistic about the future of niche industry news, it's always nice to see specific examples that are doing well.
This week, GRV media announced that 14 of their portfolio sites hit record traffic numbers, reaching 100M pageviews for August of 2023. Those pageviews were generated by "almost 25,000,000 unique users", and they also saw Facebook likes across their network of sites grow 16.2% to 3.6M.
The fourteen sites in question are:
67 Hail Hail (Celtic)
Arsenal Insider
Everton News
Geordie Boot Boys (Newcastle United)
Hammers News (West Ham United)
Leeds United News
Manchester City News
Molineux News (Wolverhampton Wanderers)
Notthingham Forest News
Rangers News
Rousing the Kop (Liverpool)
Sheffield United News
TBR Football
The Chelsea Chronicle
United in Focus (Manchester United)
TBR, also known as The Boot Room, is the only site on the list that covers football in general, rather than news about a specific team.
According to their recent updates, GRV Media have been on a hiring spree regarding football writers so they see even more potential in the space going forward. In the last three months they've increased headcount by 12% and established 25 new websites.
They were already having record-breaking months when the football season was closed, and now that fixtures are back, the numbers are ramping up.
Checking out a few of their sites, it's clear that design is not always a priority. That isn't to be harsh, but I think anyone reading this could replicate the look of a site like Rangers News in an afternoon.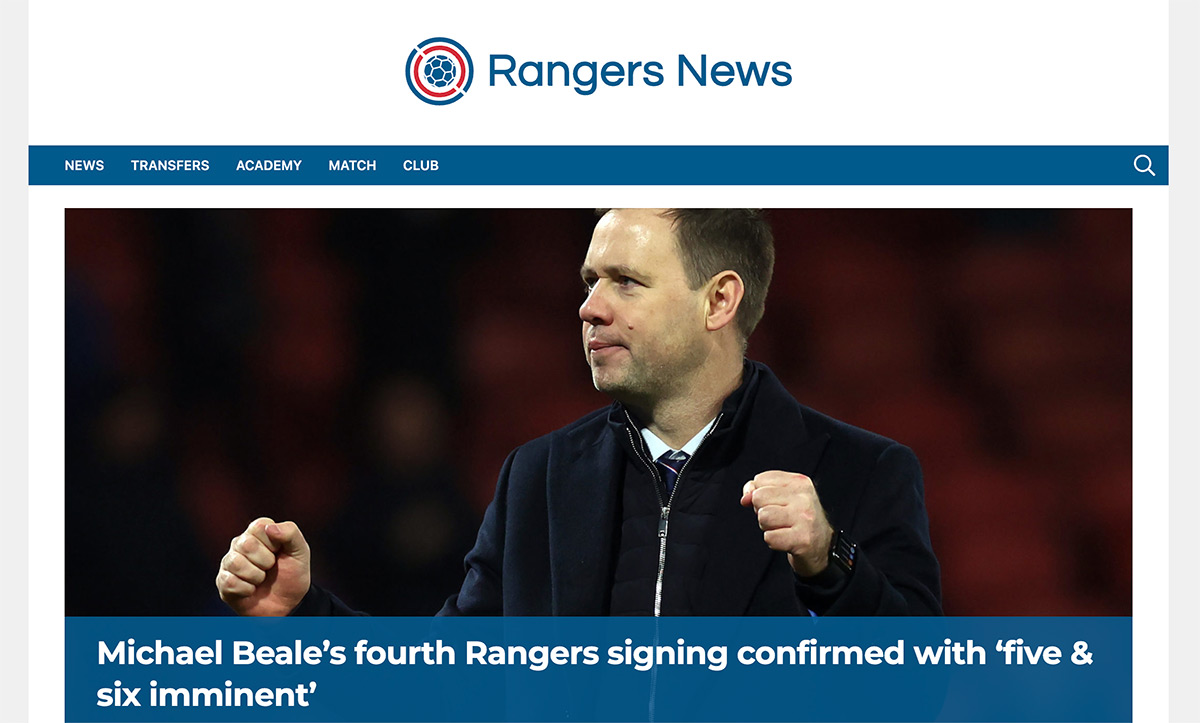 What isn't so easy to replicate, though, is the constant publishing of new content. As I'm writing this on each site they've published multiple articles in just the last few hours.
Their output is relentless.
Their content angle is clearly to use headlines that give away very little but are enticing enough to encourage you to click through to the site. As a Newcastle United fan, I've clicked on a few Geordie Boot Boys links I've seen on Twitter to see who or what they're talking about.
Interestingly, SimilarWeb doesn't estimate the majority of their traffic comes from search (19% for Rangers News and 18% for Geordie Boot Boys). Yet when we look at Semrush, they sometimes seem to have huge spikes in traffic from Google.
Then again, this diversification is partly why I am so optimistic about niche industry news, as I mentioned in the introduction. So many traffic sources make sense for the kind of articles they share, and they don't have to be heavily reliant on search.
It's not every day we get insider insights like this from a company, so if the updates continue, I'll be sure to share them.