Financial insights and news resource NerdWallet today announced Q2 2023 revenue exceeded targets, reaching $143M.
Monthly visitors to the site were also up at an average of 22 million, a 9% increase over the previous year.
While these days NerdWallet is so much more than just a blog, soon after the site launched in August of 2009 with an $800 budget, the growth of their blog and the rankings it achieved became a huge part of their success.
One of the biggest success stories as far as SEO is concerned is how well they've ranked over the years for any kind of credit card related query. We'll get into their financials in a moment, but credit card related revenue generated $52.1M for them in Q2.
If you go to their homepage you can see the offer to compare credit cards is their main call to action: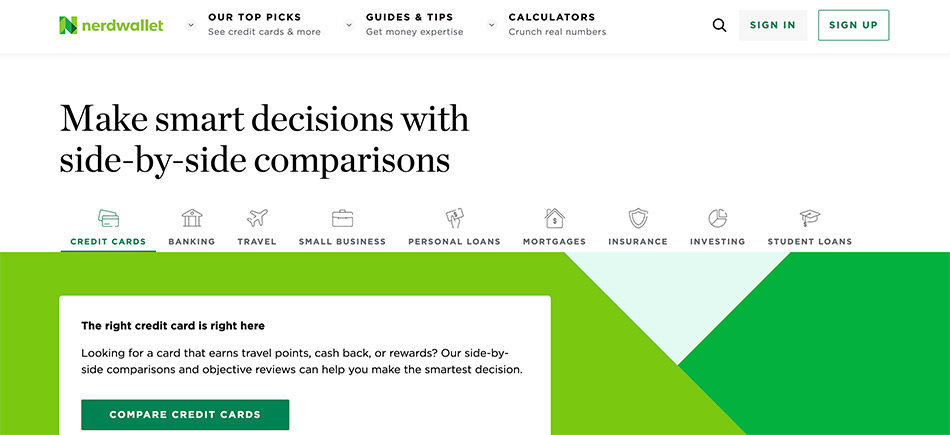 Credit card search results are insanely competitive because there's so much money to be made in sending customers to providers.
On point #36 of my guide to the 16 companies dominating Google you'll see me quoting a story about how much money BankRate were able to earn for commissions on new card signups.
Any kind of credit card query has lots of authoritative sites vying for the top spots and for good reason: At least in the case of BankRate, getting someone to sign up for an American Express or Chase card can net them $300 to $900 per card.
According to Semrush data, keyphrases with "credit card" in them send NerdWallet around 1.5 million visitors per month from Google. Note that I'm only covering keyphrase data – which I never do otherwise – because they're a public company. Even then I won't dive in further than this.

Even more impressive is that these numbers are only for the US 🇺🇸.
It's easy to get a good idea of the search terms and rankings that really matter to them when you go through their menu, with all the key variations they're trying to rank for on full display.

While you won't want to model everything they're doing for your own websites (nor should you), if you ever have some free time I do recommend going through their site and just…clicking around.
I like to look at things like how they format blog posts. How prominently they show off their authors. How they verify their information is accurate and can be trusted. How they design main category pages then and link out from those to the rest of the site, and so on.
Tracking Traffic and Financials Going Forward
It's interesting to note that while average monthly visitors have increased 9% YoY to 22 million, when NerdWallet IPO'd they revealed they averaged 21 million monthly visitors for the first six months of 2021. This quarter actaully accounted for record numbers "in just about every traffic and brand metric we track" .
In Canada monthly unique users increased 150% year on year thanks to launching a number of new experiences particularly aimed at the Canadian market.
I don't know about you but I feel very lucky that we have brands like NerdWallet who – due to being a public company ($NRDS) – reveal traffic and revenue numbers each quarter.
They help add to our barometer of how things are going in the world of internet marketing and going forward, I hope it will help us see how the likes of SGE from Google might be impacting them and other large brands.
Diving into their specific financials, you can see they had a GAAP net loss of $10.7M, with adjusted EBITDA at $20.7M.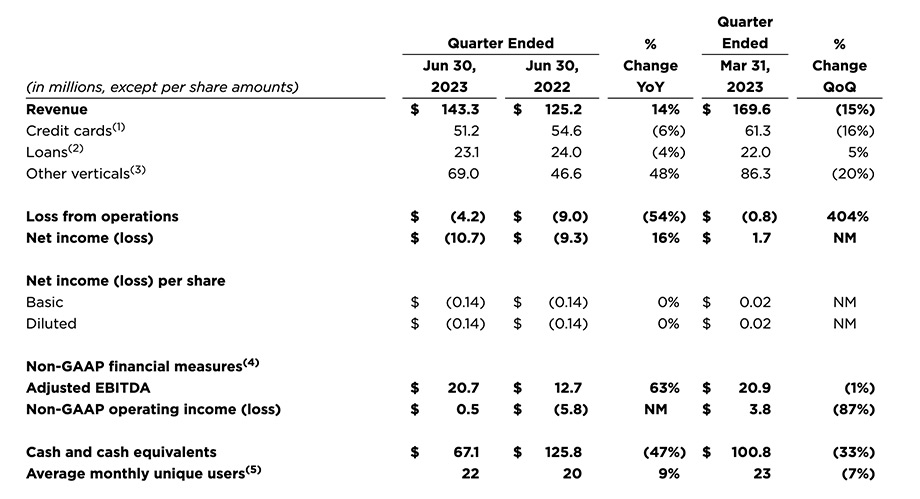 Some more specifics on the financial side include:
Credit cards revenue of $51.2M (a 6% decrease YoY)
Loans revenue of $23.1M (a 4% decrease YoY)
Other verticals revenue of $69.0M (up 48% YoY)
Other verticals revenue is described as revenue made with banking, insurance and SMB products.
Getting personal for a second, I never dreamed I would be spending time (most weeks) talking about the traffic and revenue of large companies. I'll be honest and say that while it's very interesting to me, I can't come close to documenting the financial side of things as well as people who do so full-time.
Their overall revenue and profit is interesting to me, but the traffic side is my real passion.
With that in mind, what I'll very likely do is create some kind of 'hub' page so it's far easier to track their progress going forward and how it compares to past results. I've kept the URL here super simple in anticipation of that.
Written by
Glen Allsopp
, the founder of Detailed. You may know me as 'ViperChill' if you've been in internet marketing for a while. Detailed is a small bootstrapped team behind the Detailed SEO Extension for Chrome & Firefox (170,000 weekly users), trying to share some of the best SEO insights on the internet. Clicking the heart tells us what you enjoy reading. Social sharing is appreciated (and always noticed). You can also follow me on
Twitter
and
LinkedIn
.