This report has received 41 updates. The last was made on January 26th, 2023
– Updated revenue figures for all featured Patreon earners
– Updated all graphics due to the Patreon redesign
– Moved the article from our sister site, Gaps
With more people than ever trying to make a living online, Patreon has emerged as a platform for content creators to see how engaged their fans really are.
Most often associated with being able to support your favourite YouTubers, Patreon provides a financial lifeline to a much wider audience of creators than I had originally assumed.
Today I'm going to delve in to some of the biggest earners of the platform and share some of the most interesting projects I've found.
I didn't look through all 46,000 creators on Patreon, but I did look at a few thousand before picking the most inspiring on the platform.
If you would like to watch a video of the post, I've embedded it below:
Note that while I start with the lowest earners and get to the highest, I found more inspiration in the less-funded pages, so I wouldn't skip straight to the end.

Bite Size Vegan: $163+ per month
Educational videos on becoming, and staying, Vegan

While I'm not Vegan, I have dramatically reduced my meat intake and removed all processed sugars from my diet so this one was nice to find. There are currently over 160 patrons donating between $1-500 per month, new pricing options range from $3-100.
Emily, owner of Bite Size Vegan, has grown the brand to over 184,000 subscribers, making it one of the biggest Vegan channels on YouTube.
Some of her favourite feedback seems to be that even non-Vegans can enjoy her videos without feeling pushed to change their eating habits.

Adam Fisher: $164 per month
Videos about fitness and self-improvement

What's interesting to me about Adam is that he's making money in the fitness space but he's not some big YouTuber and doesn't actually seem very confident behind the camera.
That being said, he does have a great mission: He aims to to promote fitness in a way that doesn't make people feel bad about their current health situation.
He won't be posting any Lamborghini showroom videos any time soon, but with six people donating $125 per month previously, he's clearly found a target audience who enjoy what he produces.

The Gospel Daily: $317 per month
Daily emails for Christians

Though I'm not religious, I am aware of the power of emails and how much people love receiving newsletters that are highly relevant to them.
If you're a believer in Christ then I can see why this would be enticing.
Almost all revenue was previously generated from just three patron's: One paying $250 per month and two others paying $100 per month each. There are currently 27 patrons making up the full amount.

Monky London: $339+ per month
Automotive videos most notably about car builds and drifting

There are literally thousands of YouTuber's on Patreon so I don't want to highlight too many, but this one stood out because it's personal, rather than some big car brand.
Monky London create videos which feature the likes of drift racing, car builds and tuning.
For $3 or more per month you'll get access to a private Discord chat.

Black Plasma Studios: $369+ per month
Creates animations from Minecraft gameplay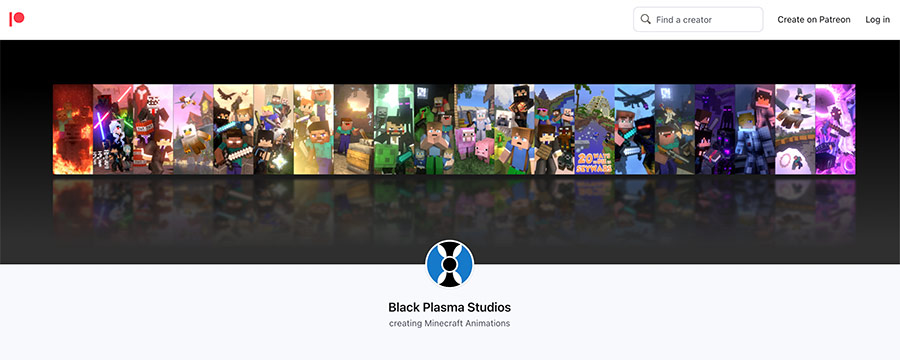 I'm not into Minecraft or even gaming in general but I know how popular eSports and the likes of Twitch streaming has become.
If you spend 5 minutes on Patreon you'll find hundreds of people making money in the gaming niche, but with Black Plasma I wanted to highlight a more interesting approach.
They make animated videos based on in-game events when playing Minecraft. The demo video on their page is actually quite impressive.
The audience they're reaching is quite niche, but with a previous average monthly donation of $17 per Patron, people are clearly willing to pay for niche.

Hoodied: $402+ per month
Creates a 'hoodie of the month' for their fans

Whenever you read about successful subscription box businesses, the stories usually involve the creator earning at least five figures per month.
That's why I wanted to feature this more 'humble' example which I still think is a great success. With up to five Patron's paying $200/m to get the latest release, it must be a great feeling for the designer to get support for their creations.
If you're been hoping to ship some of your own physical goods via a subscription offering, give this one a look.

Danny Wood: $800+ per month
Group coaching for those interested in Real Estate

More interesting to me is not what Danny is selling, but the pricing model he's adopted.
Real estate coaching is nothing new, but to have just two pricing tiers ($20/m and $50/m) and not use something like Paypal is pretty interesting.
A monthly donation gets you access to all of his videos and two group coaching calls per month.

We Animals: $933 per month
Photographs animals in need of human help and attention

I had to include We Animals in this list as it's such a cool and inspiring example of what one person can do to help others.
Jo-Anne McArthur, the photojournalist behind We Animals, helps to bring attention to the species of animals on this planet in need.
As with other similar projects on the site, patrons mostly get to support the project rather than get something in return, though those pledging more than $100 per month do get a personal "Thank you" phone call from Jo-Anne herself.

Jason Lanier: $938+ per month
Photography videos, tutorials and meetups
The testimonial on the Gaps homepage is from someone doing very well teaching photography so it's great to see another example of that.
The main selling point of patronage is certainly the live Google Hangout chats and live photography concept teaching.
Three patrons (the maximum number of places) pay $100/m to have a private 30 minute Skype call with Jason each month.

Talitha Brauer: $972 per month
Photo essays on refugees around the world

Like Dani helping Moroccans get scholarships, it was inspiring to find people supporting Talitha Brauer's mission to photograph refugees and tell their story.
I watched a few of her videos and got a new perspective on the fortune of my own situation, which I think is always important.
With some Patron's pledging up to $200/m, (there is a $500/m option) I can only hope her numbers begin to grow.

Oliver Babish: $977+ per month
Witty cooking videos, often cooking food from TV shows and movies

From his frequent posts on Reddit, Oliver seems to be a genuinely nice person, so it's great to see the hard work he puts into his videos has really paid off.
Even if you're not into food and cooking you've likely heard of "Binging with Babish", Oliver's YouTube channel which has over 9.7 million subscribers.
There are over 950 patrons, each contributing $1-20 per month.

Team Cemu: $1,164 per month
Develops an emulator to play Wii U applications on PC

If you've ever wished to be able to play Nintendo games on your PC then Team Cemu develop software to help you do exactly that.
Gaming is an absolutely huge niche on Patreon so anything that could interest a large number of gamers is always going to be a hit.
Their emulator is especially popular for those who own a Raspberry Pi mini-computer.

Lucy Knisley: $1,312 per month
Simple comics about babies and parenting

Lucy is among a growing number of moms who are making money on the Patreon platform.
The reason I wanted to highlight her is not because of what she's doing, but because of how many people are supporting her.
Lucy likely has the highest number of patrons to earnings ratio on my entire list, which goes to show that even if you just charge a few dollars for your offering, you can build up a very respectable side-income.

Mike Erre: $1,730+ per month
A podcast on interpreting Jesus in the modern day

I apologise that I can't comment too much on the more religious Patreon projects as I'm just not a religious person myself.
Mike Erre has created the VOX podcast to help modern Christians deal with the teachings of Jesus in the 21st century.
346 patron's pledge a minimum of $5 per month to show that, in Mike's words, "you deeply care about our growth and future, and want to see the family grow."

Sylvie von Duuglas-Ittu: $2,021+ per month
Documents her journey fighting Muay Thai in Thailand

As someone who has spent a lot of the last few years in Thailand, it was really cool to come across Sylvie's unique journey in the country.
Over 1,750+ patrons support her writing on topics like the history of Muay Thai and how western women can fit into Muay Thai culture.
She has tiers from $1-250 (plus VAT), of which allows some of them to suggest future video and vlog topics for Sylvie to cover. It appears that Sylvie has played around with this pricing structure as she did previously change this down to a single $1 tier in place for new patrons.

John Pavlovitz: $2,538+ per month
Online pastoral care and content

John Pavlovitz blogs about topics ranging from faith, the Church and grief, all the way through to parenting and dealing with teenagers.
His lowest tier of $5 per month (previously $1) grants access to a private Facebook group of his, which I haven't seen many other pages offering. There are currently over 1,200 patrons.
What's interesting is that John was initially actually incredibly inactive on Patreon, so people are clearly supporting his continued value outside the platform.

Healthcare Triage: $2,584 per month
Creating healthier people through educational videos

Healthcare Triage is coincidentally one of three YouTube channels featured in this article focused on the topic of health.
Interestingly, their two most popular videos on YouTube are both about the health benefits (or downsides) to marijuana, even though they were recorded three years apart.
With over 441,000 YouTube subscribers I would expect to see their Patreon income continue to grow.

Cindy Guentert-Baldo: $2,600 per month
Lettering tutorials and planner videos

Cindy got her start on YouTube by offering tutorials on lettering, but when a random video on using planners took off, she started to create a lot more of them.
As someone who picked up a Wacom tablet not too long ago, I think I've actually watched a few of her videos before finding her on Patreon.
Her top tier of $100/m has a really smart offering for up to five people: She will doodle lettering in anyone's planner for them once per month.

2-Minute Table Top: $2,755+ per Month
Designs printable maps for board games like Dungeons and Dragons

I've heard about games like Dungeons and Dragons but if I'm totally honest with you, I have no idea how they're played or what a game even looks like.
That's why it was so interesting to me to see someone making a decent side income by illustrating maps for these popular games.
For anyone with skills in Illustrator, I think this is such a cool side business opportunity.

Matt Kiser: $2,880+ per month
Daily newsletter and blog around political commentary

Matt Kiser and his well named podcast is supported by over 550 patrons each month who enjoy his political commentary.
WTF Just Happened Today is a blog and newsletter that chronicles the daily shock and awe in national politics.
Matt says the entire goal of his Patreon page is to make WTFJHT a sustainable, community-funded media company.

Threat Wire: $2,964+ per month
Videos on internet security, privacy and freedom

Any time there is a security threat the news gets talking, with the recent WannaCry malware a good example of that.
Threat Wire was launched by Hak5 in 2012 to keep readers up to date on the latest news in the security world. Just a few months later, Edward Snowden would leak details of NSA spying to the world, creating growing interest in the subject.
As with the Ocean Conservation illustrations, not much was previously offered in the way of rewards for being one of the 660+ patrons, implying users are simply happy to support the site at the popular $4 (plus VAT) per month (previously $2) level, but a top tier which rises to $96 per month has since been added.

Ben Komets: $3,239 per month
Creates miniature art and miniature art tutorials

Ben Komets is a professional miniatures artist based in Berlin, Germany.
Unlike some other YouTube channels mentioned here, Ben 'only' has 12,500 subscribers, making it that more impressive he has just over 270 patrons.
His most supportive patrons ($100/m plus VAT) get an hour of video feedback each month as well as all of the necessary files from his many tutorials.

Matthew Gafford: $3,314 per month
Live drawing and art tutorials

It's great to see people with real talent being rewarded for their skills and Matthew Gafford is one such person.
More than 650 patrons donate a monthly sum for his live drawings in Flash Vegas and Adobe Illustrator.
The most popular donation tier is $10/m which gets you credit at the end of each animation and all character notes.

The Bowery Boys: $3,447+ per month
A podcast on the history of New York City

I'm pleasantly surprised to see that a podcast on as niche of a topic of the history of New York is still popular in 2017.
The Bowery Boys have produced more than 200 episodes over the years with the aim to publish 25 per annum if they can maintain their Patreon goal of $3,500 in monthly donations.
Previous episodes include covering things like 'Famous Dogs of New York' and 'Building the Extra (Wall St) Wall'.

Gone with the Wynns: $3,592+ per video
Videos about their travel ventures around the globe

I only discovered Gone with the Wynns a few months ago but when I did, I'm not ashamed to say I binge watched a lot of their videos.
For some reason I had no idea that any normal person could just buy a boat and sail the world. Well, I knew it was possible, but didn't know there was a whole community behind it.
The couple are absolutely killing it on YouTube with more than 524,000 subscribers.

Fraser Cain: $3,780+ per month
Space reporting on UniverseToday.com
If Fraser reaches $25,000/m he's vowed to remove all ads on Universe Today, which has probably been affected by the rise in ad blocker usage.
That said, he's presumably still making a great income from the site he's been running since 1999.
I always thought of the site to be full of Viral Nova-style "clickbait news" but I'm clearly wrong as they have a lot of fans willing to support their commentary.

Effectively Wild: $3,832+ per month
Two friends hosting a baseball podcast

I've never watched a game of Baseball in my life so my US-readers will have to tell me how good these guys are, but it's great to see a sports-focused podcast getting so much love.
Effectively Wild is hosted by Ben Lindbergh and Jeff Sullivan who publish a few episodes per week on topics that "blends analysis and silliness".
To date they've produced almost 1,000 shows which has earned them a great reputation with their many fans.

Citation Needed: $3,913 per episode
A podcast where the hosts pretend to be experts on any topic

Citation Needed is the result of three podcasters who teamed up together in the middle of 2016 to bring you this experimental podcast.
Pulling in over $3,900 per episode – and with many updates now made in January 2023 – it certainly seems to have been a hit.
For $100 per month (with a six-month minimum) you get to hang out with the guys and get featured on the show, which is a great deal if you're a fan.

Your Kickstarter Sucks: $4,136+ per month
A podcast about terrible Kickstarter launches

I think more than anything I was impressed when checking for the first time that this podcast was only three months old, with six episodes, but had built up enough of an audience to bring in a respectable side income for the three hosts.
The podcast appears to have been launched on the back of a fairly-popular Tumblr blog where they make fun of the latest listings on the site.
There's a Reddit sub-Reddit with 120,000 subscribers called /r/shittykickstarters which may have been their initial inspiration.

Opening Arguments: $4,385+ per episode
A podcast that explains the law behind the news

Having picked up a nice Patreon URL at /law, Andrew and Thomas run a popular podcast on all areas of the topic.
The hosts aim to give you "all the tools you need to understand the issue and win every argument you have on Facebook".
With politics being a hot topic at the moment, it's no surprise to see their latest episodes cover the news surrounding President Trump and ex-FBI Director Comey.

DarulArqam Studios: $5,150+ per month
Educational videos for children learning the Quran<

One thing I love about researching new stories for Gaps and Detailed is finding niches that I would never fathom exist, never mind offer the chance to make a very respectable income.
That's certainly the case with Darul Arqam's videos, made to help children with learning the Quran.
Darul has tiers ranging from $5-500 per month (previously starting from $1) and it appears that some people are paying for the higher tiers ($100+ per month) which offer public thanks at the end of one video per month.

The Ukulele Teacher: $5,409+ per month
Teaches the Ukulele and creates Ukulele song covers

This one is quite self-explanatory but it's great to see someone can take such a cool little instrument and make a living out of teaching it.
There were previously 1,800 patrons paying from $3-5/m to support the show and get videos 24 hours before the YouTube public. This pricing structure has now changed to include tiers ranging from $6-118/m (plus VAT).
I can't find the name of the shows creator but he's now able to do what he does full-time which must be a great feeling.

Gina Häußge: $5,681 per month
Develops a 'snappy' web-interface for 3D printers

As someone who thought 3D printing was going to be absolutely huge, it certainly feels like the hype has died down and 3D printing has gone very 'niche'.
For that reason it's great to see that people are still supporting the technology, and Gina is one such person creating tools to improve the lives of 3D printer owners.
Her OctoPrint software allows you to monitor all aspects of your printer and print jobs from anywhere you have an internet connection.

Lisa Clough: $6,096 per month
Fine-art painting and tutorial videos

Similar to Ben further up, Lisa Clough also teaches Art via her YouTube channel which has amassed over 328,000 subscribers.
Once she reached her next income target of $7,500 per month she promised to upgrade her camera so she can take better pictures to work from.
Her artistic ability really is incredible so it's no surprise she's doing so well.

Rancho Relaxo: $7,413 per month
Animal rescue and animal safety education

You can probably tell I'm a huge animal lover if you've been reading all of these descriptions, but if not let me say it again: I LOVE that people are supporting projects like this.
Not only is Rancho Relaxo an incredible non-profit which rescues animals, but they also update the world on the work that they do and how others can help.
Their recent monthly goal helped them purchase a new piece of land which is crazy, and if they reach their next goal they'll be able to build a new barn for their animals.

Tefler: $7,485 per chapter
Writing their first ever novel

Not everyone on Patreon is looking to get paid monthly. Some people get paid per video, per podcast episode and in this case, per book chapter.
What's most surprising to me is that the creator of this page has never written a novel before.
With over 4,400 patrons, my best guess is they used their 'status' on a sci-fi Facebook page or forum to promote their work and build an audience, which should be inspiring for anyone else looking to write their own novel.
Oh, and they're up to chapter 162. Even if they received much lower earnings for previous chapters, that's a lot more money than they would have ever received with a book advance.

Danny Roddy: $7,725+ per month
Detailed videos on stress, aging and general health

Danny was actually the first person I came across in my Patreon research who tempted me to sign up and make a pledge.
I'm not a health fanatic but I do like in-depth insights into a topic (hopefully that isn't a surprise) so appreciate the depth at which he's willing to cover certain topics.
Danny receives his Patreon income from over 300 people who pay for a monthly chat with Danny where they can discuss topics like libido, nutrition and hair loss.

Travelling Museum of the Paranormal: $9,210+ per month
A museum about the paranormal that tours America

This museum's business model is as interesting as it is paranormal.
Greg Newkirk and Dana Matthews travel the US to bring their fans live access to different haunted, cursed and paranormal locations.
Started in 2013, they've been traveling coast to coast to indulge their followers' interest in the depths of the supernatural.

For Crying Out Loud: $9,745+ per month
A podcast on motherhood and parenting
Stefanie and Lynette have been hosting the FCOL podcast for over five years.
Their listeners love that they're painfully honest about their lives, both the good and the bad.
Their 1,800+ patrons donate from $5 each, but it quickly adds up when you have as many fans as they do.

Doughboys: $11,402+ per month
A podcast about the best and worst of chain restaurants (really)

It's almost hard to believe a podcast like this exists but Mike Mitchell and Mick Wiger have been able to make it very successful.
If you think that saying they review chain restaurants was a joke then well, you may be new to the Internet, as that's exactly what they do.
After listening to some podcasts on their site, I'm most impressed with the technology that allows you to skip ads within the audio.
Even though I'm known to not be much of a podcast fan, I did find the episodes very funny.

Kurzgesagt: $13,154+ per month
Animated videos on the topic of science

With over 12,900 patrons, Kurzgesagt is one of the most popular projects on all of Patreon.
The "Hello Patreon!" video on their profile goes into detail on why they're only able to upload one video per month: Animation takes a lot of time.
They clearly deserve to have their more than 19 million YouTube subscribers, and after watching just one video it's really no surprise to see why they're so popular.

Sailing La Vagabonde: $13,694+ per video
Videos sharing their journey around the globe

My mind has been opened up to a new world of traveling in this past week, with Sailing La Vagabonde being the biggest earners I could find in the space.
Riley bought a boat he named La Vagabonde in 2013 and a year later picked up his sailing partner, Elayna.
They have over 1.8 million YouTube subscribers who enjoy watching their travels around the world (and arguing in the comments about how Riley afforded the boat in the first place).

Pet Foolery: $13,914+ per month
Creates a pet-themed comic

Pet Foolery was created by Ben, following the popularity of his initial comic featuring the characters Pixie and Brutus.
Ben now releases four episodes of the comic each month to his 13,000+ Patrons, each paying just $1 per month until very recently, where a new $5 per month tier has been introduced.
As the audience has grown, so have the number of episodes of the comic, with over 80 released to date.

OSW Review: $15,534 per month
Wrestling commentary and review videos

If you don't already know about OSW review it's tough to gleam many details from their Patreon page besides "they create something to do with wrestling".
They create videos around wrestling events but surprisingly use Vimeo to display them rather than benefiting from a YouTube audience. I'm not sure if there's some backstory there.
They also take the audio from each episode and put that out as a separate podcast.

Evan: $15,713 per month
Develops a front-end framework for web development called Vue.js

Evan has one of the best earnings per patron ratio on the site, and possibly the best for people earning more than $10,000 per month.
Vue.js makes some of the best UI ideas "more approachable, so that any developer can quickly pick it up".
Two patrons pay $2,000 per month to support effort but the cost is justified: They get their website and logo on every page of his website, which reaches more than 500,000 unique visitors per month.

Dr. Rhonda Patrick: $17,685+ per month
Videos and articles on science, health and aging

Dr. Patrick is the creator of Found My Fitness, a YouTube channel and website covering the latest science of health.
Unlike many health channels, her videos are very substantial with many of them a few hours in length.
Her 453,000 YouTube subscribers were recently treated to in-depth videos on depression, iron overload and fasting.

ContraPoints: $19,486+ per month
Video essays and short films

ContraPoints was designed to make videos for the internet, mostly discussing social justice issues and adjacent topics.
There are currently over 9,700 patrons supporting, with tiers ranging from $2-20 (plus VAT) per month. This will grant access to over 200 pieces of content which have been created.
Depending on the tier they choose, some patrons get invited to AMA live streams and a Discord hangout as part of their contribution. There were previously more than 15 patrons currently contributing at least $15 per month to access this.

Rudy the Magic Guy: $20,750+ per month
Magic the Gathering thoughts and investment advice via video

We started this list by talking about board / card games and it's nice to (almost) end on the same topic.
Even if you're like me and not into things like Magic The Gathering, Rudy talks about investing in the cards to make money down the road.
His second most popular video talks about how he spends upwards of $200,000 per month on cards for the game, which is pretty insane.

SnowFreaks: $22,202+ per month
Articles featuring weather predictions, with added humour

From what started as a hobby on a Facebook page, SnowFreaks now has over 8,200 patrons supporting the creation of weather news and predictions.
There are three pricing tiers, ranging from $1.99-8.99, with the higher option providing email access to the creator.
Patrons also gain access to over 1,600 informative and funny posts that have been created to date.

Mastodon (previously Gargron): $33,572 per month
Open-source social networking software

I have a feeling most Gaps and Detailed readers will be interested in this open-source social networking software called Mastodon.
The network "is like an unlimited number of different Twitter websites, users of which can follow each other and interact regardless of which Twitter website exactly they are on."
More than 4.4 million people use their own hosted version of the software, which is no small feat.
I started playing with it a few days ago and actually found it really fun. The interface is a cross between Twitter and Tweetdeck, and actually slicker than both of them.

CGP Grey: $39,575 per month
Random videos on wide ranging topics

To describe the theme of this page is a challenge, and the bio doesn't really offer any further clarity "CGP Grey makes video for The Internet to enjoy on topics that catch his attention. Randomly uploaded, but obsessively created."
What we can say though, is that these animated videos have attracted a strong following with over 13,000 patrons currently supporting CGP Grey.
There are six pricing tiers for members, ranging from $3-100 per month, with some plans including a Discord chat reward.

Jim C. Swim: $40,206 per month
Videos on the subject of criminology and psychology

Jim C. Swim provides criminology and psychology videos for a vast audience.
With just one pricing tier of $1, Jim's 40,000+ patrons receive amazing value with access to two articles and 36 videos.
It's unusual to find many creators on Patreon with such a huge monthly income from such a low pricing tier.
Jim has since announced that he won't be publishing any additional videos on his Patreon page, and instead all future content will be accessible through his YouTube channel.

Last Podcast On The Left: $71,376 per month
A comedy podcast covering the morbid and macabre
The last Podcast On The Left, presented by Ben, Marcus, and Henry for over four years, covers all kinds of blood-soaked content.
There are currently over 12,400 patrons supporting this long running podcast, which has amassed more than 490 episodes.
The various contribution tiers feature a variety of benefits, starting at $5 per month they range up to $25.

True Crime Obsessed: $223,665+ per month
A deep dive podcast focusing on true crime docu-series

The True Crime Obsessed podcast, ran by Gillian and Patrick has amassed a huge backing on Patreon.
The show currently has over 44,700 patrons who tune in to listen to the deep-dives of various true crime docu-series, such as Making a Murderer.
There are four membership tiers which start at $5 per month, with the top $20 providing monthly surprises and access to VIP meet-and-greets.
The Biggest Gap in the Market Here Is (Literally) Not Safe for Work
30-40% of content on Patreon, from what I can tell, is of the adult nature.
During my research for this article I have seen things I never want to see again. From cartoon foxes in suggestible positions to logos made to look like semen, I'm all for people having their fantasies, but my browser history is forever ruined.
The surprising thing about having so much adult content on their site is that Patreon actually make it very difficult to find.
And I really looked (for research, I promise!)
First of all, there's no NSFW or Adult category.

With a younger audience this might be understandable, but you would think the search function would provide a little more insight.
Interestingly, there's not much to that either.

It's really odd because, again, their site is absolutely full of adult content.

Hopefully I'll never have to type the following search query ever again but it's amazing even a direct search won't bring up this content.

There aren't many game related screenshots I can add to this post, but it's incredible how many NSFW games there are.
Some of them are making incredible amounts of money.


The search function does nothing however if you desire to find more.
In other words, unless you're already a fan of some adult content elsewhere, you're not going to find it by chance on Patreon.
And that's why I think the next online millionaire is going to create a Patreon specifically for adult content and performers.
It's the kind of content many people are interested in but not many want to be associated with, so if you're fine with the association, you're going to have less competition.
If I were to build an 'Adult Patreon' myself I would keep the branding more general than naughty, mostly for the countless "YouTube stars" that people are paying a lot of money to see photos of on the site.
There's Always an Opportunity to 'Datafy' New Websites
The original version of this blog post looks nothing like the article you see today.
I spent days finding every single person on Patreon who was making money and put them together in a massive HTML table.
I thought people would love the table because for the first time ever, they could finally see who the biggest earners were on Patreon.
Here's some proof of my data collecting.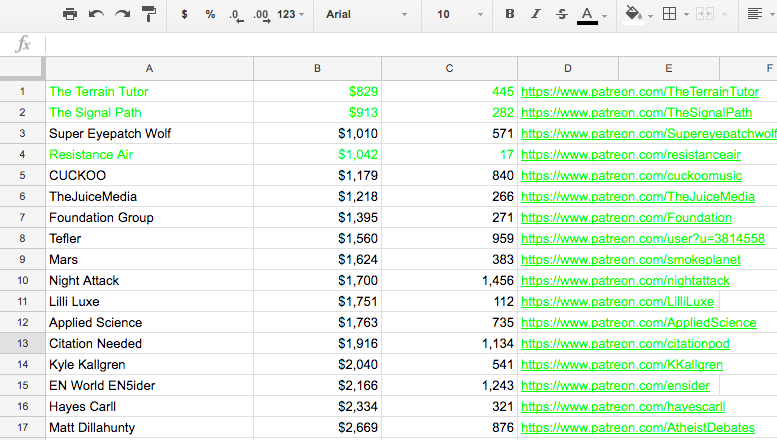 If I had performed a Google search for 'top patreon earners' before doing all of that work then I would have been greeted by Graphtreon. Graphtreon tracks all Patreon earners and even charts their income growth and dips.
I was a bit gutted to find this site after spending days copying details manually. Compared to my static table, their information is automated, live, and included a lot more pages than I found through clicking around.
Something I noticed with Graphtreon however was that it still wasn't very easy to tell what people were doing to make money. I had to click on every single Patreon to get an idea of what they were offering.
That's when I decided to change this article to make the best projects on the site – at least in my mind – easy to stand out.
What surprised me the most about Graphtreon is how much traffic it's getting. The idea is cool, sure, but I can't imagine myself going back there often.
Just look at these traffic stats:
Seeing how popular Graphtreon is reminded me about the other websites that 'datafy' popular sources and build a following on top of them.
Here's a few more examples of people that have done similar things with other platforms:
Any time a new site starts growing, there's always an opportunity to track and rank their users, and reach a large regular audience for doing so.
I missed the boat on Patreon, but there will be more.
Can You Skip the Money and Go for the Mission? An Unexpected Insight
I've been writing about how to increase website traffic (and thus make more money) for eleven twelve years now.
While it's always been clear that people want to succeed online for different reasons, I've typically thought of the process as using the internet to make money in popular niches, and then funnel those finances into other hobbies and causes you care about.
But what if you skip the making money part and go straight to focusing on a mission? Patreon has opened my eyes to the idea that it's possible.
Autcraft (previously Autism Father) is one of my favourite examples of this in action.
A father of a child with Autism created a safe space so other children with the same condition can play Minecraft together online, and safely.

There are countless similar examples on the platform:
Govtrack previously made $1,766 per month as a trusted source for journalists
Rancho Relaxo made $7,534 per month to rescue farm animals
DNA Lounge makes $11,096 per month to keep their San Francisco music venue open
If you're not looking to make millions and see an opportunity to use Patreon to support a personal mission to serve others, you may be able to get financial funding much quicker than you think.
If Anything, Researching Patreon Has Reminded Me of Two Important Lessons…
The first lesson is this: You can get create financial freedom in any niche if you spend the time to attract loyal fans.
Ben Komets – featured above creating miniature art – makes over $6,500 per month thanks to his YouTube videos yet this channel 'only' has 2,700 subscribers.
While Evan reaches over 500,000 people per month with Vue.js, only 147 people support him financially, with their average monthly donation sitting at $66 each.
The Sword of YHVH has only 51 people supporting his multi-hour scripture commentary, yet they earn him a very respectable $3,000 per month.
This trend I saw over and over again is that you don't need a lot of supporters to make a great side (or even full-time) income.
If you're taking action online it may not be that you haven't picked the right niche, just that you're not reaching the right people.
The second lesson is this: Never get stuck into 'boxes' about what makes money online. New opportunities appear all the time.
It was quite humbling to realise how many industries there are that I had no idea there are so many people making money.
Thousands of people are making money with web comics, funny podcasts and even YouTube channels documenting interesting murders.
There's literally a podcast making over $4,600 per month giving commentary on every single episode of Buffy the Vampire Slayer.
Another, called 'My Favorite Murder', previously made over $3,500 per month.
Pokemon has always been a niche with a lot of fans but with the release of Pokemon Go less than a year ago, the brand really took up interest again.
We can see how that has resulted in people making a lot of money, through the following Patreon's:
Pokesnipers is sharing Pokemon Go coordinates for special finds and was making $9,829/m
Pokedex100 is creating a pokemon hunting platform and making $5,446/m
PokeGo++ have over 1,200 Patron's at a minimum of $5 per month, was earning them more than $6,000/m
Two of these businesses couldn't even have existed just a few months ago, and one would have really struggled to promote themselves.
If you found some interest in this article, just start randomly browsing around Patreon and see what's there.
While 7,000 words definitely looks like a lot, I've only covered less than 60 creators out of more than 46,000 on the site. Go and explore what's out there to inspire and dictate your next moves to make money online.
We're a small bootstrapped team, trying to share some of the best SEO insights and niche opportunities on the internet. Clicking the heart tells us what you enjoy reading. Social sharing is appreciated (and always noticed). – Glen Allsopp