What if you could quickly see which pages on your competitors websites pulled in the most search traffic…without using any keyword research tools?
What if you could see exactly which posts on their site picked up the most comments?
Or how about knowing which sections of a new site to build out first with original content?
You can do all of these things and more with a technique I'm going to share with you today.
This technique is so valuable to me that when I was talking with a potential client recently, I knew exactly how to blow them away with some unique insights from their competitors.
Insights no other software or 'trick' will show you.
Finally, just in case you already know about this tactic, I'll not only take it to the next level by providing some real-world examples, but I'll throw in a few bonuses at the end of this guide as well.
This page is created exclusively for Detailed.com newsletter subscribers so please don't share this elsewhere.
Here's What You Can Achieve With Today's Tactic
Though I've been doing SEO for more than 10 years and actively take on new clients, I don't consider myself an SEO expert or 'guru' (in fact, I really hate those titles).
I love when people share my work and say nice things but at the end of the day being a good SEO should be about getting results. Not how many mentions in Forbes you are able to pick up.
What you'll learn today is all about attaining actionable data you can actually use to grow organic search traffic.
I recently had a call with a potential client who has spent the past year working on a startup in the events space.
They're in a huge niche with a lot of competitors, and plan to launch a brand new site with thousands of pages.
As soon as I came across one of their competitors, I instantly knew I could effectively plan their entire content and SEO strategy going forward.
Here's what I saw.

In just a minute after finding those statistics on said competitors website I would be able to map them out by view count and favorites across their entire website.
Here's an example of how that would look:

You don't always get lucky and find view count data like this but there is a lot of data you can extract from websites that can help in all aspects of SEO and online marketing.
Let's dive into some of them…
7 Powerful Data Sources That Can Help With All Aspects of SEO
Once you know how to extract this kind of data you're going to see opportunities to use it everywhere.
To help get your creative juices flowing, I've covered seven unique examples below.
#1: See the Most Popular Articles on Medium.com That Cover Your Industry
Example use case: Article topic and headline inspiration
Medium.com is a hot online destination, reaching an estimated 30 million visitors from Google each month.
It's home to some of the top writers in the world who want to get their thoughts heard, using catchy headlines and compelling content to do so.
Any keyword research tool will tell you what terms they're ranking for.
No keyword research tool will tell you the most popular articles people have written there on the topic of SEO.
But that data does exist:

'Claps' are a relatively new mechanism for Medium – they had 'hearts' before – but there are some great headlines and insights I can get even from hyper-focused research.
This doesn't just apply to content around SEO of course (in fact, there's very little of it on Medium compared to other topics).
#2: Find the Most Viewed or Followed Quora Questions About Your Niche
Example use case: Long-tail keyword research
Quora.com performs even better in Google than Medium, receiving an estimated 150 million (!) visitors per month from the search engine.
As with Medium, any keyword research tool will tell you which terms drive traffic to their site, but you won't find super specific insights on how many people are viewing the answers to the top questions.
You can now though. Here's an example of some of their most viewed content on the topic of investing.

Now I know that if I have a website on this topic, giving advice for specific age groups, and the specific market of India, are some angles I could take if I haven't already.
Quora covers every topic on the planet, so you can use this angle in any niche.
#3: Discover the Most Viewed Presentations in Your Industry on Slideshare
Example use case: Find niche influencers with large followings
Maybe textual content isn't your thing and you're more interested in visuals like infographics or presentations?
LinkedIn's Slideshare is a great source of those, but they don't let you rank the top presentations by viewcount on every single category.
Fortunately, we don't need LinkedIn's engineers to provide those options.
Here are their top presentations on virtual and augmented reality, ordered by viewcount.

Slideshare presentations don't tend to come with the most enticing headlines but armed with this data you can look into who created the popular presentation and how they received so many views.
I've used their platform to find influencers in niches I'm unfamiliar with on countless occasions.
#4: Find Competitor Blog Posts With the Most Comments
Example use case: Competitor analysis and content inspiration
Want to know which articles on your competitors websites get the most engagement?
Almost every blog highlights how many comments their articles received — you can quickly find out which ones received the most.
Here's the results from my own site as an example:

While your competitors are focused on social media and link metrics, you can find the topics that cause such strong emotions people just have to make their feelings heard.
I would never recommend copying the content or headlines of others, but you can certainly model them, or just get inspiration for what an audience cares about.
#5: Track the Highest-Rated Podcasts in Any iTunes Category
Example use case: Find niche-relevant influencers and hot topic ideas
I'll be the first to admit I'm not the most active podcast listener but there's no reason you can't learn from people who prefer audio as a medium.
With the technique you're about to learn you can quickly find the most popular podcasters in any iTunes category in just a few minutes.
Here are some I looked at in the health category:

Armed with this data you can find influencers you might not have previously known who you can connect with, buy ads from, or just reverse-engineer to find the content that made them so popular in the first place.
#6: Find Niche-Relevant Reddit Discussions Which Provoke the Most Comments
Example use case: Learn the topics that invoke strong emotions
While making the Reddit homepage might not send you the most enthusiastic of website visitors, their niche communities (known as sub-Reddits) are home to some of the most passionate people in any space.
Reddit does come with great sorting options so I wouldn't discount those, but you can only sort by upvote count, rather than comment count.
The topic of 'succulents' has taken off in the past year on Reddit, with the following an example of some headlines which encouraged discussion:

With the data extraction techniques you're about to learn, you can see exactly which topics cause people to engage the most.
Perfect if you're looking for blog post, Instagram or Youtube content inspiration.
#7: See the Best-Selling Etsy Products in Any Category
Example use case: Find products to review and rank for
I didn't realise how much people keyword-stuff their headlines on Etsy until I started writing up this secret.
I originally just planned to let eCommerce owners know how to find the top products in any space that they may wish to promote or create themselves.

The headlines in that screenshot above have been 'cleaned up' massively.
Almost every popular item listing I came across is just a big list of keywords, almost like the beginning days of SEO.
Still, they're a great source of data and inspiration if you sell physical products.
#8: Uncover the Most Viewed WikiHow Pages on Your Chosen Subject
Example use case: Advanced keyword research
Wikihow has started branching out into other domains like Wikihow.life so there are quite a few sites that you can get inspiration from.
I love seeing public view counts for individual pages on websites as they are as close as you're going to get to having access to someone's Google Analytics account.
In the example below I looked at their most popular pages on the topic of plumbing.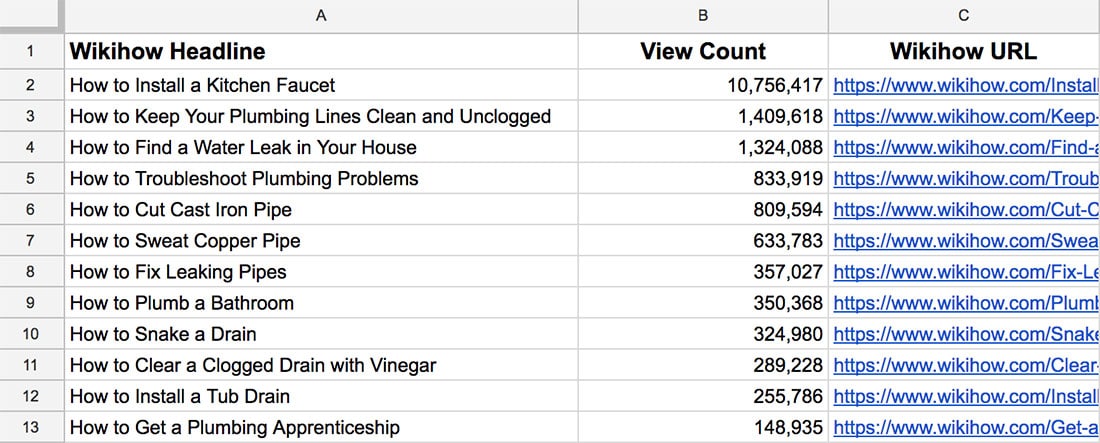 Wikihow do let you sort by their 500 most popular pages, but they aren't niche specific.
In the video below I'll show you how to find pages on their site which only cover certain topics, which you can then extract data from.
And of course, these examples are just the beginning.
Once you know you're able to extract data in this way you'll find sources that allow you to find incredible keywords to target and get the ultimate content inspiration for your niche that your competitors will likely never find.
How to Get Valuable Data from (Almost) Any Website
Please don't share this video. It's 'unlisted' on Youtube and exclusive for subscribers
The first thing you've going to need is a way to automatically crawl any website so you can extract data from its pages.
In this example I'm going to use ScreamingFrog as it's the best tool I know and even without what I'm about to teach you, it's a must-have tool in any SEO's arsenal.
The tool is free for crawling up to 500 URLs, but to do what we're going to look at today you will need to pick up an annual license for £149 ($191).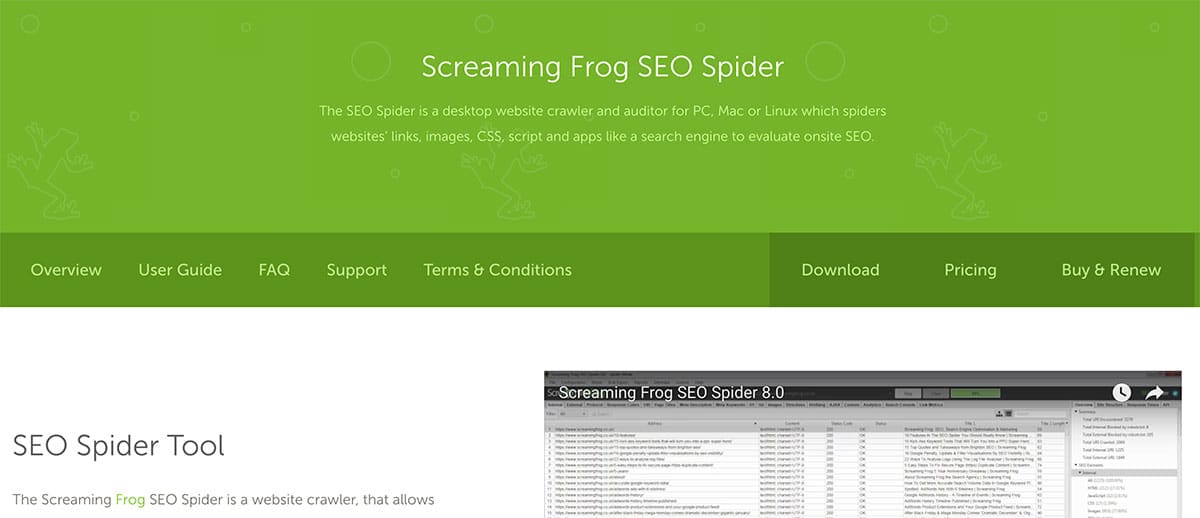 If you're on a budget, other options include Sitebulb which is on offer for just $35/m, or if that's too much, something like iMacros is a completely free Chrome extension.
It won't let you do everything in this update though, so please do watch the video above to learn its limitations.
ScreamingFrog and Sitebulb essentially offer the same services. I'm just more familiar with ScreamingFrog. Sitebulb is cheaper if you just want to do a lot of crawling in a short period of time, whereas ScreamingFrog is cheaper over a year of use.
Once you've decided on a tool you need to find some data you wish to extract.
There are a lot of examples given above, but you can generally extract anything you can publicly see on a web page.
Once you have data you wish to extract, you need to tell whatever crawling tool you use the 'code' where that data resides.
The most common way to do this is to find the 'XPath' associated with an element. That sounds a little bit geeky and complicated, but it's actually very straightforward.
Let's use my other website, Gaps.com, as an example. Every post has a 'like' counter next to it, which you could use to find the most popular articles on my site.
Using Google Chrome, right click on any element on a page and select 'Inspect' as shown below:

Immediately after clicking you'll see a box pop-up from the bottom of your browser. From there simply right-click on the highlighted element again and select Copy > XPath as shown below.

Next, open up ScreamingFrog and go to Configuration in the navigation bar and select Custom then Extraction.
(If you're not using ScreamingFrog, you'll have to look up where to include XPath code for whichever service you use.)
In the first option, select XPath from the drop-down and paste in the data you copied before like so:

Type-in the site you wish to extract data from and then let ScreamingFrog do its thing.
On the Custom tab at the top, change the filter to Extraction and in seconds you'll start seeing data like this:

Boom.
You've just reverse-engineered the most popular pages on my site with a minute of work.
To tone down the excitement for a second, I do have to add that you should be respectful of any website you are crawling.
It is illegal to cause disruption to someone's business so set the speed limit in whatever tool you use to be as human-like as possible.
Also, don't try to sell the data you retrieve.
There is a lot of documentation on this topic regarding legality so please do your own research but here's a good primer I found where they state:
It is totally legal to copy this information to a file in your computer. But it is regarding how you plan to use this data that you should be careful about. If the data is downloaded for your personal use and analysis, then it is absolutely ethical. But in case you are planning to use it as your own, in your website, in a way which is completely against the interest of the original owner of the data, without attributing the original owner, then it is unethical, illegal.
Some websites have APIs to access their data which you should use where possible, and make sure to check the Terms of Service of any site before crawling their data.
If you're at all confused by these instructions, be sure to watch the video above as I go into more detail and show some additional ways you can make this crawling work.
If you have any questions, make sure you join us in our Facebook group. I'm happy to help you personally.
Bonus Tool: My Private Link Index, Free
Many months ago, the entirety of the Detailed homepage was focused on two free tools I offer: A link index and a 'tweet' index.
I've since buried those two tools pretty deep on this site. So much so that you probably can't find them even if you're actively looking.
Until now.
I built my own index solely focused on finding quality links – there is literally no spam in the inbox – to some of the biggest sites on the internet.
I won't claim it will allow you to cancel your Ahrefs, SEMRush or Majestic subscriptions, but it is incredibly useful for finding the top sites in some big industries that actively link out.
For market research purposes, I highly recommend the One Link Per Domain and Tweets settings, highlighted below.

Give it a try and let me know what you think.
Thanks for following.
– Glen
Have any questions? Join us…
Join Our SEO Secrets Facebook Group
We've just surpassed 7,000 members. Pretty cool!
P.S. Did you know about my program, SEOBlueprint.com? I'm pretty proud of it 😉