In my report on the 16 companies dominating Google, Ziff Davis ranked second overall by traffic, with Google sending their network of sites an estimated 600+ million clicks each month.
That's not a typo – the estimates are from Semrush – but we do track a lot of sites for them. 58 to be exact.
Some of the most popular sites in their network include:
Their most trafficked website that we monitor is MayoClinic, but the relationship to Ziff Davis is not black and white and shouldn't really "count" so I didn't include it in those bullet points.
My understanding is that they provide all of the advertising on the site (via their subsidiary, Everyday Health Group) but don't have anything to do with the actual care or content they provide.
On Friday they announced their results for the second quarter of 2023, revealing digital media revenues of $252.8M, a 2.2% decrease compared to Q2 2022. Note that digital media is only part of their income sources, with cybersecurity and martech revenue coming in at $73.2M (a 7.3% decrease YoY).
They ended the quarter with $892.3M in "cash, cash equivalents, and investments".
Of course, with Detailed being an SEO blog, it was their comments on Google that really caught my attention. Here's a nice summary from their earnings call: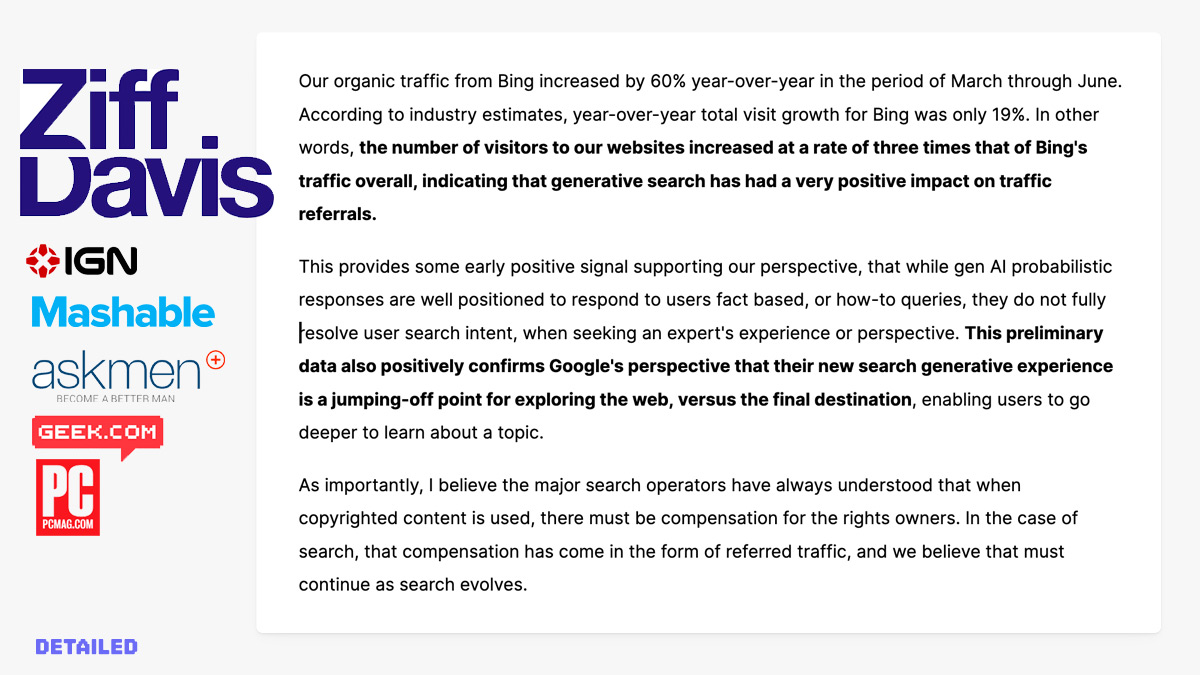 My first hunch was that they're saying this to have something positive to say to investors on the call (there were quite a few comments regarding Google and AI) but if they have the numbers to back it up, then it makes sense for them to comment on.
In a separate answer they also revealed that traffic from Google is up not only on the same quarter as last year, but year to date as well.
It should be noted that Ziff Davis have made some acquisitions since last year but none have any significant numbers (that I can see) which would have moved the needle enough for it to matter.
Ziff Davis CEO Vivek Shah also wanted to stress to investors that while search traffic is important to them, they aren't completely reliant on it. Traffic to Ziff Davis network sites also comes from social networks, website referrals, email and via various apps they operate.
The reason I set out to start tracking media companies in this way is so I can know exactly what is happening behind the scenes for huge goliaths like Ziff Davis. While revenue is down slightly, it's great to see search traffic up compared to last year and that they seem to be positive on how AI might impact them going forward.
There's going to be a lot more to this story as the months and years go on, and I'll be here to report it.
Written by
Glen Allsopp
, the founder of Detailed. You may know me as 'ViperChill' if you've been in internet marketing for a while. Detailed is a small bootstrapped team behind the Detailed SEO Extension for Chrome & Firefox (170,000 weekly users), trying to share some of the best SEO insights on the internet. Clicking the heart tells us what you enjoy reading. Social sharing is appreciated (and always noticed). You can also follow me on
Twitter
and
LinkedIn
.