Due to a huge backlog I apologise but the form is closed for now.
Update: October 5th 2017
We've raised over $2,000 so far which is absolutely incredible. Thank you all so much for your generous donations. The money is already going to animals in need.
We've just ordered some new wheels for this little guy from Canada.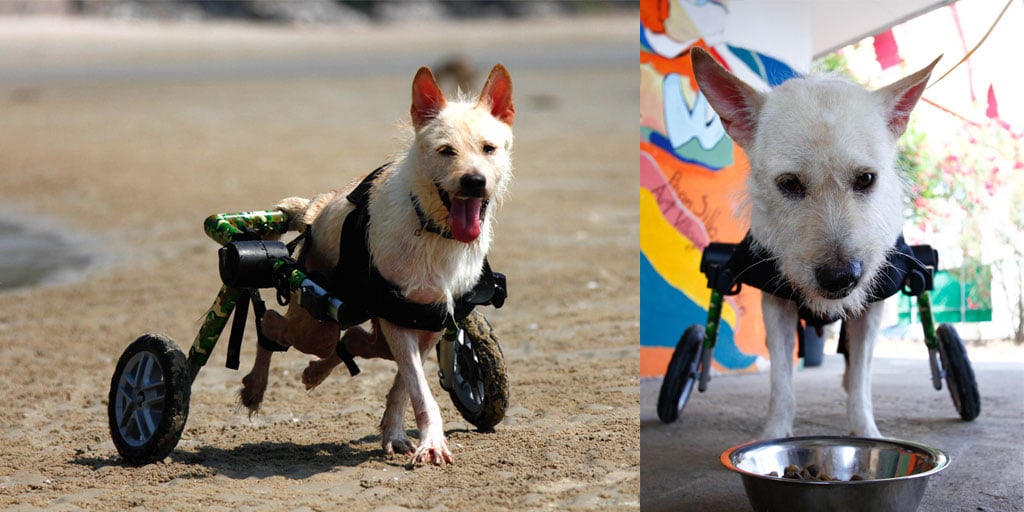 Thanks for doing the quick site reviews. Had 2 so far hit my inbox and given us a bunch of things to work on. Thanks sir! @ViperChill

— Jason Channell (@El_Fenix) September 27, 2017
Thanks from #36! (@askYellowhouse) Now to go font searching! 😃🤔

— Arden Shibley (@SnarePhoto) September 27, 2017
Thanks Glen @ViperChill for kind words and tips about design of @Budomate, will correct everything you suggested https://t.co/a5hkG5qyKK pic.twitter.com/gCxphcmpTg

— Roman (@nichesiteninja) October 6, 2017
Got Questions? I've Got Answers…
How long will it take to receive my review?
I guarantee that all reviews will be sent within 72 hours, but more likely within 24 hours.
If I get to the stage that there are more reviews than I can handle in this timeframe, I'll update the numbers in the sentence above or close the form (above) until I catch up.
What can I expect from a review?
I'll open your site and start picking apart all of the little mistakes and problems I see.
I'll be blunt and direct, so we both get the most out of the time.
I've already done more than 60 of these reviews and haven't had a single complaint. You can view an example review below.
If you would like a review like this for your site, make sure you fill in the form above.
For some recent submissions I asked people if they would be OK with their reviews being public. If you're interested in the sites I've reviewed so far you can see some examples here.
How will the review be uploaded and sent to me?
I'll add it to Youtube as an unlisted video, so that only people with a direct link (that's you and whoever you send it to) can see it.
I'll then send the link to you via the email you provide.
If I'm getting overloaded, I'll ask someone else to send the video for me, but you can be sure I'm the one who makes the video.
Which charity is the money going to?
The money is going to a dog shelter in Thailand, which I have supported for almost two years now.
They are absolutely incredible, and made this happen.
I fed this Thai street dog every day for two months before taking her to a shelter. Just received this pic from her new home in Canada pic.twitter.com/NMoKXnuF3N

— Glen Allsopp (@ViperChill) June 5, 2017
Yep, they really send Thai dogs to Canada.
The only reason I'm not stating the name of the charity is because I have a personal goal to reach a certain funding amount for them, and want to see if I can reach that.
If this takes off and I get to set-up a Patreon page for them (fingers crossed!) and then I'll share their name and their mission.
How do we know you're really going to send the money?
I like to think nobody would really ask me this question, but I'll put it in the FAQ to be safe.
Keep in mind that I don't just need to record a three minute review. All in all I need to:
Open up and review your site
Clean up the sound and produce the video (producing in HD actually takes longer than recording)
Upload the video to Youtube (unlisted so it's private)
Send the video to you once it's finished processing
That's easily 10 minutes per site review, or around six videos per hour.
There are much more lucrative ways to lie and make money than by making $30 per hour.
I've already sent this charity thousands of dollars of my own money, and will continue to do so.
Can I ask you to review more than one site?
Yes, that's fine.
All I ask is that you go through the form separately for each submission as it keeps things much easier for me to organise.
I don't have a site but I would like to donate
That's very kind, thank you.
If you go through the form above and make up the email and website e.g. whatever@google.com and google.com for the website, I'll know that you just wish to make a donation.
How will I receive the review?
I'll send you an email with the review once it's uploaded to Youtube (unlisted so it's private).
Can you really help them $5 at a time?
Yes and no. Five dollars could feed a street dog for a few days, but it's not going to have much of an impact on the street dog problem in Thailand.
The current pricing – and this page – is here to test whether people are a) interested in paying for a to-the-point site review and b) are as passionate as I am about dogs.
If I am able to turn this into a popular Patreon project (which is my long-term goal) then I will have pricing tiers.
I don't have anything set in stone, but for example I could do a site review, and add link to your site from this page for $50, or something similar.
No matter how much this project makes or how much I charge, 100% of proceeds will go to the shelter.
Can my review be private please?
By default, all reviews are private unless you otherwise state it can be made public.
If your site isn't ready or you simply don't want to share it, that's totally fine.
I have another question
Just so I can focus on site reviews I won't leave an email address, but feel free to use the live chat button you see on the bottom right of this page if there's anything else.