We're very excited to announce that we've just launch a People Also Ask extraction feature in the Detailed SEO Extension for both Google Chrome and Firefox.
This was one of our most requested features recently so we decided to see how technically challenging it was to implement.
We do require extra permissions for this to be enabled (that's just the rules of the relevant extension platforms, sadly, rather than anything we want to do) but we do not store or track you in any form whatsoever.
We also didn't want to enable it by default and confuse 100,000+ people when they next open Google, so it is something you have to enable manually.
If you want to disable it, just go to the same Advanced tab and deselect the checkbox.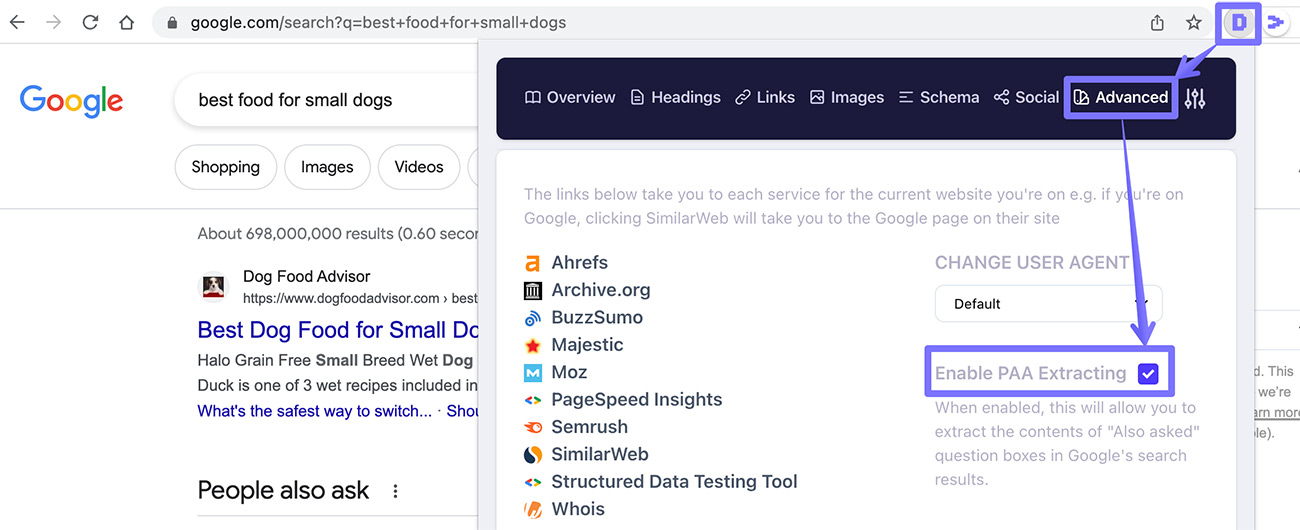 Once enabled, you can perform a Google search and you'll see the option next to search results. That will look something like this:

Once you've selected how many levels deep you want to go in your extracting, the tool will automatically download a .csv file to your downloads folder.
You can then open this up with tools like Numbers (for Mac), Microsoft Excel or Google Sheets.
Here's how things look in Google Sheets if you import it there:

Please note that this feature is in beta so we're always making improvements.
The extension is 100% free, and we don't store or save your data in any way. If you would like to use it, you can get it for both Google Chrome and Firefox.
Written by
Glen Allsopp
, the founder of Detailed. You may know me as 'ViperChill' if you've been in internet marketing for a while. Detailed is a small bootstrapped team behind the Detailed SEO Extension for Chrome & Firefox (170,000 weekly users), trying to share some of the best SEO insights on the internet. Clicking the heart tells us what you enjoy reading. Social sharing is appreciated (and always noticed). You can also follow me on
Twitter
and
LinkedIn
.